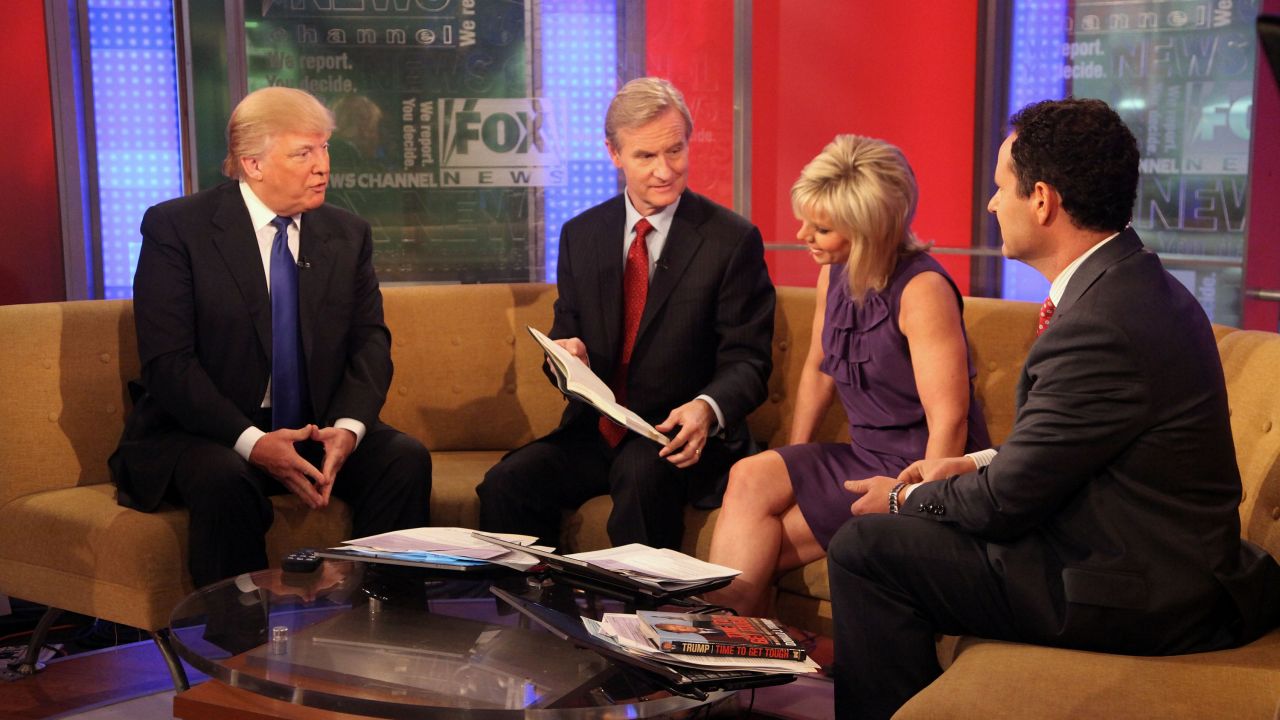 Lost in the a barrage of campaign news this week was a reminder that Donald Trump talks a lot like the 1960s male characters portrayed in the hit series Mad Men, where men treated women like delectable perks that come with the job.
In that world, ogling women's bodies, grabbing their bottoms, propositioning them for career advancement and threatening their jobs if they complained was standard operating procedure. Sadly, it sounds a lot like the Fox News workplace that a former female anchor exposed in her July 6 lawsuit against Fox News Chairman Roger Ailes. Two weeks later, Ailes was fired.
Trump appeared on Meet the Press Sunday. In a lengthy, free-ranging interview at the Trump National Golf Club in Bedminster, New Jersey, host Chuck Todd asked the Republican presidential nominee about Ailes' ouster after 20 years honchoing Fox News, turning it into the leading conservative news outlet.
It's very sad. Because he's a very good person."
— Donald Trump on Roger Ailes
Trump and Ailes are old friends, so it's no surprise that Trump loyally lamented the downfall of the 76-year-old news executive, whom former Fox anchor Gretchen Carlson sued. In her complaint, Carlson, 50, claimed she had lost her job because she wouldn't sleep with Ailes.
"It's very sad," said Trump. "Because he's a very good person. I've always found him to be just a very, very good person. And by the way, a very, very talented person. Look what he's done. So I feel very badly."
But Trump didn't stop there. What makes Trump's comments on Ailes' firing noteworthy was that the Republican nominee defended Ailes and attacked his female accusers. Since Carlson filed her suit, 20-plus women have come forward with similar stories. Trump says the women — some of whom rose to the top of Fox because of Ailes — should not be trashing him. Instead, they should be grateful for the career boost, no matter what they had to endure to get it.
"He's been a friend of mine for a long time," said Trump. "And I can tell you that some of the women that are complaining, I know how much he's helped them. And even recently. And when they write books that are fairly recently released, and they say wonderful things about him. And now all of a sudden they're saying these horrible things about him."
Shouldn't Trump, a supposedly shrewd dealmaker, have figured out that most people who need a job would say nice (if insincere) things about the boss who controls their destiny? If Trump wants to "feel very badly" for someone, what about the the (often) young women who quit, lose their jobs or silently deal with intimidating and uncomfortable sexual behavior for decades?
If Trump's daughter had to cope with what Ailes' employees did, would he expect her to keep her mouth shut and thank the man?
Trump's statement implies these women who have bravely come forward — Carlson's attorney said she heard from even more after Ailes was fired — should have shut up and quietly put up.
Are these the sentiments of a man who, as his daughter Ivanka described him at the Republican National Convention, is characterized by "empathy and generosity," and is "gender-neutral?" If Trump's daughter had to cope with what Ailes' employees did, would he expect her to keep her mouth shut and thank the man?
That attitude sadly seems to persist with some men in the workplace over 50 (Trump is 70) and is reminiscent of the days when misogyny was an integral part of the work culture and women were commonly objectified and discriminated against without repercussions.
"To people who actually lived through the 1960s, the sexism of their culture didn't seem dramatic," wrote Sady Doyle in The Atlantic commenting on Mad Men, "the men who objectified and infantilized women probably bore no specific malice, and the vast majority of the women who found their lives constrained by those men didn't imagine that things could be different. Their oppression was invisible, because it was normal."
That was in the 1960s, even 1970s. But this is 2016. Sexism is dramatic.
While there's been some progress, unfortunately, an environment of sexual intimidation was allowed to exist within the Fox culture with Ailes at the top.  Carlson's complaint outlined a host of inappropriate behaviors inside a locker room/ newsroom that created a toxic work environment for women —particularly the young and attractive. It's been widely reported that Ailes rated his female talent on looks, not their news-gathering chops.
In the complaint Carlson, a former Miss America and Stanford grad, alleges that Ailes told her last September: "I think you and I should have had a sexual relationship a long time ago and then you'd be good and better and I'd be good and better. Sometimes problems are easier to solve that way."
When Carlson filed her suit, I questioned her timing. So did Fox. It appeared to be retaliatory. Her contract wasn't renewed in June and a few weeks later she sued Ailes. The unspoken question at the time — that now is irrelevant — was would Carlson have sued if her contract were renewed?
We'll never know. But what we do know is that Carlson will become another one of the heroic women who stand up to towering, powerful figures who dangle jobs and say, "I'm sick and tired and I'm not going to take it anymore."
Anita Hill did that 25 years ago when she testified against now-Supreme Court Justice Clarence Thomas about his inappropriate comments and lewd behavior when she worked for him. Thomas was confirmed, but the world changed. Sexual harassment since then has been taken seriously in the workplace.
But only when women have the courage to say, "Enough."
Kudos to Carlson and all the other women who exposed the old-boy network of towel-snapping at Fox.  Taking down a man like Ailes is no small feat.
Kudos to Fox's parent company, 21st Century Fox, for not dismissing Carlson's complaint. But instead swiftly opening an internal investigation.
But no praise for Trump for shaming the women who bravely came forward.