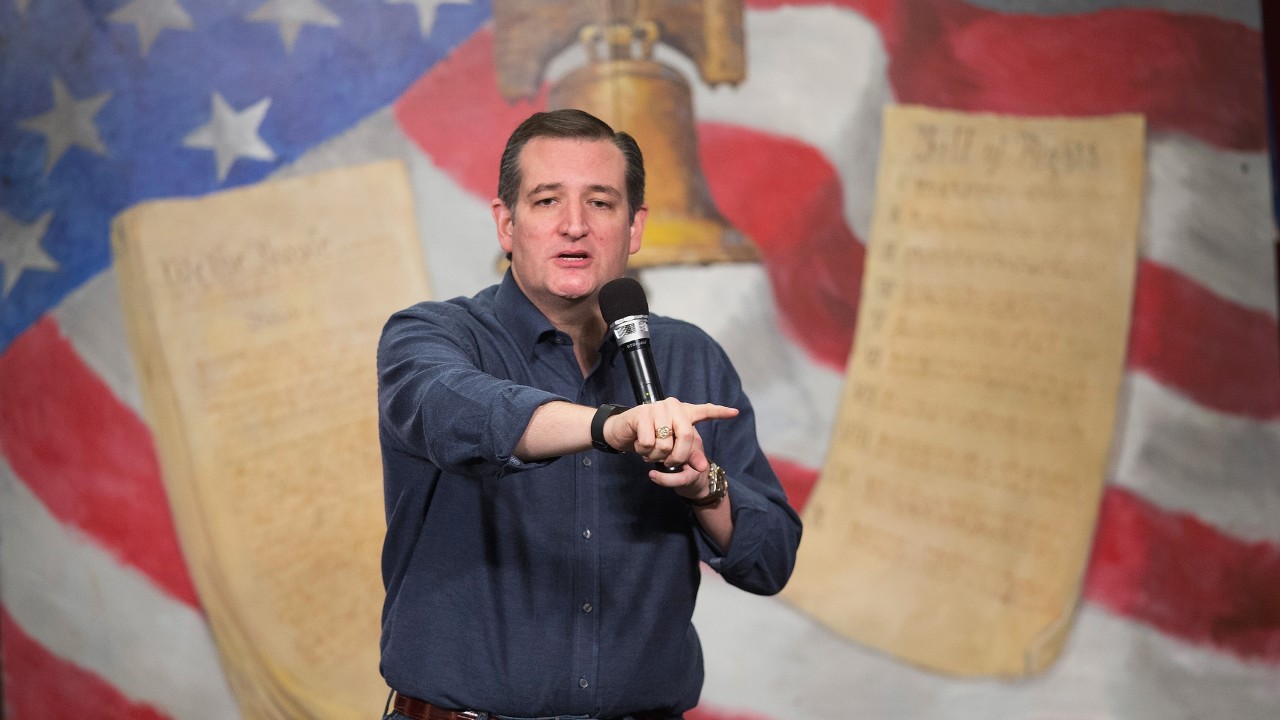 This post was co-published with The Center for Responsive Politics' OpenSecrets.org.
---
Ted Cruz, effectively anointed by Jeb Bush this week as the Republican party's last best hope to stop Donald Trump from becoming its presidential nominee, was emphatically not the standard bearer the GOP establishment had in mind at the beginning of this campaign.
The brash Texas senator's anti-Washington rhetoric — often aimed at leaders of his own party — made him a tea party favorite and has won him an impressive network of small donors. Contributors of $200 or less made up nearly 42 percent of the $66.2 million in individual contributions that Cruz has raised so far for his presidential campaign committee. These grassroots donors are the kind who have the commitment to show up at the polls.
Rather than deploying a single mammoth super PAC… Cruz's supporters set up several groups that each took gifts from different donors and had distinct assignments.
Cruz represents a unique double fundraising threat, though. From early on, he has also attracted big money — six-, seven- and even eight-figure checks that have gone to super PACs organized to support him. Eight groups have brought in a combined $52 million so far in pro-Cruz money. In fact, he's the candidate most of the largest donors this cycle have backed.
For the super PACS that have been backing Cruz the longest — a quartet whose names are all variations on "Keep the Promise" — just six donors account for 79 percent of their total fundraising. Three billionaire families gave $36 million to Keep the Promise I, II and III.
These are the donors whose gifts are helping keep Cruz competitive this late in the game. His own presidential campaign committee, which — unlike the super PACs — can't take donations totaling more than $5,400 from an individual in the 2016 election cycle, has spent down much of its money; there was $17 million in the bank as of March 1. But Cruz can take comfort in piles of unused super PAC cash sitting in the bank: At the beginning of March, the groups had nearly $20 million waiting to be spent.
Rather than deploying a single mammoth super PAC, like those that have been behind most of the other White House contenders, Cruz's supporters set up several groups that each took gifts from different donors and had distinct assignments. Keep the Promise I, for instance, was largely the purview of Long Island hedge fund CEO Robert Mercer, who sank a tidy $11 million into the group. A computer programmer turned investor, Mercer manages Renaissance Technologies, a hedge fund that's battling the IRS over what the feds contend are tax dodges. His eclectic interests were outlined in a lengthy profile earlier this year on Bloomberg Politics. Keep the Promise I was the most active of the groups early on in the process, spending down most of its money on media and direct mail, and leaving just $422,562 in the bank as March began.
Not a problem, though, since Keep the Promise II and Keep the Promise III have largely kept their powder dry so far. Keep the Promise II, which was meant to use its funds for television ad buys, has yet to spend nearly $9 million of its stash. Entrepreneur Toby Neugebauer, a relative newcomer to the top tier of political giving who is an energy investor and the founder of an engineering company, is the group's sole contributor, having thrown $10 million into the pot. Neugebauer, who moved to Puerto Rico after the territory set up a tax break that's attracted the super-rich, is the son of conservative Texas Congressman Randy Neugebauer.
Keep the Promise III, tasked largely with digital organizing though it was recently spending money on robocalls in Michigan, similarly received 98 percent of its funds — $15 million — from four members of the Texan Wilks family and has $9.4 million left. Brothers Dan and Farris Wilks became billionaires when they sold their business providing trucks and other equipment to frackers; Farris Wilks is pastor of a fundamentalist church in rural central Texas. They have never before contributed anything like the sums they forked over for the pro-Cruz groups at the federal level.
With their leftover funds, Keep the Promise I and Keep the Promise III recently announced plans to consolidate into one super PAC to re-up their fundraising effort. Trusted Leadership PAC, the new umbrella group, won't include Neugebauer's Keep the Promise II.
The constellation of outside spending groups (which aren't supposed to coordinate their strategies with the Cruz campaign) have in one sense made Cruz this cycle's most successful beneficiary of big money backing. Three of the five families giving the most money to outside groups — of whom four are conservative — picked Cruz as their top choice in the Republican presidential primary. The Keep the Promise groups secured huge contributions, including the eight-figure gifts from the Wilks family, Neugebauer and Mercer, by mid-April 2015.
Even former Florida Gov. Jeb Bush, who was deeply involved with the super PAC juggernaut Right to Rise USA behind him, couldn't compete at that level. The $100 million fundraising blitz Bush led for the group before becoming an official candidate produced just one donor who gave more than $10 million: Hank Greenberg, the man behind C.V. Starr & Co. and at least $15 million in contributions to presidential super PACs.
Super PACs fat with cash haven't saved the candidacies of several Republicans who'd been expected to do better this cycle, including Wisconsin Gov. Scott Walker, former Texas Gov. Rick Perry and of course Bush. Equally true, though: It's highly unlikely that any Republican candidate — with the exception of the one with vast wealth of his own to spend — can succeed without one.