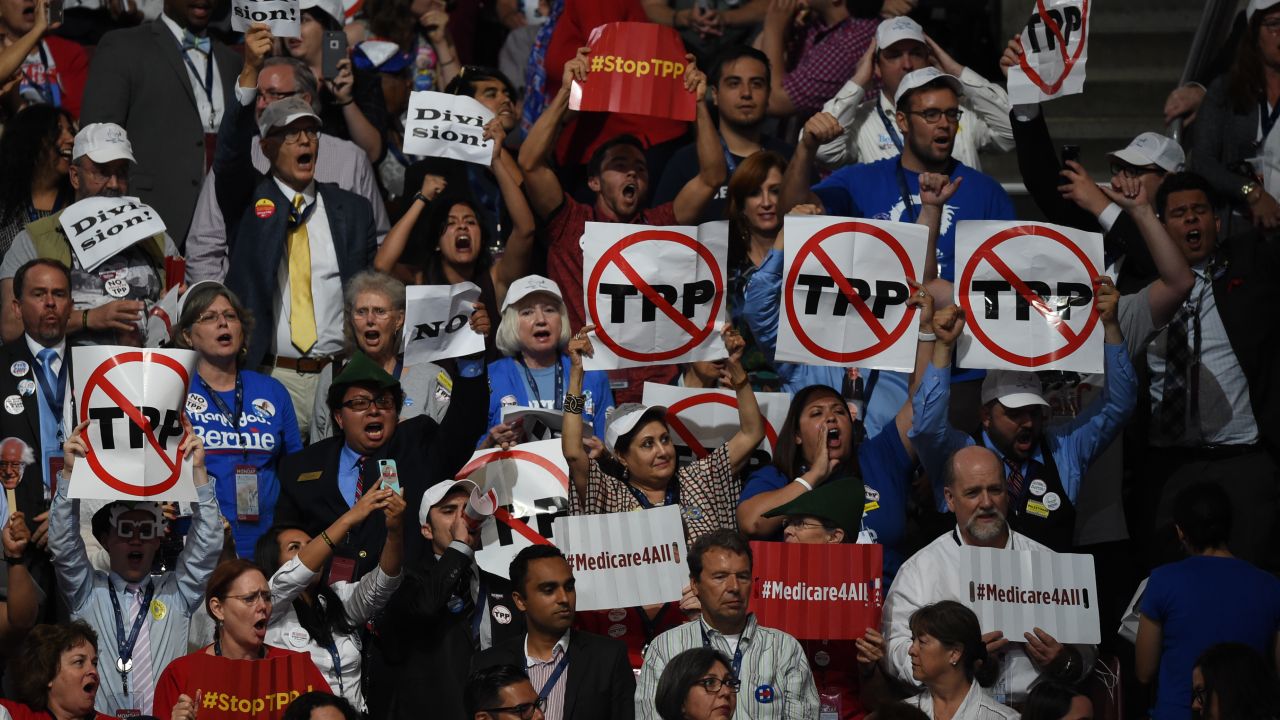 This post originally appeared at In These Times.
Bob Cash has been organizing around trade issues for the better part of eight years in El Paso, Texas. For the most part it's been uphill work, having to start each meeting with a thorough explainer on the basics of free trade, NAFTA and — in the last several years — the Trans-Pacific Partnership (TPP).
Last summer, he was in a Subway restaurant picking up a bulk order of sandwiches for a meeting of the Texas Fair Trade Coalition (TFTC), a collection of union locals and environmental groups from around the state mobilizing against the TPP. (Cash is the coalition's director.) While waiting in line, someone turned to him and asked what all the sandwiches were for. Starting to explain, Cash was interrupted: "TPP, I've heard of that! That's another one of those damned free trade agreements, like NAFTA."
For those fighting back against deals like the TPP, like Cash, this presidential election's bipartisan focus on trade policy has been an unexpected windfall.
For those fighting back against deals like the TPP, like Cash, this presidential election's bipartisan focus on trade policy has been an unexpected windfall.
"It's a lot easier to speak in shorthand now because so many people already know," he says. "All the candidates are talking about TPP."
As Barack Obama prepares to push a vote on the TPP through during Congress's upcoming lame-duck session, Cash is one of many activists working to stop it. Targeting some of the 435 House members up for re-election, former Bernie Sanders staffers and super volunteers are putting the lists garnered in the primaries to work, narrowing in on key representatives as they come home to campaign in their districts. In part, the effort is being coordinated by Our Revolution, the official outgrowth of the Sanders campaign.
"The only way it's going to get stopped is if we stop it in the House," says Larry Cohen, former Communications Workers of America (CWA) president and current Our Revolution board chair.
According to Cohen and others organizing against the TPP, the administration is banking on Americans' election fatigue and the defeated congressmen no longer accountable to their constituents, who could flip their votes on the agreement under the radar. Cohen sees the crucial push for activists, though, as before the election, pressuring wavering Democrats "who won't say which side they're on" but are eager to please constituents. In particular, Our Revolution is looking to get commitments to vote no on the TPP from 10 key representatives, from Iowa (Rod Blum) to Boston's North Shore (Seth Moulton).
"In any congressional district, we have somewhere around 10,000 supporters. They're ready to do things, and — thanks to the campaign — they know what the issue is," Cohen says.
Lev Hirschhorn was a regional field director with the Sanders campaign, and since the primaries wrapped helped found an organization called Reclaim Philadelphia, which looks to pressure Democrats and, eventually, run candidates on a platform generated by grass-roots activists. Now, its main focus is an all-out push to stop the TPP, knocking doors in the run-up to a lame-duck vote and contacting thousands by phone.
Working loosely with Our Revolution, Reclaim Philadelphia is targeting Dwight Evans in Pennsylvania's 2nd Congressional District. While Evans has said he's "unsettled by the TPP," according to Hirschhorn, he has not yet committed to voting against it in the lame-duck session. Reclaim Philadelphia participated in a national call-in day a few weeks back to get him to change his mind, directing about 150 to phone his office.
In Texas, Cash also rallied former Bernie backers to participate in Our Revolution's call-in day, directing around 200 calls toward Rep. Robert "Beto" O'Rourke's office in the state's 16th Congressional District. On top of hosting their own town halls about the TPP, volunteers have showed up to those held by O'Rourke's campaign.
The Texas Fair Trade Coalition also held a "block walk" in O'Rourke's neighborhood, going to door-to-door collecting signatures, according to Cash. The 17 volunteers who turned out convinced four of O'Rourke's neighbors to post banners saying "We Trust Beto To Vote No On TPP."
As the election draws to a close, Cash, Hirschhorn and others working under the Our Revolution umbrella are preparing to "double down," as Cohen says, in the lead-up to an all-too-likely lame-duck vote. Post-election, on Nov. 17, a demonstration in Washington DC — sponsored by slew of unions and progressive groups — will look to raise the deal's profile nationally. But whoever wins Tuesday, TPP opponents show few signs of letting up.