This post originally appeared at The Nation.
Many states and cities held local elections this week, and the 2016 election is one year away. But not everyone will be able to cast a ballot.
The 2016 election will be the first presidential election in 50 years without the full protections of the Voting Rights Act. Twenty-one states have put new voting restrictions in place since the 2010 election, with voters in 15 states facing these obstacles for the first presidential cycle in 2016, including in crucial swing states like North Carolina and Wisconsin.
Legislation has been introduced in Congress to restore the Voting Rights Act (VRA) following the Supreme Court's 2013 decision gutting the law, but neither the modest Voting Rights Amendment Act of 2014 or the more ambitious Voting Rights Advancement Act of 2015, which both have bipartisan support, have moved legislatively.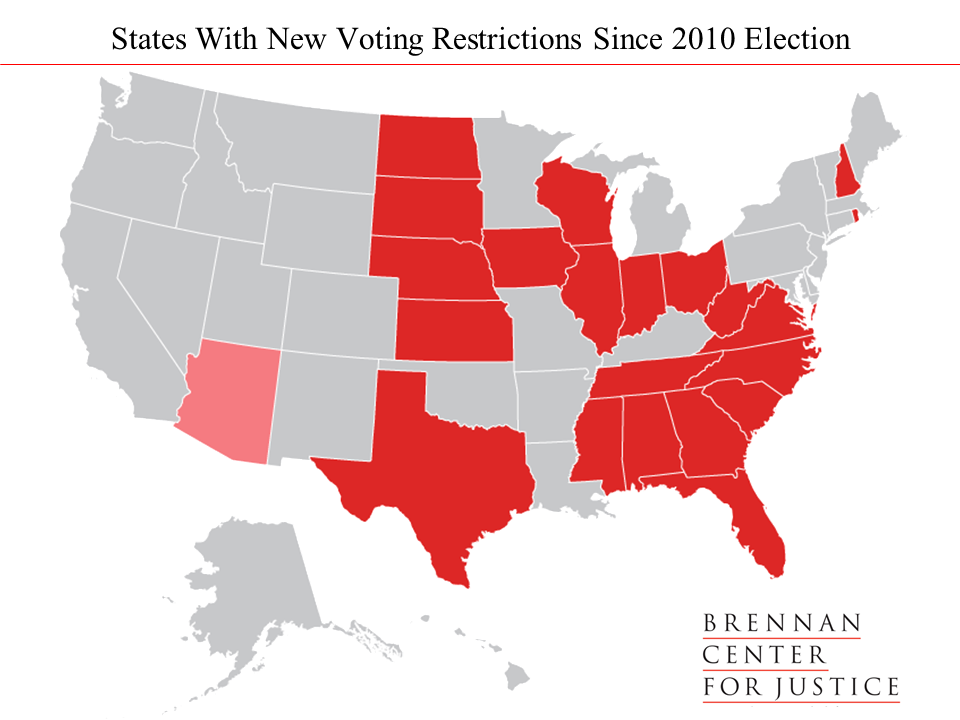 On Tuesday congressional Democrats unveiled a new strategy to build support for the Voting Rights Advancement Act. The bill compels states with a well-documented history of recent voting discrimination to clear future voting changes with the federal government, requires federal approval for voter-ID laws and similar measures and outlaws new efforts to suppress the growing minority vote.
Every Tuesday while in session members of Congress will speak about the importance of voting rights, calling it "Restoration Tuesday," spotlight stories of modern-day barriers to voting and rally on social media with the hashtag #RestoreTheVOTE & #RestorationTuesday.
Representative Terri Sewell (D-AL), who represents Selma, calls it "a consistent effort by legislators to build a coalition toward getting this bill passed." Sewell sees her home state as a case study for the need to restore the VRA.
In late September, Alabama closed 31 DMV locations, many in majority-black counties, after passing a strict voter ID law. Following a national outcry, Alabama Governor Robert Bentley announced the offices would remain open one day a month. (Before the VRA was passed, voter-registration offices in places like Selma were open only two days a month, one way local registrars kept black citizens off the rolls.) "While better than closure, opening these DMV offices one day a month provides only bare minimum access and that's unacceptable," Sewell says.
More recently, the Department of Justice vowed to sue Alabama for not complying with the 1993 National Voter Registration Act, which requires the government to provide voter registration opportunities at motor vehicle offices and other public agencies. Alabama officials subsequently admitted the state has never complied with the law. "That reflects the need for the VRA," Sewell says.
The Voting Rights Advancement Act has 119 co-sponsors in the House and 39 in the Senate. Senator Lisa Murkowski of Alaska became the first Republican to co-sponsor the legislation in September.
But few Republicans have followed. Twenty-one members of Congress visited Selma in March 2015 — for the 50th anniversary of "Bloody Sunday"– on a civil rights pilgrimage with Congressman John Lewis, but only two of them — Representative Robert Dold of Illinois and Tom Reed of New York – came back and supported legislation to restore the VRA. (Full list below.)
"These are the very legislators that I plan on approaching to get them to sign on to this bill," Sewell says of the Republicans who visited Selma. "It's not enough that we have one day a year where we do this pilgrimage and have this Kumbaya moment, Republicans and Democrats, on the Edmund Pettus Bridge. If we're really sincere about honoring the legacy of John Lewis and all of those foot soldiers that gave up their lives to extend the right to vote, then we should support legislation to do just that and put federal protections back into the Voting Rights Act."

* * *
Republicans who visited Selma in March 2015:
Sen. Susan Collins (R-ME)
Sen. Rob Portman (R-OH)
Sen. Tim Scott (R-SC)
Sen. Jeff Sessions (R-AL)
Rep. Robert Aderholt (R-AL)
Rep. Bradley Byrne (R-AL)
Rep. Barbara Comstock (R-VA)
Rep. Curt Clawson (R-FL)
Rep. Robert Dold (R-IL), co-sponsor Voting Rights Amendment Act
Rep. Tom Emmer (R-MN)
Rep. French Hill (R-AK)
Rep. Will Hurd (R-TX)
Rep. Mike Kelly (R-PA)
Rep. Leonard Lance (R-NJ)
Rep. Kevin McCarthy (R-CA)
Rep. Gary Palmer (R-AL)
Rep. Tom Reed (R-NY), co-sponsor Voting Rights Amendment Act
Rep. Martha Roby (R-AL)
Rep. Mike Rogers (R-AL)
Rep. Jason Smith (R-MO)
Rep. Kevin Yoder (R-KS)