We're proud to collaborate with The Nation in sharing insightful journalism related to income inequality in America. The following is an excerpt from Nation contributor Greg Kaufmann's "This Week in Poverty" column.
---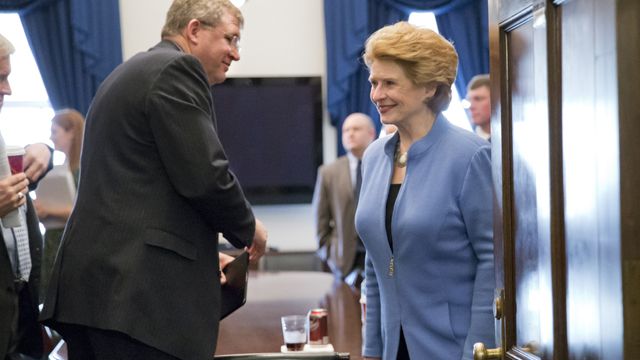 Senate Agriculture Committee Chairwoman Debbie Stabenow (D-MI), right, and House Agriculture Committee Chairman Frank Lucas (R-OK), left, and other farm bill negotiators wrap up a closed-door meeting on Capitol Hill in Washington on Dec. 4, 2013. (AP Photo/J. Scott Applewhite)
On the same day that President Obama eloquently described his vision of an economy defined by economic mobility and opportunity for all, Senate Agriculture Committee Chairwoman Debbie Stabenow was busy cutting a deal with House Agriculture Committee Chairman Frank Lucas to slice another $8 to $9 billion from food stamps (SNAP), according to a source close to the negotiations.
"One study shows that more than half of Americans will experience poverty at some point during their adult lives," said President Obama. "Think about that. This is not an isolated situation.… That's why we have nutrition assistance or the program known as SNAP, because it makes a difference for a mother who's working, but is just having a hard time putting food on the table for her kids."
Indeed it does, but the chairwoman consistently fails to get the memo.
There are currently 47 million Americans who turn to food stamps to help make ends meet. According to the Center on Budget and Policy Priorities, nearly 72 percent are in families with children and one-quarter of SNAP participants are in households with seniors or people with disabilities. Further, 91 percent of SNAP benefits go to households with incomes below the poverty line and 55 percent to households below half of the poverty line (about $9,500 annually for a family of three).

Despite the fact that the Institute of Medicine demonstrated the inadequacy of the SNAP benefit allotment and that a child's access to food stamps has a positive impact on adult outcomes, the program was just cut by $5 billion on November 1. The average benefit dropped from $1.50 to $1.40 per meal. The Senate Agriculture Committee's previous proposal to cut yet another $4 billion from SNAP would have led to 500,000 losing $90 per month in benefits, the equivalent of one week's worth of meals.
"That was the first time in history that a Democratic-controlled Senate had even proposed cutting the SNAP program," said Joel Berg, executive director of the New York City Coalition Against Hunger. "The willingness of some Senate Democrats to double new cuts to the program…is unthinkable."
The president recognized in a very personal way the need for a SNAP program that protects families from severe hardship.
"When my father left and my mom hit hard times trying to raise my sister and me while she was going to school, this country helped make sure we didn't go hungry," he said.
In contrast, Berg tells of a mother he recently met who now sees this country turning away from her and her children.
"I recently met a mother of two, trying to advance herself and her family, by working her way through college," said Berg. "After November 1st, she lost $46 worth of groceries a month, which equals at least 30 fewer meals for her family."
It seems she and her kids are about to absorb another hit.
"These SNAP cuts will be devastating to families across the nation," said Dr. Mariana Chilton, co-principal investigator of Children's HealthWatch, a research organization analyzing the effects of economic conditions and public policy on children in emergency rooms and clinics around the country.
"Not only will families lose significant SNAP dollars — which will make it harder for them to feed their kids and also reduce their children's nutrient intakes — but it will also cause major health problems for children, increased hospitalizations for very young kids and greater need for psychosocial and mental health services for school aged kids."
President Obama perfectly captured what it means for this country to turn its back on children.
"The idea that a child may never be able to escape poverty because she lacks a decent education or healthcare, or a community that views her future as their own, that should offend all of us and it should compel us to action," said President Obama.
We are the community and it is offensive. Now is the time to tell the president: if these cuts land on his desk, he must veto the bill.
---
Update, December 8: Senator Stabenow's office did not initially respond to a request for comment, but have replied to this post. Their statement:
Senator Stabenow strongly opposes any changes to food assistance that make cuts in benefits for people who need help putting food on the table for their families. She has been the number one defender against the House Republican proposal to cut food assistance by $40 billion, including rule changes that would throw four million people off of the Supplemental Nutrition Assistance Program (SNAP) altogether.

Unlike the House proposal, the Senate Farm Bill protects critical food assistance for the over 47 million Americans who need help. The Senate bill saves $4 billion solely through ending program misuse—like stopping lottery winners from continuing to receive assistance, cracking down on retailer benefit trafficking, and curbing the misuse of a LIHEAP paper work policy by a small number of states. It is very important that we continue to maintain the integrity of these critical food assistance programs so that opponents cannot use rare examples of misuse as arguments for gutting assistance to children, families, seniors and disabled Americans.

While no final agreement has been reached, Senator Stabenow will not support any policies that arbitrarily remove people in need from SNAP or make across-the-board cuts to benefits. She will only support savings focused on program misuse.