We're proud to collaborate with The Nation in sharing insightful journalism related to income inequality in America. The following post appeared first in Nation contributor Greg Kaufmann's "This Week in Poverty" blog.
---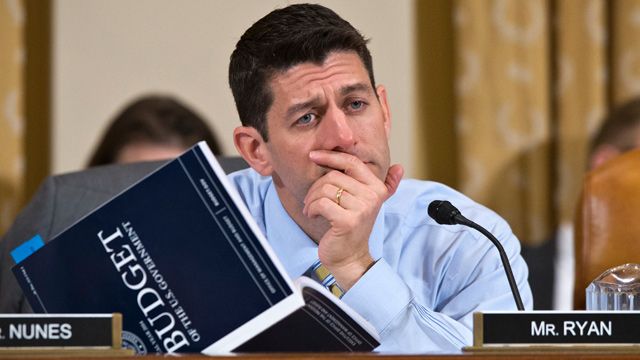 House Budget Committee Chairman Rep. Paul Ryan, R-Wis., a member of the House Ways and Means Committee, holds a copy of President Barack Obama's fiscal 2014 budget proposal book as he questions Health and Human Services (HHS) Secretary Kathleen Sebelius on Capitol Hill in Washington, Friday, April 12, 2013, as Sebelius testified before the House Ways and Means Committee hearing on the HHS fiscal 2014 budget request. (AP Photo/J. Scott Applewhite)
Wednesday, at a House Budget Committee hearing entitled "War on Poverty: A Progress Report," Republican Congresswoman Marsha Blackburn of Tennessee used her allotted time to try to discredit the sole Democratic witness, Sister Simone Campbell. Sr. Simone is the executive director of NETWORK, a national Catholic social justice lobby, but she is more widely known as the leader of the Nuns on the Bus.
"You said you come to this hearing today as a Catholic sister living under Christian tradition," said Rep. Blackburn. "Would it be fair for this Committee to question the validity of your testimony knowing that the Vatican has reprimanded the Leadership Conference on the Women Religious and singled out your organization for only promoting issues of social justice, and being silent on the right to life from conception to natural death?"
Sr. Simone replied that the exchange with the Vatican was about "theological struggles, not about our engagement in political activity, and our organization works on economic issues."
Republican Chairman Paul Ryan seemingly admonished Rep. Blackburn, albeit indirectly, telling Sr. Simone: "Speaking as a Catholic who usually disagrees with you on some of these issues, I think you are very well within Catholic social teachings to give the testimony that you gave here today."
It was one of many bizarre moments during a hearing that Washington Democratic Congressman Jim McDermott described perfectly to his Republican colleagues when he said: "This hearing is surreal… You are not living in the real world."
Indeed, one of the three Republican witnesses — University of Maryland professor Doug Besharov, director of the American Enterprise Institute's Social and Individual Responsibility Project — was there to discuss incentives to help people get out of poverty. So it was surprising that he was unsure what the current federal minimum wage pays.
"The current federal minimum wage is $7.25, correct?" said New York Democratic Congressman Hakeem Jeffries, trying to pivot to a discussion about good jobs as the best anti-poverty program.
"Uh, it could be," said Besharov. "I—I don't know the exact number. It's around there."
Texas Republican Congressman Roger Williams described himself as "a job creator" who has owned and operated his family car business for forty-two years.
"Don't you think a lot of this debate is the fact we've lost our family values?  We've got single parents and so forth and we need to get back to that?"  Williams asked Sr. Simone.
"I practiced family law for 18 years in Oakland, California. I found with low-income families that the biggest cause of family break up was economic stressors," said Sr. Simone. "So I think the most important piece we could do to support families would be to raise the minimum wage."
"Or you could do away with the minimum wage," said Williams.
Wisconsin Republican Congressman Reid Ribble described his "own religious upbringing"—his father was a minister; three of his brothers and one son are all pastors.
"Whoa," said Sr. Simone, impressed.
"Christianity is all about serving the poor," Rep. Ribble told her. "What is the Church doing wrong that it had to come to the government to get so much funding?"
Sr. Simone said the need for government assistance is more about the "dimension of the issue."  She noted a Bread for the World study that calculated the funds religious institutions would have had to raise if the food stamp cuts proposed in last year's House Republican budget had been implemented.  She said "every church, synagogue, mosque, and house of worship in the United States" would have needed to raise $50,000 in additional monies — every year, for ten years.
"We have a limitation in our capacity to do that," said Sr. Simone.
"Your capacity is the same as our capacity," Rep. Ribble argued.
These head-scratching moments aside, I found the entire frame of the hearing as laid out by Chairman Ryan to be seriously flawed. Ostensibly, it was to examine the most effective ways to fight poverty as we approach the 50th anniversary of the War on Poverty next year.
"Government focuses too much on inputs," said Chairman Ryan. "We focus on how much money we spend. Instead, we should focus on results."
It's a claim he has made consistently since last year. But it's Rep. Ryan and his conservative colleagues who are constantly bemoaning the amount of money spent on anti-poverty programs — money we "confiscate" from taxpayers, said Indiana Republican Congressman Todd Rokita — while dismissing the data that show how effective these programs can be.
Indeed there are many poverty scholars who have found positive outcomes in both the short- and long-term for children and adults who participate in anti-poverty programs. Research from Arloc Sherman (here, here, here and here), Hilary Hoynes and Diane Whitmore Schanzenbach, Greg Duncan and Katherine Magnuson, and organizations like Children's HealthWatch — to name just a few — reveal that these programs contribute to improved health, higher achievement, and greater financial security, for example.
But if Chairman Ryan wanted to hear more about results, Sr. Simone certainly obliged.
"In 2011, government benefits lifted a total of 40 million people out of poverty," she testified. "While Social Security has the largest impact of any single program, means-tested programs such as SNAP, SSI and the EITC lifted almost 20 million Americans, including 8 ½ million children, out of poverty."
She also noted that "poor babies in the 1960s and 1970s who were fortunate enough to live in counties served by the Food Stamp Program… were healthier as adults and were more likely to finish high school" than poor babies who lived in counties that didn't yet have the program. (They also scored higher on a "self-sufficiency" index that included adult outcomes like earnings, income and decreases in welfare participation.)
Watch her full testimony, here:
And yet the House Republican proposal to cut $20.5 billion from SNAP (food stamps) over ten years would lead to approximately 5 million people being eliminated from the program, and would increase federal and state health care costs by $15 billion for diabetes alone over ten years.  Further, Ranking Member Chris Van Hollen of Maryland noted that the Republican House budget would cut "$810 billion from base Medicaid funding" and that "Medicaid [would] be cut by one-third in 2023."
"It simply adds insult to injury — and tortures the English language — to pretend that deep cuts to food and medical assistance programs will somehow 'strengthen' that safety net and help people in poverty," said Rep. Van Hollen.
The star witness for the Republicans was Eloise Anderson, secretary of the Wisconsin Department of Children and Families. Anderson's main message was that she saw time limits and the work requirement as the keys to the "success" of the Temporary Assistance to Needy Families (TANF) program created by welfare reform in 1996. She touted her own data from Wisconsin — that "90 percent of the people left the program — and have continued to stay off."  She urged Congress to implement work requirements and time limits in all anti-poverty programs.
But the twists in the hearing just kept coming. Wisconsin Democratic Congresswoman Gwen Moore revealed that she was on welfare in 1985 and worked for the Department of Employment Relations where she was trained by Secretary Anderson.
"She was brilliant, and of course, that was contagious, I'm brilliant now," said Rep. Moore.
But Rep. Moore took issue with Secretary Anderson's data and her description of TANF as a success in Wisconsin.
"Yes, the rolls did fall by 93 percent, because they just threw people off," said Moore. "Many of the [people who left] did not find jobs. I tried to require that they do data and statistics — which they didn't want to do — because they didn't want to confirm that."
Moore also noted that because the creation of TANF in 1996 made cash assistance much harder to obtain, the number of people living on $2 a day or less — the definition of poverty in developing nations, according to the World Bank — has doubled in the U.S.
As the hearing came to a close, Chairman Ryan said, "I think you can tell that the rhetoric is still mired in the status quo… Hopefully we can get past the status quo, past the rhetoric, and collectively focus on evidence-based solutions."
But the fact is that there was plenty of evidence offered during the hearing about what works. The Chairman just chooses to ignore it.
As Sr. Simone testified, "We won't address [poverty] by ignoring the successes of today's safety net, but neither is today's safety net adequate — we need a new commitment to reduce poverty and promote opportunity."
---
| | |
| --- | --- |
| | Greg Kaufmann is a freelance writer and Nation contributor covering poverty in America, primarily through his blog, This Week in Poverty. His work has also been featured on MSNBC's Melissa Harris-Perry show, CBSNews.com, NPR.org, WashingtonPost.com, Common Dreams and Alternet. He serves as an adviser for the Economic Hardship Reporting Project. |