We're proud to collaborate with The Nation in sharing insightful journalism related to income inequality in America. The following is an excerpt from Nation contributor Greg Kaufmann's "This Week in Poverty" column.
---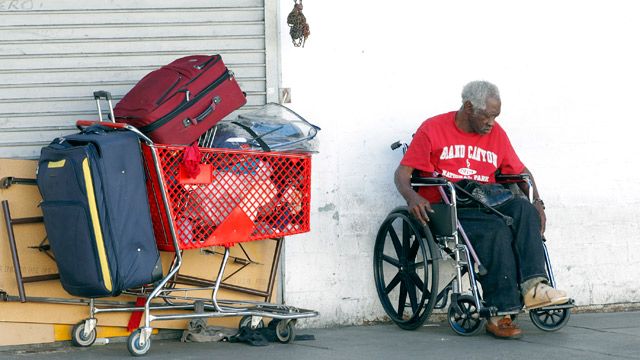 A homeless individual sits on the sidewalk in downtown Los Angeles. (AP Photo/Nick Ut)
Last week the California Assembly's Judiciary Committee passed AB 5, the Homeless Bill of Rights, by a vote of 7 to 2. At a time when homelessness is increasingly criminalized, this is an important step towards helping people instead of punishing them for not having a home. Advocates overcame strong opposition to the bill, in part through a grassroots movement of homeless and poor people that mobilized hundreds of people to rally and lobby the Democratic members of the committee.
There are now approximately 160,000 men, women and children who experience homelessness in California on a daily basis, about 20 percent of the nation's total homeless population. The state ranks second worst in the number of homeless children, and third worst in the percentage of children who are homeless, according to the National Center on Family Homelessness. A 2011 U.S. Conference of Mayors report attributed the rise in homelessness across the nation — despite the recovering economy — primarily to unemployment and a lack of affordable housing, in that order.
Yet the response by political leaders in California and other states hasn't been a sympathetic one — it's largely been to prosecute those who are struggling.
A report by the National Law Center on Homelessness and Poverty notes that criminalization of homelessness has taken many forms, including: enactment of laws that make it illegal to sleep, sit or store personal belongings in public spaces of cities without sufficient shelter or affordable housing; selective enforcement against homeless people for violating seemingly neutral laws like loitering, jaywalking or open container ordinances; sweeps to drive homeless people out of areas — which often results in the destruction of their personal property, including medications and personal documents; punishing people for begging or panhandling; and restricting groups from sharing food with homeless people in public areas.
"What cities and counties are doing right now to respond to homelessness isn't helping, it's making the problem worse," said Jessica Bartholow, legislative advocate for the Western Center on Law and Poverty, another cosponsor of the legislation.
In contrast, some of the measures proposed in the Homeless Bill of Rights include the creation of hygiene centers with bathrooms and showers; allowing people to rest, sit or sleep in public spaces; access to counsel during civil prosecutions; and protecting people who offer food in public places. It would also instruct local governments to track laws and arrests that target homeless people and report them to the district attorney.
"This bill is really about basic justice," said Assemblymember Tom Ammiano, who authored the bill. "People who are homeless not only have to struggle with life on the street, [but] the indignity of being treated like criminals because they have nowhere to eat, sit or sleep except in public."
Bartholow was particularly moved by testimony from homeless people from Los Angeles who were woken up and arrested at 6:02 am due to a law against sleeping in public past 6. Another disabled woman in a wheelchair had lived on the same street corner for many years and been arrested more than a hundred times.
"Not for committing a crime, not for blocking a street or sidewalk — just for sitting there in her wheelchair," said Bartholow.
Bartholow said that too many homeless people also end up in jail because they can't pay the citations they receive for sitting in a public space. "So they have to spend time behind bars, because they sat peaceably in a public space, because they have no private space to sit in," she said.
The bill now goes to the Appropriations Committee, where costs will be considered for measures such as the hygiene centers, legal representation and reporting requirements of local jurisdictions. Bartholow said that advocates will look for ways to "ameliorate costs," but that this bill is a critical step in changing how we address homelessness and poverty as a society.
"The greatest misconception about this bill is that it somehow makes things more dangerous by allowing people to rest in public places," she said. "But the bill in no way protects malicious or antagonistic behavior, or blocking doorways or pathways. It protects people's right to rest — which is a human need. People who don't have a private space to do that need to be able to do that somewhere. And sometimes the only place available is a public space."
You can follow the campaign to pass this bill here.
---
| | |
| --- | --- |
| | Greg Kaufmann is a Nation contributor covering poverty in America. His work has also appeared on Common Dreams, Alternet, Tikkun.org, NPR.org, CBSNews.com and MichaelMoore.com. He serves as an adviser for the Economic Hardship Reporting Project. |