We're proud to collaborate with The Nation in sharing insightful journalism related to income inequality in America. The following is an excerpt from Nation contributor Greg Kaufmann's "This Week in Poverty" column.
---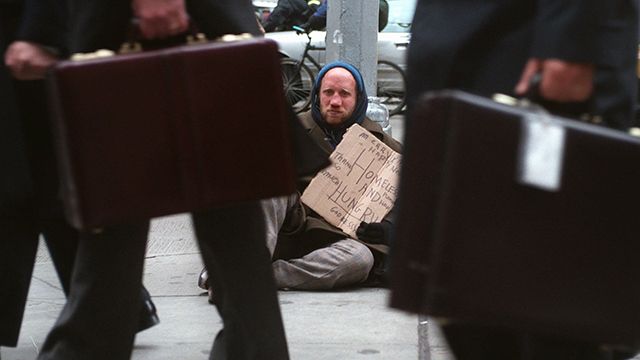 (AP Photo/Adam Nadel)
Sequestration can seem a little vague, abstract, difficult to wrap your head around.
But here's what it means when it comes to housing: up to 140,000 fewer low-income families receiving housing vouchers, more children exposed to lead paint, higher rent for people who can't afford it and a rise in homelessness.
These are among the human costs of sequestration noted in a new paper by Doug Rice, senior policy analyst at the Center on Budget and Policy Priorities, who has worked on housing policy for ten years.
"These kinds of cuts are really unprecedented," Rice told me. "The Section 8 voucher program has been around for nearly 40 years — it was created during the Nixon Administration and has had strong, bipartisan support for its entire history. Part of that support has consisted of Congress providing adequate money to ensure that the vouchers currently used by families are renewed from year to year."
But for just the third time in 39 years, Congress will not fund local housing agencies so that they can renew all current vouchers. A $938 million cut in the voucher program translates to a 6 percent shortfall below what is needed to maintain assistance to the same number of families in 2013 as last year.
"Here we are in 2013 looking at severe cuts in the number of families that receive assistance, even at a time when the number of families in need has been rising sharply," said Rice.
Indeed, as the report notes, there are currently "waiting lists for vouchers in almost every community," and only 1 in 4 eligible households receives a voucher or some other form of federal rental assistance. Half of the current households in the voucher program include seniors or people with disabilities, and the rest are mostly families with children. The average household income is just $12,500 — well below the poverty line of about $18,000 for a family of three.
Currently, Rice writes, about 1.5 million Americans spend some time in emergency or temporary shelters every year. Since 2007, the number of families with children living in shelters and other emergency housing has increased by approximately 32 percent.
This bleak picture is about to get worse.
While 140,000 fewer low-income families will receive vouchers by early 2014 — increasing the risk of homelessness for many families already deemed at-risk — there will simultaneously be cuts in federal funding that enables communities to assist homeless people. Emergency Solutions Grants (ESGs) are used by local communities for emergency shelters, temporary rental assistance and other services that help families avoid homelessness; these grants face up to a 34 percent cut.
"Communities will be forced to either close down shelters or cut back efforts to prevent homelessness or re-house homeless families," writes Rice.
At the same time, Continuum of Care (CoC) grants targeting "chronic homelessness" prevention — assisting homeless individuals with mental or physical disabilities who live on the streets for extended periods — will likely be reduced by at least $180 million. (More if HUD decides to reallocate a greater proportion of these funds towards ESGs.)
"There has been a 10-year effort at the federal level to reduce chronic homelessness among individuals with significant mental health or other kinds of disabilities," said Rice. "It is a lot cheaper to help them afford stable housing with the services they need than to allow them to languish on the streets, which costs the government more money in health care costs, trips to emergency rooms — not to mention jail."
Some of the effects of sequestration aren't coming down the pike — they are already here.
Local agencies are already "shelving" vouchers, which means that they aren't reissuing them to families on the waiting lists when other families leave the program. Agencies are withdrawing vouchers from families who recently received them but are still searching for an apartment. They are alerting current families that their assistance may be terminated later this year. They are considering raising rents on current tenants (which requires permission from the Department of Housing and Urban Development), charging fees for parking and other services or requiring tenants to pay more for utilities. The report notes that these policies "are likely to steer families into neighborhoods with more crime, lower-performing schools and less access to jobs."
Sequestration will also result in housing agencies receiving "only about 70 percent of the administrative funds for which they are eligible this year," according to the report. That means less ability to perform property inspections and address "potentially serious problems" in apartments.
Due to cuts in other HUD programs, there will be reduced efforts to minimize children's exposure to lead in older units, and decreased production of new affordable housing for low-income seniors and people with disabilities. Further, local agencies will receive only about half of the monies needed to cover new repairs and renovations this year — never mind the $26 billion backlog of capital repairs in public housing developments.
"When agencies don't receive enough monies to operate and maintain their properties, they delay and forgo maintenance and basic repairs, and these kinds of delays can increase costs in the long-term by causing more costly structural damage," said Rice.
At best, it means deteriorating living conditions for too many families. At worst, it means more affordable units lost to disrepair. The report notes that more than 260,000 public housing units have been demolished or removed from stock since the mid-1990s.
Not to be lost in all of this is the effect these policies have on children over the long-term.
"Children who experience repeated or extended periods of homelessness — especially when they are very young or in teenage years — tend to do much less well at school, [their] graduation rates are lower and they are more likely to have certain health problems," said Rice. "They are much less likely to be productive economically if they live in deep poverty as young kids, and part of this is a housing situation. For kids that do well in school, stable housing in a decent, safe home is a pretty important component."
In a country where 82 percent of voters want Congress and the White House to deliver a plan to cut child poverty in half within 10 years, this is clearly not the direction in which we want to be moving.
"What we should be looking at is reducing homelessness and reducing the number of low-income families who have what HUD calls 'worst case housing needs' — which are all households with very low incomes, paying housing costs that exceed half of their income, or they live in substandard housing," said Rice.
Rice has done a real service with this report. The question is the same one that seems to come up again and again when it comes to issues that are important to low-income people — is anyone listening, and does anyone give a damn?
---
| | |
| --- | --- |
| | Greg Kaufmann is a Nation contributor covering poverty in America. He has been a guest on NPR, including Here & Now, Your Call, Radio Times with Marty Moss-Coane and various local radio programs including the Matthew Filipowicz Show. His work has also appeared on Common Dreams, Alternet, Tikkun.org, NPR.org, CBSNews.com and MichaelMoore.com. He serves as an adviser for the Economic Hardship Reporting Project. |