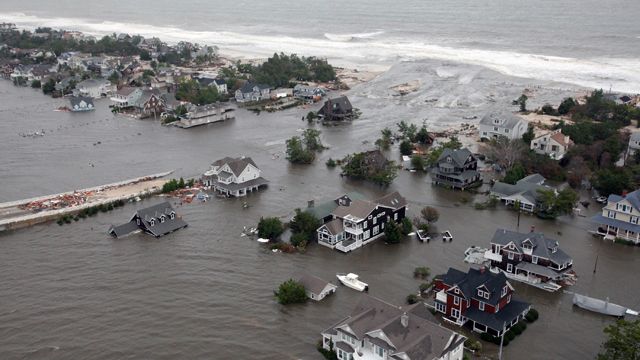 This Oct. 30, 2012 aerial photo taken by the U.S. Air Force shows flooding on the New Jersey shoreline caused by Superstorm Sandy. The unprecedented storm surge caused by the storm caused the National Oceanic and Atmospheric Administration to increase the number of storm surge forecasters at the National Hurricane Center starting with the 2013 Atlantic Hurricane season. They will also provide potential storm surge hazards at least 48 hours before the onset of tropical storm or gale-force winds. (AP Photo/U.S. Air Force, Master Sgt. Mark C. Olsen, File)
According to a new report from the National Oceanic and Atmospheric Administration, 2012 was the second-most expensive year for natural disasters since the National Climatic Data Center started keeping track in 1980. With tornadoes, wildfires, severe storms, a year-long, catastrophic drought and Hurricane Sandy, last year was surpassed only by 2005, which saw four devastating hurricanes, including Katrina.
These disasters claimed over 300 lives, cost $110 billion and will have a long-lasting negative impact on local economies in the many areas effected.
The connection between global warming and these events has been well established. A nonpartisan government advisory panel released a report in January detailing the dramatic changes in weather that have already happened, and those that Americans can expect to see in the years ahead. In a letter to the American people preceding the report, its authors wrote:
Long-term, independent records from weather stations, satellites, ocean buoys, tide gauges, and many other data sources all confirm the fact that our nation, like the rest of the world, is warming, precipitation patterns are changing, sea level is rising, and some types of extreme weather events are increasing. These and other observed climatic changes are having wide-ranging impacts in every region of our country and most sectors of our economy. Some of these changes can be beneficial, such as longer growing seasons in many regions and a longer shipping season on the Great Lakes. But many more have already proven to be detrimental, largely because society and its infrastructure were designed for the climate of the past, not for the rapidly changing climate of the present orthe future.