We're proud to collaborate with Mother Jones in sharing insightful journalism related to money and politics. We'll be posting this weekly roundup every Friday. Share your thoughts about these must-read stories and always feel free to suggest your own in the comments section.
A quick look at the week that was in the world of political dark money…
QUOTE OF THE WEEK
"The scarcity of honest information about the misleading political ads invading our airwaves has knocked viewers and voters for a loss."
—A new report from the media reform group Free Press, criticizing local TV stations in swing states for failing to report on the influence of outside-spending groups. According to Free Press's research, more than 85 percent of ads from outside spending groups relay misleading information, yet swing-state stations "devoted little to no air time to fact-checking claims made in the ads, and the stations spent no time investigating the organizations that paid for the ads."
THE MONEY SHOT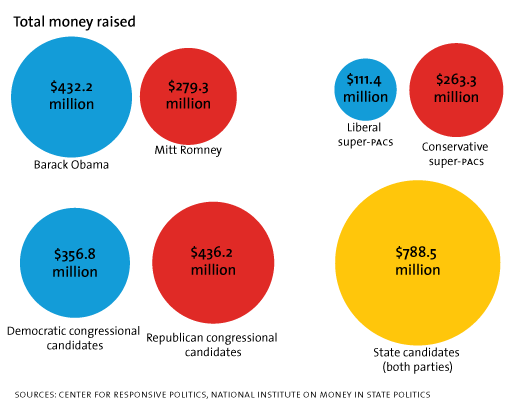 ATTACK AD OF THE WEEK
Karl Rove's dark-money nonprofit Crossroads GPS has entered the Massachusetts Senate fight between Democrat Elizabeth Warren and incumbent Republican Scott Brown with robocalls attacking Warren. The state's Democratic Party obtained audio (below) of one of the calls, which hits Warren for supporting Obamacare, misleadingly claiming that the program "will cut over $700 billion from Medicare spending." Another call criticizes the work Warren did as head of the watchdog panel overseeing the federal government's bank bailouts.
STAT OF THE WEEK
$1.5 million: Billionaire philanthropist George Soros has committed $1.5 million to liberal super PACs — $1 million to the pro-Obama Priorities USA Action and $500,000 total to two groups focused on congressional races. Previously, the right's favorite big-money bogeyman gave $1 million to the American Bridge super PAC, $175,000 to House Majority PAC, and $75,000 to Majority PAC. After his previous donations, Soros had hinted that he might not give to Priorities.
CHART OF THE WEEK
In August, for the first time this year, liberal super PACs outraised their conservative counterparts. Liberal super PACs took in $19.7 million compared to conservative super PACs' $18.3 million. All told, super PACs have raised $390.6 million during the 2012 election cycle.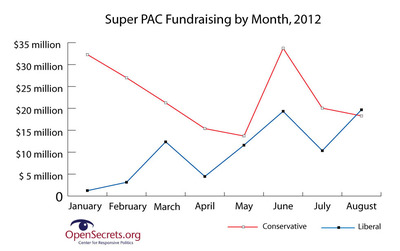 MORE MUST-READS
• David Corn's Reddit AMA: The Full Questions and Answers: MoJo's DC bureau chief, who broke the Mitt Romney donor-video story, met the 'net Friday afternoon.
• The Koch-affiliated dark-money group Americans for Prosperity struggles to turn out voters despite all its cash. Slate
• Super PACs get into the lobbying business. Politico
• Billionaire George Soros drops another $2 million into Democratic super PACs. New York Times
• Former presidential candidates' "ghost PACS" sputter on. Center for Responsive Politics
• Take part in a collaborative effort to reveal political TV ad spending. ProPublica