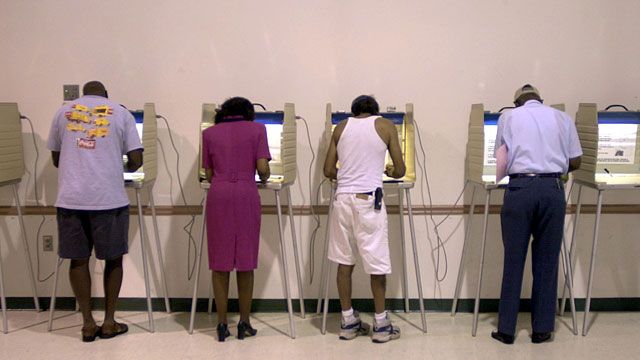 Voters mark their ballots during Florida's primary elections Tuesday, Sept. 10, 2002, at St. Paul American Methodist Episcopal Church in Jacksonville, Fla. Voter turnout was heavier than expected in the area which had thousands of disallowed ballots during the 2000 presidential election. (AP photo/Oscar Sosa)
There's a controversy brewing around this year's election and, not surprising, it's happening in the Sunshine State.
According to the Associated Press, it began last year when Florida Governor Rick Scott asked Kurt Browning, the former secretary of state (who resigned earlier this year), whether or not he thought non-U.S. citizens were illegally registered and planning to vote in this year's presidential election. Scott instructed Browning to launch an investigation to ferret out and purge ineligible voters from Florida's rolls. The initial list of "potential noncitizens," compiled by comparing state motor vehicle licenses with voter registration records, included "as many as 182,000 registered voters."
"But Browning said he decided against telling local election supervisors right away because he wanted to make sure the information was accurate in order to avoid a 'firestorm of press' and criticism. …'We were not confident enough about the information for this secretary to hang his hat on it,' said Browning, who resigned after the Jan. 31 presidential preference primary."
In the past few weeks, the first batch of names (more than 2,600) has been sent to county supervisors. Approximately two-thirds of these "potential noncitizens" hail from Miami-Dade county, Florida's largest county with the highest immigrant population. Analysis conducted by The Miami Herald indicates that "whites and Republicans are disproportionately the least-likely to face the threat of removal…"
"About 58 percent of those identified as potential noncitizens are Hispanics, Florida's largest ethnic immigrant population. They make up just 13 percent of the overall 11.3 million active registered voters.

Those who have been flagged as potential noncitizens by the state are being contacted by county election supervisors. Many legitimate voters aren't happy with what they see as a needless hassle from a government using bad data."
At least one supervisor, Palm Beach County Supervisor of Elections Susan Bucher, told Think Progress, which has been providing excellent ongoing coverage of the story, that she wasn't sending out letters to the 115 people in her county on the list because she believes the documentation is "not credible." And this afternoon, Think Progress reported that many of the 67 county election supervisors are telling them that "the lists of presumed non-eligible voters is riddled with errors. In large and small jurisdictions across the state, supervisors have found that a large number of the voters on the list are indeed eligible voters."
On Tuesday, six Florida congressmen sent a letter to Gov. Scott saying they believe that "providing a list of names with questionable validity — created with absolutely no oversight — to county supervisors and asking that they purge their rolls will create chaotic results and further undermine Floridians' confidence in the integrity of our elections."
Ari Berman reports in Rolling Stone that the letters went out to Florida residents on May 8 "informing them, 'you are not a United States citizen; however you are registered to vote.'"
"The first batch of names was riddled with inaccuracies. For example, as the progressive blog Think Progress noted, 'an excess of 20 percent of the voters flagged as 'non-citizens' in Miami-Dade are, in fact, citizens. And the actual number may be much higher.' If this ratio holds for the rest of the names on the non-citizens list, more than 35,000 eligible voters could be disenfranchised."
If the recipients do not reply within thirty to sixty days and affirm their U.S. citizenship, they will be dropped from the voter rolls. Election watchers are nervous about the possibility of eligible voters being knocked off the rolls in what may be the swing state in this year's presidential race.
Miami Herald reporters Caputo and Mazzei remind readers this is not the first time the state has come under fire for trying to clean up its voter rolls. Florida has "met with periodic resistance and questions about race-based purging from liberal-leaning groups like the American Civil Liberties Union. It fought the state's last effort, in 2008, to remove new voters from the rolls if their voting information didn't match their government-issued identification cards."
"In 2000, the elections division's move to strip felons from the rolls may have wrongly removed hundreds, if not thousands, of potential voters before the presidential election that Florida voters decided by just 537 votes."
Think Progress' Adam Peck noted on Tuesday that the national media has largely been ignoring Scott's campaign: "[R]emarkably, in the first five months of the year, The Washington Post, The Wall Street Journal and USA Today have published a total of zero articles about Scott's actions. The New York Times did slightly better, printing one story on page 16 of the Friday, May 18th edition. The article ran under the credulous headline: 'Florida Steps Up Effort Against Illegal Voters.'"
UPDATE 5:49 PM ET: Think Progress is reporting that a federal judge has blocked much of Florida's controversial voter suppression law that required third-party organizations registering voters to turn in completed forms within 48 hours, or face fines, as an "unconstitutional infringement on speech and voting rights."