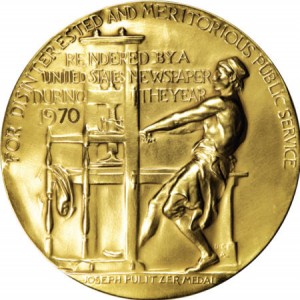 The 2012 Pulitzer Prize winners were announced Monday afternoon by Columbia University's Graduate School of Journalism. Prizes went to 14 journalists, including reporters from The Philadelphia Inquirer, The New York Times and the Huffington Post.
The New York Times' David Kocieniewski was honored for excellent explanatory reporting in his year-long series, "But Nobody Pays That." The Guardian described his coverage as a "lucid series that penetrated a legal thicket to explain how the nation's wealthiest citizens and corporations often exploited loopholes and avoided taxes." The Huffington Post picked up its first Pulitzer Prize for David Woods' amazing "Beyond the Battlefield" series, which followed injured soldiers back from the front as they struggle with their injuries. You can see a list of all the winners on the 2012 Pulitzer Prize website.
The awards for letters, drama and music were also announced, and included poet Tracy K. Smith for her collection Life on Mars. Smith, who celebrated her 40th birthday on Monday, was included in Moyers & Company guest Rita Dove's young poets to watch list earlier this year. Life on Mars is a collection of poems about Smith's father, who worked on the Hubble Space Telescope, her grief at his death, and the universe.
BillMoyers.com's archive includes several Pulitzer Prize-winning writers and journalists, such as:
Author Douglas Blackmon on 20th Century Neo-Slavery
2009 Pulitzer Prize for General Non-Fiction for Slavery by Another Name: The Re-Enslavement of Black Americans from the Civil War to World War II
Interview Airdate: February 17, 2012

Rita Dove on the Power of Poetry
1987 Pulitzer Prize for Poetry for Thomas and Beulah
Interview Airdate: February 17, 2012

Poet Stanley Kunitz
1958 Pulitzer Prize for Poetry for Selected Poems 1928-1958
Interview Airdate: November 7, 1999

Poet W.S. Merwin
2009 Pulitzer Prize for Poetry for The Shadow of Sirius
1971 Pulitzer Prize for Poetry for The Carrier of Ladders
Interview Airdate: June 26, 2009

Gretchen Morgenson on Corporate Clout in Washington
2002 Pulitzer Prize for Beat Reporting "for her trenchant and incisive Wall Street coverage."
Interview Airdate: March 9, 2012

Biologist E.O. Wilson on Revering Life
1979 Pulitzer Prize for General Non-Fiction, On Human Nature
1991 Pulitzer Prize for General Non-Fiction, The Ants, co-written with Bert Hölldobler
Interview Airdate: July 7, 2007