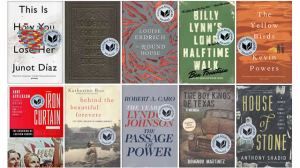 The National Book Foundation announced the finalists for the 2012 National Book Awards yesterday. Every year, the Foundation nominates five finalists for four categories: fiction, nonfiction, poetry and Young People's Literature.
Bill interviewed one of the finalists for fiction, Louise Erdrich, in April 2010, about how her Native American heritage impacts her work. Her latest novel, The Round House, follows a boy living on a Native American reservation in North Dakota as he searches for the truth about an attack on his mother.
Authors Junot Díaz and Dave Eggers are also finalists for fiction, along with two first-time novelists, Kevin Powers and Ben Fountain. Fountain and Powers' books both focus on American soldiers in Iraq.
Journalist Anthony Shadid, who died last winter while reporting in Syria, is one of five nonfiction finalists for his book House of Stone: A Memoir of Home, Family, and a Lost Middle East. Robert Caro is also among the nonfiction finalists for the fourth installment of his five-part series on Lyndon Johnson, The Passage of Power: The Years of Lyndon Johnson, Volume 4.
To see the full list of finalists, visit the National Book Foundation's website.