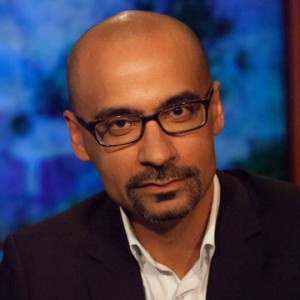 On January 3, 2013, we hosted a live chat with Pulitzer Prize-winning fiction author Junot Díaz. He answered questions from BillMoyers.com readers about his short stories and novel, the literature classes he teaches at MIT and the art of writing fiction.
Junot Díaz won the Pulitzer Prize for his novel The Brief Wondrous Life of Oscar Wao. His most recent book, This Is How You Lose Her, a collection of short stories, was released last fall.

Use the box below to replay our live chat with Díaz.
| | | |
| --- | --- | --- |
| | Author Junot Diaz | (01/03/2013) |
11:47

Moyers & Company:

Welcome to our live chat with writer Junot Díaz!

Thursday January 3, 2013 11:47 Moyers & Company
11:48

Moyers & Company:

Mr. Díaz will be joining us at 1 PM ET. In the meantime, please feel free to enter your questions in the box below so we can put them in the queue.

Thursday January 3, 2013 11:48 Moyers & Company
| | |
| --- | --- |
| 12:03 | Thursday January 3, 2013 12:03 |
12:06

[Comment From Amy Zimmer Amy Zimmer : ]

Thank you for having Mr. Diaz on your show...very thought provoking.

Thursday January 3, 2013 12:06 Amy Zimmer
12:10

[Comment From Ae Saavedra Ae Saavedra : ]

Another great, thought provoking interview. Thank you Bill. Keep up the good work and have a joyful & peaceful New Year!

Thursday January 3, 2013 12:10 Ae Saavedra
12:21

[Comment From LizPangerl LizPangerl : ]

Junot Diaz is the voice for the new millennium — a voice of color and reason with a mind that dazzles and a beauty that arrests. I'm hooked.

Thursday January 3, 2013 12:21 LizPangerl
12:41

[Comment From Michele Packard Michele Packard : ]

Is the live-chat simply in transcript form or do we get to hear Mr. Diaz answer questions?

Thursday January 3, 2013 12:41 Michele Packard
12:42

Moyers & Company:

Michele: Mr. Díaz will be joining us in about 20 minutes. He'll be answering your questions in a typed text format.

Thursday January 3, 2013 12:42 Moyers & Company
12:56

Moyers & Company:

We'll be getting started in about five minutes. Junot Díaz is on the line and ready to answer your questions. Thanks so much for your patience...


Thursday January 3, 2013 12:56 Moyers & Company
12:58

Moyers & Company:

Junot Díaz is a Dominican-American Pulitzer Prize-winning author whose fiction is celebrated for its distinct voice, "addictive prose" and unique ability to capture the contemporary American immigrant experience.

Thursday January 3, 2013 12:58 Moyers & Company
12:59

Moyers & Company:

Born in Santo Domingo and raised in New Jersey, Díaz's writing offers powerful insight into the struggle and personal growth of leaving a culture and homeland behind.

Thursday January 3, 2013 12:59 Moyers & Company
1:00

Moyers & Company:

Díaz's debut book, Drown, a collection of short stories, was published in 1996. A dozen years later, he won the Pulitzer Prize for his first novel, The Brief Wondrous Life of Oscar Wao, which was cited for its use of "raw, vernacular dialogue and spare, unsentimental prose to draw readers into the various and distinct worlds that immigrants must straddle." His latest book is This Is How You Lose Her, another collection of short stories.

Thursday January 3, 2013 1:00 Moyers & Company
1:00

Moyers & Company:

Junot Díaz, Welcome to our chat here at BillMoyers.com!

Thursday January 3, 2013 1:00 Moyers & Company
1:00

Junot Díaz:

Hello everyone, thank you so much for spending time with us today.

Thursday January 3, 2013 1:00 Junot Díaz
1:01

[Comment From David David : ]

To what extent do your main characters lives overlap with your own?

Thursday January 3, 2013 1:01 David
1:01

Junot Díaz:

The best way to answer this question is to talk about each of my books separately.

Thursday January 3, 2013 1:01 Junot Díaz
1:02

Junot Díaz:

My first book, Drown, was profoundly autobiographical.

Thursday January 3, 2013 1:02 Junot Díaz
1:02

Junot Díaz:

My novel Oscar Wao was almost entirely invented, which is to say it had very little of my life in it.

Thursday January 3, 2013 1:02 Junot Díaz
1:03

Junot Díaz:

The latest book is more of a blend. There are some elements of my life in it (the great big infidelity at the end of the book) but there's also a whole lot of stuff that's just made up.

Thursday January 3, 2013 1:03 Junot Díaz
1:03

[Comment From Jeremy Jeremy : ]

You are outspoken politically, but your fiction is often very personal. Can you see yourself ever writing a book that is overtly political?

Thursday January 3, 2013 1:03 Jeremy
1:04

Junot Díaz:

I guess I tend to view all art as being in one way or another a political act.

Thursday January 3, 2013 1:04 Junot Díaz
1:04

Junot Díaz:

In fact, there are some readers who think that I am already too political.

Thursday January 3, 2013 1:04 Junot Díaz
1:04

Junot Díaz:

But to answer your question, most specifically, could I see myself writing a book that's more political than the ones I've written, I guess I could see myself doing that.

Thursday January 3, 2013 1:04 Junot Díaz
1:05

Junot Díaz:

But my god, the characters would have to be super gripping.

Thursday January 3, 2013 1:05 Junot Díaz
1:05

[Comment From Melanie Melanie : ]

I just loved the raw voice of your narrator in Oscar Wao. What advice would you give to new writers when it comes to finding your voice and staying true to it in your writing?

Thursday January 3, 2013 1:05 Melanie
1:06

Junot Díaz:

I guess each project calls for a different voice.

Thursday January 3, 2013 1:06 Junot Díaz
1:06

Junot Díaz:

My advice to young writers, or writers who are in the middle of their project, tends to be to always keep the idea of a reader before you.

Thursday January 3, 2013 1:06 Junot Díaz
1:07

Junot Díaz:

A lot of times we write but forget that there has to be space in the work for a reader.

Thursday January 3, 2013 1:07 Junot Díaz
1:07

Junot Díaz:

For me, what helps Oscar Wao work as a book is that I always strategized a reader.

Thursday January 3, 2013 1:07 Junot Díaz
1:08

Moyers & Company:

Can you talk a little bit about your most recent book, This is How You Lose Her?

Thursday January 3, 2013 1:08 Moyers & Company
1:09

Junot Díaz:

Perhaps what mattered to me most in regards to this book is to participate in a conversation about the kind of young men that I grew up with.

Thursday January 3, 2013 1:09 Junot Díaz
1:09

[Comment From Michelle Michelle : ]

In your recent book, "This is How You Lose Her," Is there a singular message or are there many that you hope readers take away from the story--particularly for young men?

Thursday January 3, 2013 1:09 Michelle
1:10

Junot Díaz:

In my experience, the inner working of the male mind tends not to be very accurately described in literature.

Thursday January 3, 2013 1:10 Junot Díaz
1:11

Junot Díaz:

I was hoping that encountering what I would call a more accurate male representation would open the door to reflection and deliberation, both of which contain the possibility that the people reflecting and deliberating might change. For the better.

Thursday January 3, 2013 1:11 Junot Díaz
1:12

Junot Díaz:

But fiction in general tends not to have a message. It's usually just far better at asking questions.

Thursday January 3, 2013 1:12 Junot Díaz
1:12

[Comment From Anne Anne : ]

As a Dominican American, do you feel a lot of responsibility when you write, to represent Latinos and those from the African diaspora in an authentic way? Or does that never even factor into your thinking?

Thursday January 3, 2013 1:12 Anne
1:13

Junot Díaz:

In all my published work, Dominicans of African descent have been the protagonists.

Thursday January 3, 2013 1:13 Junot Díaz
1:13

Junot Díaz:

I'm not really trying to represent authentically an entire community. What I am trying to do is to describe in the most honest terms possible one tiny group of individuals who may or may not be representative at all of their community.

Thursday January 3, 2013 1:13 Junot Díaz
1:13

[Comment From Soledad Hiciano Soledad Hiciano : ]

Thank you Junot for this wonderful opportunity. I must say as a Dominican woman who came from DR at the age of 8 in 1973 your book Drown is my favorite.I can definitely relate with your characters, I run a non for profit in Washington Heights NYC and I'm concern about the drop out rate in High Schools and in College of our young people. As a teacher what are the challenges you see our young folks encountering in your classroom at MIT?

Thursday January 3, 2013 1:13 Soledad Hiciano
1:14

Junot Díaz:

MIT is a select college with a tremendous amount of privilege.

Thursday January 3, 2013 1:14 Junot Díaz
1:15

Junot Díaz:

But what I see even in this context is many of my students not having the time or the money to pursue their studies.

Thursday January 3, 2013 1:15 Junot Díaz
1:15

[Comment From Rajiv Rajiv : ]

... Does teaching creative writing there differ from your experience teaching elsewhere, between either the institutional support or students? Second, your path to becoming a writer departs from the orthodoxy and privileged pedigree of your contemporaries like Jon Franzen. As a child of immigrants from an invisible pacific island, I'm grateful to see someone who looks a little more like me doing the things you do. How do you navigate and manage the strange privilege of the literary world?

Thursday January 3, 2013 1:15 Rajiv
1:17

Junot Díaz:

I would say certainly. For most of my MIT students, creative writing is something they want to do in addition to being a doctor or a physicist or creating some fascinating new material. I also teach creative writing to folks who have their writing as their central pursuit. That's way more intense. I often feel far more responsible, or perhaps that's just my guilt talking.

Thursday January 3, 2013 1:17 Junot Díaz
1:17

Junot Díaz:

For me, the strangest privilege of all is being in the United States.

Thursday January 3, 2013 1:17 Junot Díaz
1:18

Junot Díaz:

The literary world does have an enormous range of privileges. What's important to remember is that when you receive privilege it opens an opportunity for you to help other people.

Thursday January 3, 2013 1:18 Junot Díaz
1:19

Junot Díaz:

I think that is something that applies to whether you're living in the first world or you're a published writer. Privilege that is not directed at helping others seems to have a deleterious effect on those who are its beneficiaries, at least from my limited view.

Thursday January 3, 2013 1:19 Junot Díaz
1:20

Junot Díaz:

So, to be clear, I try to navigate it by using my privilege to help others. But, one should also remember that most of us writers spend the majority of our time locked up inside of our work. And what we tend to encounter most often is not our literary privilege but the daunting past of the blank page.

Thursday January 3, 2013 1:20 Junot Díaz
1:20

[Comment From Chris Chris : ]

Can you take me into what works for you during the writing process? In particular, when you find yourself at "a pagina en blanco," where you don't know where to take your story?

Thursday January 3, 2013 1:20 Chris
1:21

Junot Díaz:

Yeah, yeah. I am right there. That's where I've been at all month. The only thing that really seems to work is staying in the suck.

Thursday January 3, 2013 1:21 Junot Díaz
1:21

Junot Díaz:

And reading a book a week.

Thursday January 3, 2013 1:21 Junot Díaz
1:21

Junot Díaz:

That's the only way I've been able to manage breaking through.

Thursday January 3, 2013 1:21 Junot Díaz
1:22

Moyers & Company:

Are there books that you go back to time and again? Or are you always reading new books?

Thursday January 3, 2013 1:22 Moyers & Company
1:23

Junot Díaz:

Half and half. I read new books. For example, I am reading a book right now called Melville and the Idea of Blackness by Christopher Freeburg.

Thursday January 3, 2013 1:23 Junot Díaz
1:23

Junot Díaz:

And I go back to the old classics.

Thursday January 3, 2013 1:23 Junot Díaz
1:23

Junot Díaz:

And by classics, I mean books that meant a lot to me.

Thursday January 3, 2013 1:23 Junot Díaz
1:24

Junot Díaz:

For example, I have rereading Michael Martone's Fort Wayne is Seventh on Hitlers List.

Thursday January 3, 2013 1:24 Junot Díaz
1:24

[Comment From Joe-from P-Town ForeverPa Joe-from P-Town ForeverPa : ]

I listened to your discussion of Moby Dick with Mr. Moyers and was reminded that it took a generation before that book gained popularity. (No Pulitzer or Mac Arthur for Melville- off to the NYC customs office.) Are there any writers today you think are too ahead of their time, for whom it will take a generation to be appreciated? If so, who? And why are they not appreciated today?

Thursday January 3, 2013 1:24 Joe-from P-Town ForeverPa
1:25

Junot Díaz:

Without a doubt. I think that today's applause tends to distort our appreciation of what's valuable in literature.

Thursday January 3, 2013 1:25 Junot Díaz
1:26

Junot Díaz:

I would argue that the writer Samuel R. Delany is one of America's greatest writers and yet not enough folks read him.

Thursday January 3, 2013 1:26 Junot Díaz
1:27

Junot Díaz:

And then there is Karen Tei Yamashita, an extraordinary writer who I think the future will be kinder to than we have been.

Thursday January 3, 2013 1:27 Junot Díaz
1:28

Junot Díaz:

As to why they are not appreciated today, there's probably a million reasons. It doesn't help that we live in an era where folks don't have much free time. It doesn't help that we live in an era that doesn't encourage a lot of reading. And it doesn't help that we live in an era where everything is so damn partisan and fraught with instant judgement.

Thursday January 3, 2013 1:28 Junot Díaz
1:28

[Comment From cd coleman cd coleman : ]

Question: In your interview with Mr. Moyers, you mentioned teaching courses in the new bildungsroman and apocalyptic narrative. Would you mind sharing some of the texts you teach in those two courses? Thank you.

Thursday January 3, 2013 1:28 cd coleman
1:28

Junot Díaz:

Hold on a second...

Thursday January 3, 2013 1:28 Junot Díaz
1:31

Junot Díaz:

So, in Apocalyptic Narrative we will be reading part of Heart of Darkness by Joseph Conrad. Blood Meridian by Cormac McCarthy. Dawn by Octavia Butler. Neuromancer by William Gibson. The comic book V for Vendetta by Alan Moore.

Thursday January 3, 2013 1:31 Junot Díaz
1:32

Junot Díaz:

And then, in Bildungsroman. Paul Beatty's The White Boy Shuffle and Danzy Senna's Caucasia.

Thursday January 3, 2013 1:32 Junot Díaz
1:32

[Comment From Melanie Melanie : ]

Do you think your work will always center around Latino characters and concerns, or do you see yourself stepping away from this subject matter in a future work?

Thursday January 3, 2013 1:32 Melanie
1:33

Junot Díaz:

I don't know. I guess I can't imagine it. But gee whiz. One never knows. Maybe in the future I'll write a crazy science fiction world where there are no folks who look anything like us.

Thursday January 3, 2013 1:33 Junot Díaz
1:34

[Comment From Isabel Isabel : ]

What about your students? What kinds of narratives are they developing?

Thursday January 3, 2013 1:34 Isabel
1:34

Junot Díaz:

It's hard to generalize. I have students from all over the world and all over the country.

Thursday January 3, 2013 1:34 Junot Díaz
1:35

Junot Díaz:

Still, if you force me to talk about what they might have in common, a lot of my students are wrestling with the usual stuff: family, love, home, finding themselves.

Thursday January 3, 2013 1:35 Junot Díaz
1:35

[Comment From songweasel songweasel : ]

do you think the web has helped or hurt writers? i sometimes think it's pushing a lot of content out there that just isn't as good as it could be due to the pressure to produce...

Thursday January 3, 2013 1:35 songweasel
1:36

Junot Díaz:

Well, again, I'm not an expert in this field. But it certainly distracts the hell out of my students.

Thursday January 3, 2013 1:36 Junot Díaz
1:36

Junot Díaz:

And I agree that a lot of folks are writing far more than any one can read.

Thursday January 3, 2013 1:36 Junot Díaz
1:37

[Comment From Patrice Patrice : ]

Would you ever/have plans to write work centered around a female character? How would your approach be different?

Thursday January 3, 2013 1:37 Patrice
1:37

Junot Díaz:

Well, in my novel, half the book was centered around female characters.

Thursday January 3, 2013 1:37 Junot Díaz
1:37

Junot Díaz:

And I tend to work three times as hard with my female characters as I do with my male characters because I'm not nearly as comfortable.

Thursday January 3, 2013 1:37 Junot Díaz
1:38

Junot Díaz:

I hope my next book will have a female protagonist, but it's in such early stages god knows if it will ever get off the ground.

Thursday January 3, 2013 1:38 Junot Díaz
1:38

[Comment From Ruxandra Ruxandra : ]

What is it about characters like Oscar Wao--nerdy, awkward, immigrant, wishing he'd be tough--that you think speaks to your readers? And what is it about him that you had to become more compassionate about in order to bring him to life?

Thursday January 3, 2013 1:38 Ruxandra
1:39

Junot Díaz:

I think that there's a group of readers out there that connect with folks who are awkward and uncomfortable and feel like freaks because they themselves have experienced those emotions.

Thursday January 3, 2013 1:39 Junot Díaz
1:40

Junot Díaz:

As a writer and as a person, a character like Oscar challenges me because I wanted Oscar to become better before I would accept him, and that's not really what compassion is.

Thursday January 3, 2013 1:40 Junot Díaz
1:40

[Comment From Andrew Andrew : ]

I really appreciate how your message ends up being so inclusive and speakes to all of us who really care about bettering humanity. We are with you.

Thursday January 3, 2013 1:40 Andrew
1:40

[Comment From Bren Peters Bren Peters : ]

Junot, thank you for this opportunity to interact. In reflection, what is one thing that you would you say to your elementary school-age non-English speaking self before landing in New Jersey?- Bren in CT

Thursday January 3, 2013 1:40 Bren Peters
1:41

Junot Díaz:

God, I wish I could have given him an instruction manual to be honest.

Thursday January 3, 2013 1:41 Junot Díaz
1:41

Junot Díaz:

I probably would have told him: Immigration screws up all families and that's not your fault.

Thursday January 3, 2013 1:41 Junot Díaz
1:42

Junot Díaz:

And the hardships and the challenges you encounter will not outweigh the wonder, so do not fear.

Thursday January 3, 2013 1:42 Junot Díaz
1:43

[Comment From Guest Guest : ]

o, you used the word "beauty" a lot, which is something one doesn't hear much about these days. Is the seeking of beauty, as opposed to knowledge or self-expression, what drives you?

Thursday January 3, 2013 1:43 Guest
1:43

Junot Díaz:

I'm not sure I have a full picture of my motivations as an artist.

Thursday January 3, 2013 1:43 Junot Díaz
1:44

Junot Díaz:

I'm certainly driven by beauty, but I am also driven by difficult, thorny conversation.

Thursday January 3, 2013 1:44 Junot Díaz
1:44

Junot Díaz:

Self-expression, not so much.

Thursday January 3, 2013 1:44 Junot Díaz
1:44

Junot Díaz:

But then again, maybe I just don't know myself.

Thursday January 3, 2013 1:44 Junot Díaz
1:44

[Comment From Adames Adames : ]

Junot, you are an inspiration. Thank you for your commitment and for awakening many of us. Q: Will you introduce topics related to same gender loving relationships in future books. It's a topic rarely discussed within Latino/a discourse. Thoughts?

Thursday January 3, 2013 1:44 Adames
1:46

Junot Díaz:

That's one that so far I have dropped the ball on. One of my biggest regrets as an artist, besides wishing that I was better, is that I have not done a good job in this area.

Thursday January 3, 2013 1:46 Junot Díaz
1:47

Junot Díaz:

Both the "mainstream" and Latino communities have built up silences in relation to same-gender relationships. And I think we all have to work very hard to break these silences, and we're not even talking about the often blatant discrimination that many gays face in our communities.

Thursday January 3, 2013 1:47 Junot Díaz
1:48

[Comment From Janet Janet : ]

How does it screw up a family?

Thursday January 3, 2013 1:48 Janet
1:48

Moyers & Company:

She's talking about immigration...

Thursday January 3, 2013 1:48 Moyers & Company
1:48

Junot Díaz:

Families, under the best of circumstances, are incredibly hard work.

Thursday January 3, 2013 1:48 Junot Díaz
1:49

Junot Díaz:

Now imagine shattering a family and dispersing it across two countries, two languages, two cultures, across borders and passports and telephone calls and absences.

Thursday January 3, 2013 1:49 Junot Díaz
1:49

Junot Díaz:

Does immigration screw up families irrevocably? No.

Thursday January 3, 2013 1:49 Junot Díaz
1:49

Junot Díaz:

But does immigration demand more of families? Yes.

Thursday January 3, 2013 1:49 Junot Díaz
1:50

[Comment From Robin Robin : ]

You talked about the myth of a post racial society. Do you believe that intersectionality and colorblindness are a threat to having a real conversation about race in this country?

Thursday January 3, 2013 1:50 Robin
1:52

Junot Díaz:

I guess I wish I knew specifically what my interlocutor meant by those terms. I have yet to encounter a society that is color blind. And when we are talking about matters of race, we are dealing with societal questions. Put another way, the occasionally enlightened citizen does not stop a country from being toxicly messed up.

Thursday January 3, 2013 1:52 Junot Díaz
1:53

Junot Díaz:

If I had to order the threats to a conversation about race, I would put at the top of the list the delusion that there is no racial problem in the U.S.

Thursday January 3, 2013 1:53 Junot Díaz
1:54

[Comment From Ken Ken : ]

In your interview with Mr. Moyers you challenged us say "white" as often as we say "black" or "people of color" in order to confront white supremacy. Do you have any further challenges to that end?

Thursday January 3, 2013 1:54 Ken
1:56

Junot Díaz:

White supremacy, like patriarchy, are systems of oppression that require in order to combat them the same work on both the individual and the societal level.

Thursday January 3, 2013 1:56 Junot Díaz
1:57

Junot Díaz:

There are a lot of local strategies but perhaps the most important overriding one is to keep the conversation going, both inside ourselves and inside our society.

Thursday January 3, 2013 1:57 Junot Díaz
1:57

Junot Díaz:

I've gotten a lot emails in the last few days about my interview with Mr. Moyers.

Thursday January 3, 2013 1:57 Junot Díaz
1:57

Junot Díaz:

Roughly half of them were people trying to continue the conversation.

Thursday January 3, 2013 1:57 Junot Díaz
1:58

Junot Díaz:

The other half were folks trying to shut down the conversation entirely.

Thursday January 3, 2013 1:58 Junot Díaz
1:59

Junot Díaz:

There is no greater threat to these systems than reasonable, compassionate discourse.

Thursday January 3, 2013 1:59 Junot Díaz
1:59

Junot Díaz:

But hey, if you're looking for super specific recommendations, I would say read as much as possible in the field of ethnic studies.

Thursday January 3, 2013 1:59 Junot Díaz
2:00

Moyers & Company:

I'm afraid we'll have to leave it there. Thanks so much for joining us, Junot.

Thursday January 3, 2013 2:00 Moyers & Company
2:00

Junot Díaz:

Thank you so much for your interventions. And for spending time with us. I really appreciate it.

Thursday January 3, 2013 2:00 Junot Díaz
| | |
| --- | --- |
| 2:01 | Thursday January 3, 2013 2:01 Moyers & Company |
2:02

Moyers & Company:

You can also read an excerpt from Junot Díaz's latest book, This is How You Lose Her, at BillMoyers.com: https://billmoyers.com/2012/12/20/book-excerpt-this-is-how-you-lose-her.

Thursday January 3, 2013 2:02 Moyers & Company
2:03

Moyers & Company:

Thanks for joining us!

Thursday January 3, 2013 2:03 Moyers & Company
2:03

Moyers & Company:

And for those of you who didn't get your question answered: We're sorry we couldn't get to all of them.

Thursday January 3, 2013 2:03 Moyers & Company
2:03

Moyers & Company:

Have a great day!


Thursday January 3, 2013 2:03 Moyers & Company