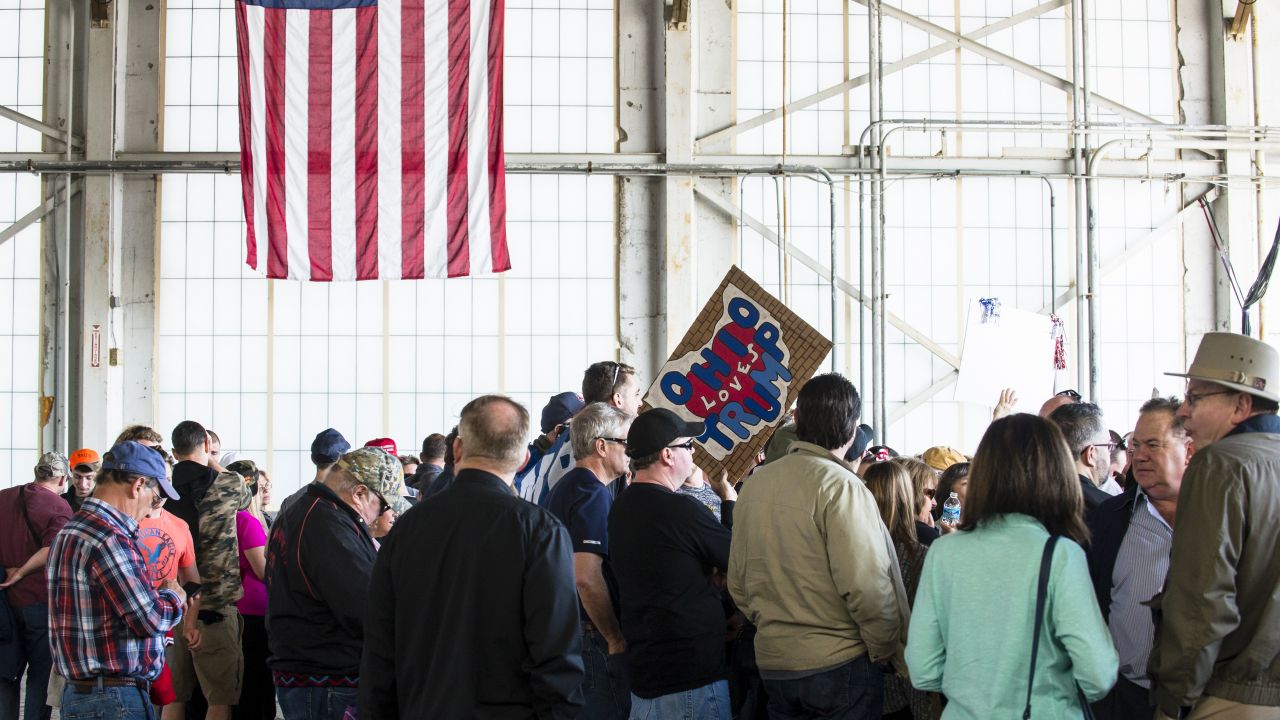 EDITOR'S NOTE: As many experts have observed, this year's presidential election could come down to a battle for votes Democrats used to take for granted.
Donald Trump is making an overt play for the so-called "Reagan Democrats," blue-collar voters whose defection three decades ago shook up the national political landscape and stoked the Reagan revolution. It's no accident that Hillary Clinton's first post-convention foray was into once reliably Democratic steel and coal country. Now, as then, the issues facing these voters are job and income security in a changing world. Only now, those concerns are being felt by far more than the steelworkers and their families whom Ronald Reagan wooed in 1980.
America's deindustrialized heartland embodies one of the challenges reshaping the nation's politics: The disappearance of the middle class and the growing gap between the haves and have-nots. That's why BillMoyers.com is paying particular attention to these communities this year, focusing on their issues and giving voice to the people who live there. You can read more of our collection here.)
---
Donald Trump descended Monday on Youngstown, Ohio — a place his supporters have dubbed "Crossover Ground Zero" for all the Democrats who switched registration to vote in this year's primary. His visit comes two weeks after Hillary Clinton made the former steel town one of her first stops after the convention. Both candidates are trying to woo swing state white working-class voters who are — rightly — skeptical about their economic promises.
In coming to Youngstown, Clinton and Trump are following a well-worn campaign path, one that nearly every presidential candidate has pursued for the past 40 years. Why? Because voters here reflect the persistent insecurities associated with deindustrialization, economic restructuring and globalization that have driven electoral politics for decades. In 1980, when Ronald Reagan came to Youngstown, voters were anxious about the loss of thousands of jobs in the steel industry. Today, after almost four decades of economic stagnation, their anxiety has turned to anger and resentment.
Some 50,000 workers were displaced from steel-related jobs in the Mahoning Valley between 1977 and the late 1980s, and the community has never recovered.
Trump has capitalized on those emotions, luring more than 6,000 Mahoning County voters to switch parties and join more than 20,000 people who had not been registered with either party to support Trump in Ohio's March presidential primary. Given local history and this year's election, it would make sense for Trump to talk about the economy in Youngstown, as Clinton did a few weeks ago. Instead, he's giving a speech on foreign policy — more specifically, a speech on Islamic terrorism — a seemingly offbeat focus for Youngstown.
If he had tailored his topic a little more carefully to his audience, Youngstown would have been an ideal place for Trump to talk about foreign policy. Part of Trump's appeal has been his isolationist politics and his rejection of trade deals, and many of his supporters here blame globalization and US trade policy for their economic woes.
Some 50,000 workers were displaced from steel-related jobs in the Mahoning Valley between 1977 and the late 1980s, and the community has never recovered from the loss of jobs, population, its tax base or its identity as a steel town. They link globalization with the demise of US manufacturing, especially the steel industry whose workers "built the tanks and bombs that won this country's wars," as Bruce Springsteen sings in "Youngstown."
They also resent Wall Street, in part because investors encouraged US businesses to move production to foreign countries where they could pay less and escape regulations. Trump's supporters may not have lost jobs themselves, but they are frustrated that their community has not regained its economic strength. Many also worry that their children — many of whom attend Youngstown State University where Trump is delivering his Monday speech on foreign policy — will not find economic security.
Trump's supporters…are the children and grandchildren of immigrants, most from Southern and Eastern Europe.
But here's where things get ironic: Trump's supporters are here because of an earlier wave of the globalization they now decry.
They are the children and grandchildren of immigrants, most from Southern and Eastern Europe. While they cheer for Trump's promise to build a wall and exclude Muslims, they forget that in the 1920s several towns in the Mahoning Valley, including Youngstown, elected mayors and city councils who were openly affiliated with the Ku Klux Klan and who won their elections by fomenting fear and resentment of Catholic and Jewish immigrants who, they warned, could not be trusted because of their allegiance to the Pope or to Bolshevism and would drive down wages.
Despite resistance to the Irish, Polish, Slovak and Italian immigrants who came to Youngstown to work in the steel industry, their descendants came to identify as patriotic Americans — even though some had relatives who were sent to internment camps because Italians were seen as suspect during World War II. For many in Northeastern Ohio, as in other poorer parts of the US, enlistment has long seemed like a path to a steady paycheck and a sense of personal honor — appeals that have been especially important in places where the old paths to adulthood, through stable employment, have been cut off. The community remains patriotic, as evidenced by the dozens of war memorials erected across the valley.
Here's another irony: when Trump speaks on Monday, he won't be talking to the Mahoning Valley's displaced working class. Instead, he will address 350 local organizers and donors, selected by Republican leaders from six Northeastern Ohio counties. They are more likely than the crossover crowd to be educated, professional, and middle class, and that also means they probably see global business as the answer for the still-struggling economy of the valley. Some hope to export products made in the area, but many hope to attract global corporations to make their products here. The Youngstown-Warren Regional Chamber of Commerce has pursued deals with global corporations, sent local leaders on economic development tours to China and Cuba, and helped to broker the purchase of several local steel mills by foreign companies. Local workers benefited from those deals — until those mills began to shut down as the demand for specialized steel pipe for hydraulic fracturing (fracking) declined as global oil prices fell. But local business people remain hopeful that globalization will, eventually, help to rebuild Youngstown.
In his limited attention to foreign policy so far, Trump has encouraged xenophobia and isolationism, threatened not to fulfill NATO treaties for countries that don't pay their fair share, and promised that Mexico would pay for his famous wall. Such lines have worked well for those who occupy "Crossover Ground Zero," but on Monday, he will address an audience that views international relations through the lens of economic opportunity. The local business leaders who will make up the bulk of this carefully selected Youngstown audience will be looking for evidence that Trump understands the importance of global business and that his pushy, self-important style of leadership can somehow also manage diplomacy.
To win Ohio — as every winning presidential candidate has in the past 10 elections — Trump might not need the Mahoning Valley. After all, Republicans have won the state without winning more than 40 percent of votes here. Election after election, local voters have listened to candidates from both parties promise to address the region's economic struggles, and over and over — even after Bill Clinton's support of NAFTA and welfare reform — they have stood with the Democratic Party.
Not this year. More than 26 percent of registered Democrats in the Mahoning Valley voted Republican this year. Trump won 51 percent of the votes in Mahoning and Trumbull counties and 47 percent in Columbiana, beating Ohio Gov. John Kasich — who won the primary statewide — by double digits. This led Trump supporters to crow that Youngstown was "Crossover Ground Zero" and for Trump to tweet, "See you soon."
Given these numbers, Trump may win in northeastern Ohio. No doubt, Clinton knows this. To lure back this region's Democratic majority, she needs to overcome voters' skepticism and tap into the emotional appeals that have worked so well for her opponent.