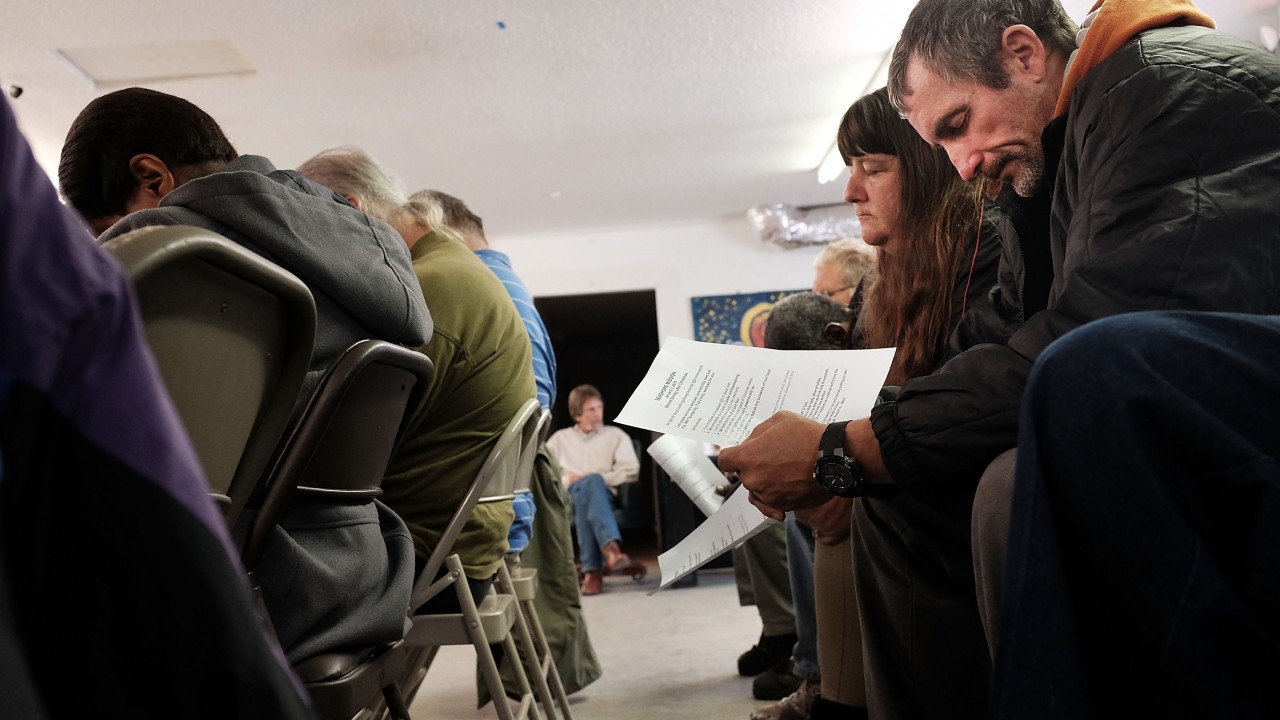 This post originally appeared at TalkPoverty.org.
This Saturday, a number of Republican presidential candidates will converge in South Carolina to debate and discuss "fighting poverty and expanding opportunity in America." To be taken seriously, the participants should acknowledge that persistent poverty and unprecedented inequality conflict with our nation's values and threaten our future. We also hope that they discuss the issue and its solutions based on what a balanced view of research tells us.
Here are eight things they should say at this forum hosted by Speaker of the House Paul Ryan.
1. Inequality is closely related to poverty and opportunity
Poverty and inequality are separate but related challenges. Poverty typically refers to a floor — set in some relation to prevailing living standards — for economic resources or material deprivation, below which nobody should fall. Inequality generally refers to the distribution of economic resources throughout the population, and raising floors (and lowering ceilings) would of course reduce it. To understand the connection between poverty and inequality, consider that the growing concentration of economic resources among the more affluent (and away from those with limited means) during the past half-century contributed four times more to poverty than changes in family structure and racial composition in the American population.
2. Both poverty and inequality create economic disadvantage and limit our economy
By creating economic disadvantage, both poverty and inequality limit the life chances of a large share of our population. We've long known that insufficient family resources are strongly associated with material hardship. Research has also confirmed that childhood poverty hinders school achievement, harms health, increases interaction with the criminal justice system, and worsens labor market outcomes in adulthood. More recently, we've learned that stress from poverty affects brain development and a range of cognitive and non-cognitive skills, and that even growing up in a high-poverty neighborhood significantly lowers one's chances for upward mobility. Such high costs of poverty and inequality have real, economic consequences for all of us. Costs associated with persistent childhood poverty alone amount to almost 4 percent of our GDP — hundreds of billions of dollars — every year.
3. Social and economic policy can create poverty and reduce opportunity, but not in the ways many conservatives claim
Persistent poverty and extreme inequality can be attributed in large part to the choices we make to shape our economy and opportunity structure. Had economic growth continued to produce shared prosperity as it had from 1959 to 1973, official income poverty would have come close to elimination decades ago. Poverty and inequality impact minorities and women disproportionately, fueled by structural disparities in criminal justice, pay, and education. For example, researchers estimate that had we not chosen our devastating path of mass incarceration, poverty rates would be 10 to 20 percent lower overall, with larger improvements for communities of color.
In contrast, conservatives push overblown claims about public programs creating work disincentives. The evidence suggests that the amount of earnings discouraged is negligible if any, and many programs like the EITC encourage work.
4. Good jobs are the best way to reduce poverty and expand opportunity
We can't address poverty and opportunity without first acknowledging the detrimental effects of low minimum wages, deteriorating job quality, and limited worker protections. Current labor practices allow employers to simultaneously demand much and provide little in the way of support and flexibility. Unions and labor standards can help prevent workers from being shortchanged. Policymakers should take seriously calls to raise the national minimum wage, require fair scheduling for workers, fight employee-contractor misclassification and wage theft, and enact the Paycheck Fairness Act to address the gender wage gap.
Reaching full employment — both by investing in physical infrastructure (including transportation, water, and affordable housing) and by increasing employment opportunities through subsidized jobs — is one of the most effective strategies we can pursue. Jobs programs also help the children of workers and strengthen families.
5. Public benefits are enormously effective, but do far less than they could
Even people working full-time often cannot work or earn enough to meet basic needs — making the safety net essential. In 2013, work supports and antipoverty programs like Social Security, food assistance, and Medicaid lifted 40 million people out of poverty. Still, with a growing share of families living in $2.00-a-day poverty, and gaping holes in the safety net, more needs to be done to strengthen our antipoverty programs. When factoring in public benefits and tax credits, other wealthy countries do far more than the US to reduce poverty and inequality.
Research has shown that we have at least partial — often cost-effective — strategies for addressing economic disadvantage. It is likely, however, that conservatives will ignore empirical evidence and turn instead to Ryan's Opportunity Grant which — by consolidating safety net programs into block grants given to the states — poses substantial risk of actually expanding poverty rather than cutting it.
6. We must empower disadvantaged people in our political system
Significantly reducing poverty and inequality requires an explicit focus on empowering disadvantaged groups and eliminating discrimination based on race, gender, sexual orientation and more. Democracy must also become more representative, as political science research confirms what many of us have feared: in policy disagreements between the most well-off and everyone else, the wealthy consistently win. We must strengthen and protect the Voting Rights Act, level the playing field for political contributions, and limit the influence of corporate lobbyists. We must also prevent further disenfranchisement of especially vulnerable groups by enacting comprehensive immigration reform, restoring and increasing access to legal aid, and reversing over-incarceration and over-criminalization. If people have a voice in our political and judicial systems, they will have a real chance in our economic system.
7. When work-family balance is supported, good things happen for families
Providing paid family and medical leave, home visitation, affordable child care, and comprehensive family-planning services — as well as increasing incomes for disadvantaged families through a child allowance — will promote equity and security by ensuring that all women and families are able to maintain steady work and much-needed income while having more control over their lives.
Opportunities for education and training should be accessible and affordable for all at every stage of life. Universal early learning and quality education help lay the groundwork for success in adulthood. Increasing funding for public schools serving poor children significantly reduces intergenerational poverty. All individuals deserve the chance to get ahead through higher education without debt, and when there must be debt, income-based repayment should be an option.
8. Race and gender are intertwined with poverty, inequality, and opportunity
In 2013, racial and ethnic minorities had a poverty rate that was 13 percentage points higher than that of non-Hispanic whites. Women are still 32 percent more likely to be poor than men; for women of color, the economic disparities are even worse. In 2013, white families had on average six times the wealth of Hispanic families and seven times that of African-American families. Income and wealth gaps mean these families have significantly fewer resources to invest in themselves, their children, and their communities. For example, African-American families have to wait an average of eight years longer than white families to purchase a home.
In case you don't hear it at the upcoming forum in South Carolina, remember that addressing poverty and inequality can simultaneously expand economic security and opportunity while growing the economy. And with America's economic rivals making impressive investments in children and families, American competitiveness depends in part on helping the most disadvantaged among us reach their full potential.