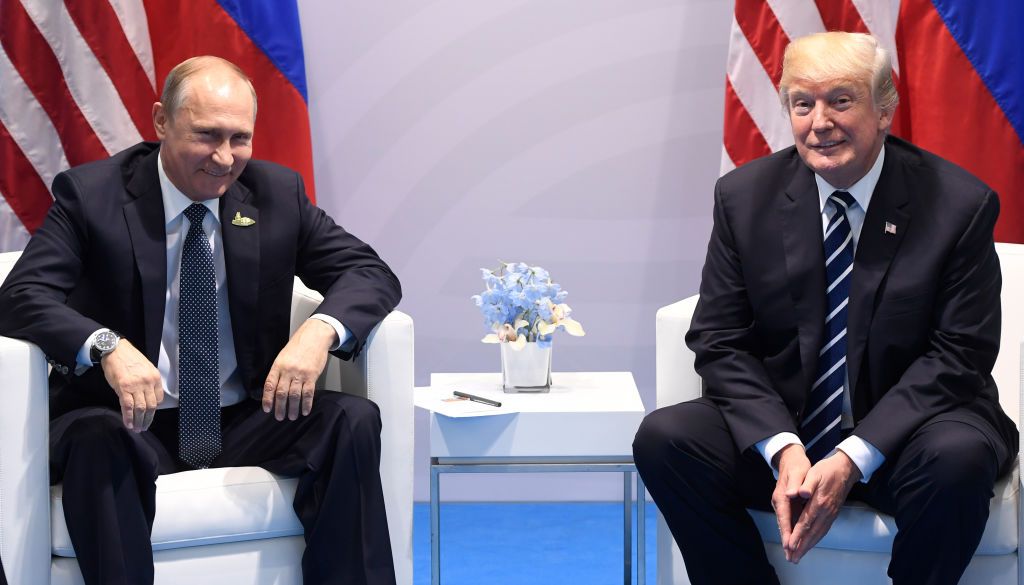 Essential Known Knowns and Questions about Them
Let us consider what the sage Donald Rumsfeld would call "known knowns" about the peculiar meeting that (now famously) took place on the 25th floor of Trump Tower on June 9, 2016, involving high-level Trump campaign staff, a Russian visitor, another Russian-born colleague of hers and a PR man go-between. Details are flying thick and fast — almost as fast as Donald Trump Jr. changes his story. But most of the coverage misses an essential point.
We're suffering from a tree-forest imbalance. Let's lift our eyes from the trees, the branches, the twigs, the thickets — and pay attention to the forest where three dark roads converge:
(1) Over many years, vast sums flowed into Trump's capital-thirsty organizations from Russian entities that fattened on their transactions while they were rescuing Trump.
(2) Trump and his minions invited Russian interests to intervene in a presidential election.
(3) The Trump family and advisers fudged and lied, and continue to fudge and lie, about their Russian relationships.
Only if we look deeper can we approach some crucial questions:
Why did the promise of a meeting that would deliver opposition research direct from Moscow to the Trump campaign fail to set off alarm bells in Trump Tower?
When a Moscow contact "offered to provide the Trump campaign with some official documents and information that would incriminate Hillary and her dealings with Russia…obviously very high-level and sensitive information but…part of Russia and its government's support for Mr. Trump," why did Donald Trump Jr. jump at the chance? Why did he write back to Goldstone, "If it's what you say, I love it"?
When, on June 8, Trump Jr. informed campaign chairman Paul Manafort and son-in-law Jared Kushner of the impending meeting with a Russian lawyer and sent along PR man Rob Goldstone's subject line, which read: "FW: Russia — Clinton — private and confidential," is it plausible that longtime Russia and East Europe go-between Paul Manafort didn't know — or inquire — who this "Russian government attorney" was?
When Manafort eventually realized he was meeting with Natalia Veselnitskaya — well-known in the US as a lobbyist trying to please Putin by getting Congress to rescind sanctions on Russian officials — is it plausible that, having met her, he would not have informed his boss, the candidate?
From what we know of the mind of Donald Trump Jr., it's conceivable that he did not know anything about Natalia Veselnitskaya besides what Goldstone told him in the original email or a possible subsequent phone call. But Manafort has been around the Russia block for years. If the subject line "…Russia — Clinton…" didn't register with him or Kushner when Trump Jr. originally forwarded the Goldstone emails and invited them to the meeting, is it plausible that they not only agreed to attend but later left their boss in the dark?
Is this the gang that couldn't collude straight? It's not impossible. But.
Is this the gang that couldn't collude straight? It's not impossible. But.
Isn't it far more plausible that Donald Trump Jr. didn't think he was doing anything odd when he agreed to this meeting? The Trumps were, after all, comfortable with well-connected Russians frequenting Trump Tower. The patriarch had long relied on Russian investments and curried favor with Vladimir Putin.
The hypothesis that best fits the known evidence is that the June 9 meet was an episode in the long-running saga of Trump's friendly and mutually beneficial relations with Russian criminals — a story of reciprocities. The whole Trump entourage were used to rubbing elbows with government-connected Russian moguls. Why wouldn't they meet with a well-connected Russian lawyer on the promise that she would bring along "private and confidential" information about Russia and Hillary Clinton?

More in the Sequence of Known Knowns
Here's a recap of other relevant known knowns:
Veselnitskaya brought with her a fellow lobbyist, naturalized citizen and former KGB counterintelligence officer Rinat Akhmetshin, as well as a translator. Akhmetishin collaborates with Veselnitskaya in her lobbying efforts, and has been accused of stealing data from enemies of his clients on several occasions.
Akhmetshin told the AP that "Veselnitskaya brought with her a plastic folder with printed-out documents that detailed what she believed was the flow of illicit funds to the Democrats," and that "Veselnitskaya presented the contents of the documents to the Trump associates and suggested that making the information public could help the campaign." He recalled her saying: "This could be a good issue to expose how the DNC is accepting bad money." He "said he does not know if Veselnitskaya's documents were provided by the Russian government. He said he thinks she left the materials with the Trump associates. It was unclear if she handed the documents to anyone in the room or simply left them behind, he said."
Veselnitskaya's clients, according to Jo Becker, Matt Apuzzo and Adam Goldman of The New York Times, "include state-owned businesses and a senior government official's son, whose company was under investigation in the United States at the time of the meeting."
Goldstone told Donald Jr. that the "official documents and information" came his way via the billionaire Azerbaijani-Russian real estate developer, Aras Agalorov, who was well known to him. When it came to the question of who's who in Russia, Donald Jr. was not inexperienced. He said in 2008 that "Russians make up a pretty disproportionate cross-section of a lot of our assets….We see a lot of money pouring in from Russia."
Donald Trump Sr. partnered with Agalorov to produce the 2013 Miss Universe pageant in Moscow. They were to collaborate on building a Trump Tower, too, though that deal fell apart.
Goldstone told Trump Jr. that the "official documents and information" were supplied to Agalorov by "the crown prosecutor of Russia." This position does not exist in Russia, though it does exist in the UK, where Goldstone hails from. The closest Russian equivalent to a "crown prosecutor" would be Russia's top federal prosecutor of Russia, Yury Chaika, the prosecutor-general of the Russian Federation, who is known to be "close to Agalarov." The Atlantic's Julia Ioffe notes that translated into an American equivalent, "Chaika could be referred to as Russia's attorney general. Chaika has been extremely loyal to Putin," she adds, and Putin has evidently returned the favor, turning a blind eye "as Chaika's two adult sons have made a killing, accumulating hundreds of millions of dollars in business and choice government contracts."
In releasing his emails just as The New York Times was about to publish them, Donald Trump Jr. added this explanatory note: "The information they suggested they had about Hillary Clinton I thought was political opposition research." Possibly Trump Jr. was a sloppy reader of Goldstone's email, missing the words "official documents and information…very high-level…part of Russia and its government's support for Mr. Trump." But in other words, at this point, Trump Jr. thought it would have been fine to accept political opposition research offered by a lawyer who, he was told, worked for the Russian government.
Not only is Prosecutor-General Yury Chaika's fortune indebted to state contracts, so is Aras Agalorov's. So while there is no evidence that Veselnitskaya herself collects a state paycheck, she is closely involved with individuals benefiting directly from Kremlin relationships. Among her clients at the time of the Trump Tower meeting was (according to Becker, Apuzzo and Goldman of The Times) Denis Katsyv, the Russian owner of a Cyprus-based investment company called Prevezon Holdings. He is the son of Petr Katsyv, the vice president of the state-owned Russian Railways and a former deputy governor of the Moscow region. In a civil forfeiture case prosecuted by the office of Preet Bharara, the former US attorney for New York's southern district, the Justice Department alleged that Prevezon had helped launder money tied to a $230 million corruption scheme exposed by Magnitsky by parking it in New York real estate and bank accounts.
Veselnitskaya represented the Katsyvs' interests in that case, as she also did on June 9.
So who is Veselnitskaya to the Kremlin and what is the Kremlin to her? Consider what Mark Galeotti writes about the general problem of "Kremlin ties," in The Atlantic:
Here is the distinctive complexity of the new Russia. There is no public evidence as of this writing that Veselnitskaya has formal ties to Russia's federal government or Putin himself. With clients like Katsyv, connections like the Agalarovs, and a background working with the Moscow regional government, though, she knows how the system works. She could have been an agent of the government, she could simply have been working her own and her client's agenda, but she could just as easily have dwelled somewhere in between. After all, had Veselnitskaya really managed to break the Magnitsky Act, she would have gained powerful and grateful friends in Moscow. If she had wormed her way into the Trump campaign, that is undoubtedly something that would have then interested the Kremlin.
Jump ahead, on becoming president, Donald Trump fired Bharara after earlier assuring Bharara that he would be kept on. Then, in May, after a surprise offer, Prevezon settled the case for $6 million without admitting any wrongdoing.

The Shape of the Forest
So we return to the June 9, 2016, meeting. Why would "documents and information" forwarded by Aras Agalorov be so interesting to Trump Tower? Why was Rob Goldstone confident that he and a Russian emissary he called "a Russian government lawyer" would be well received?
Here the extended history matters — to give a sense of the shape of the forest, the whole Trump-Russia milieu. The key terms are (from Trump's side) rescuing a bankrupt empire and (from the Russians' side) laundering.
Thanks to impressive reporting by the seasoned investigative journalist Craig Unger, a great deal is known about Trump's transactions with Russian gangsters. Unger's blockbuster report has just been published by The New Republic, and has yet to receive the wider media attention it merits. Follow the path through the forest to just one of Trump senior's closest Russian associates, Felix Sater.
Starting in 1987, Unger writes, "the flow of money from Russia provided Trump with a crucial infusion …[to help] rescue his empire from ruin…"
Here's a sample of what Unger has learned:
Trump owes much of his business success, and by extension his presidency, to a flow of highly suspicious money from Russia. Over the past three decades, at least 13 people with known or alleged links to Russian mobsters or oligarchs have owned, lived in, and even run criminal activities out of Trump Tower and other Trump properties. Many used his apartments and casinos to launder untold millions in dirty money. Some ran a worldwide high-stakes gambling ring out of Trump Tower — in a unit directly below one owned by Trump. Others provided Trump with lucrative branding deals that required no investment on his part. Taken together, the flow of money from Russia provided Trump with a crucial infusion of financing that helped rescue his empire from ruin, burnish his image, and launch his career in television and politics. "They saved his bacon," says Kenneth McCallion, a former assistant US attorney in the Reagan administration who investigated ties between organized crime and Trump's developments in the 1980s….

Throughout the 1990s, untold millions from the former Soviet Union flowed into Trump's luxury developments and Atlantic City casinos. But all the money wasn't enough to save Trump from his own failings as a businessman. He owed $4 billion to more than 70 banks, with a mind-boggling $800 million of it personally guaranteed.
New York banks would no longer lend to [Trump]. But Russian investors, many with criminal backgrounds, would buy his properties. They had their own reasons.
New York banks would no longer lend to him. But Russian investors, many with criminal backgrounds, would buy his properties. They had their own reasons. Unger writes:
Russian mobsters were beginning to invest in high-end real estate, which offered an ideal vehicle to launder money from their criminal enterprises. …

At the very least, with his constant need for new infusions of cash and his well-documented troubles with creditors, Trump made an easy "mark" for anyone looking to launder money. But whatever his knowledge about the source of his wealth, the public record makes clear that Trump built his business empire in no small part with a lot of dirty money from a lot of dirty Russians.
Russians didn't only make high-end purchases in New York.
A Reuters review has found that at least 63 individuals with Russian passports or addresses have bought at least $98.4 million worth of property in seven Trump-branded luxury towers in southern Florida, according to public documents, interviews and corporate records…. The tally of investors from Russia may be conservative. The analysis found that at least 703 — or about one-third — of the owners of the 2044 units in those seven Trump buildings are limited liability companies, or LLCs, which have the ability to hide the identity of a property's true owner. And the nationality of many buyers could not be determined. Russian-Americans who did not use a Russian address or passport in their purchases were not included in the tally.
Trump's world was thick with Russian wealth. Back-scratches were exchanged. Russian oligarchs bailed him out. Trump was comfortable such company. Agalorov was, and is, only one of his familiars.
In particular, Trump partnered for a decade with the real estate company Bayrock. Bayrock occupied offices in Trump Tower. Bayrock has received a good deal of attention and more may unfold as a high-level lawsuit proceeds.
As Trump biographer Timothy L. O'Brien recently summed up (the italics are mine):
Bayrock partnered with the future president and his two eldest children, Donald Jr. and Ivanka, on a series of real-estate deals between 2002 and about 2011, the most prominent being the troubled Trump SoHo hotel and condominium in Manhattan.
Is it plausible that Donald Jr., the head of the Trump Organization, failed to know the "career criminal" (O'Brien's words) Felix Sater, who was "one of Bayrock's principals… [and] had ties to Russian and American organized crime groups." Sater was in and out of Trump's office. He carried a Trump Organization business card naming him as a "senior adviser" to Trump. "Before linking up with the company and with Trump, he had worked as a mob informant for the US government, fled to Moscow to avoid criminal charges while boasting of his KGB and Kremlin contacts there, and had gone to prison for slashing apart another man's face with a broken cocktail glass," O'Brien writes.
It is no more plausible that Donald Jr. did not know who Felix Sater was than that his father did not. As for Trump Sr., he blatantly lied under oath about his relationship with Sater. In a video deposition in 2015, he testified: "If he were sitting in the room right now, I really wouldn't know what he looked like." As noted by Matthew Mosk and Brian Ross of ABC News,
In 2013, the BBC pressed Trump asking why he didn't say "You're fired!" to Sater after reports surfaced alleging Sater had ties to organized crime, Trump ultimately rose from his chair mid-interview.

"I hate to do this, but I do have that big group of people waiting so I have to leave," he said, walking out of the room.

Trump later said he could not recall doing the BBC interview.

Not Conspiracy Theory but a View of the Forest
To sum up: The media are rightly swarming around the June 9 meeting, but they're asking narrow questions: Did Trump and/or his entourage engage in a conspiracy to trade favors for Russian-supplied opposition research? Did they try? Did they start and then get cold feet?
Journalists and researchers, including Robert Mueller's and the congressional committees', need to explore further. Conspiracies or other violations of law there may or may not have been. Leave them to the lawyers. At present, no incident yet revealed points to active collaboration with Russia to steal DNC data and coordinate fake news attacks on Hillary Clinton. No financial transfer demonstrates Russian government money flowing into a Trump-linked entity.
But for now, forget conspiracy theories and think about history. The core truth about the June 9 meeting is evident.
Trump's circle has been friendly to big Russian money with criminal connections for decades.
Big Russian money has kept him afloat.
Trump has lied about it.
He lives in an "ask no questions" culture.
A tissue of mutual relationships, a buddy system, formed in the process.
Many doors were opened.
Many backs were scratched on both sides.
The forest comes into plain sight.

Many thanks to Steven E. Halliwell for research and advice.