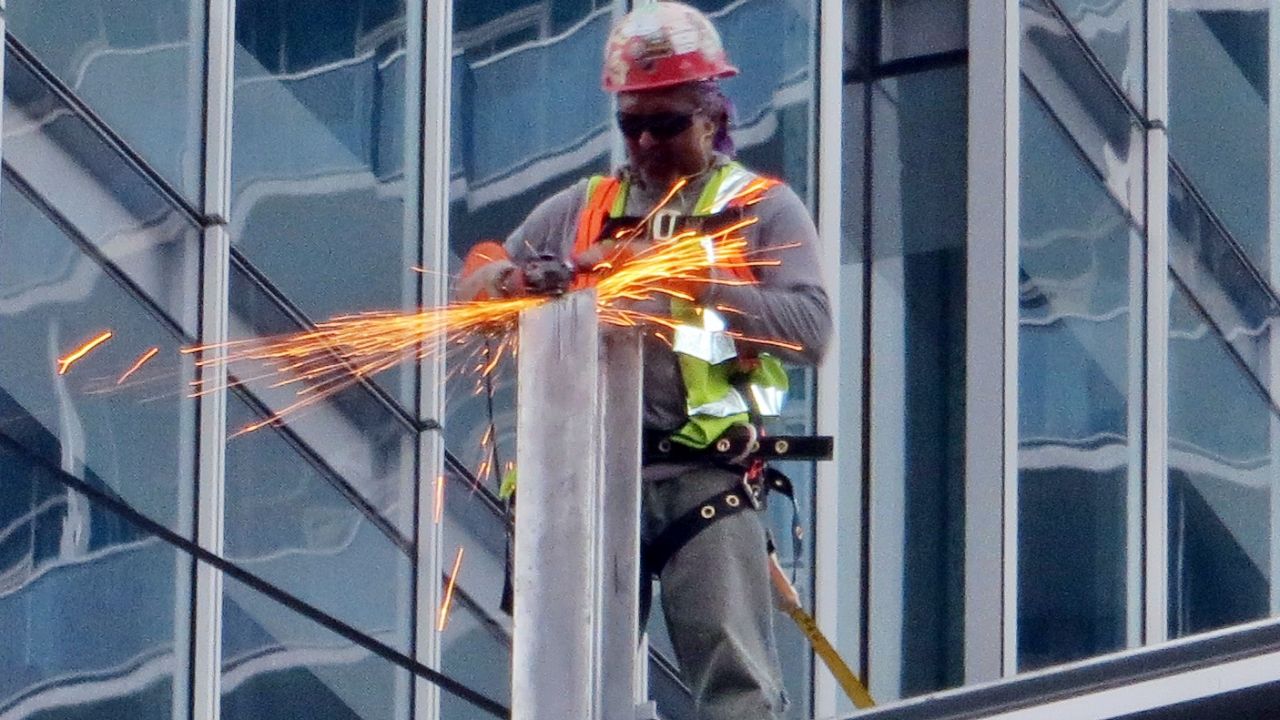 This post originally appeared at The Progressive.
With the Senate's confirmation of new Labor Secretary Alexander Acosta Thursday night on a 60 to 38 vote — with a full eight Democrats in support — the Trump administration's plans to decimate workers' rights and protections begins in earnest.
Acosta inherits an already-embattled Labor Department threatened by looming cuts and policy rollbacks that could quickly harm millions of American workers. In his confirmation hearings, Acosta made it clear he will largely defer to Donald Trump — saying he will "ultimately follow his direction" on an agenda that includes slashing worker health and safety and job training, repealing overtime protections for up to 13 million people and rolling back fiduciary rules designed to protect workers and retirees from investment advisors' conflicts of interest.
Already, even without a labor secretary, Trump has wielded his executive axe on a number of worker protections. By freezing the Labor Department regulation pipeline, Trump has prevented vital rules like silica exposure protections from being finalized and enforced. In its new "Death on the Job" report, the AFL-CIO states, "delaying enforcement will allow continued exposure to high silica levels that by OSHA's own estimates will result in 160 worker deaths." Trump has also used executive fiat to delay enforcement of beryllium exposure protections, despite support for these safety standards by both labor and industry.
Despite his title as labor secretary, Acosta refused to support basic worker protections during his hearings, instead issuing a deft blend of pro-worker platitudes and deflections. In an April 25 letter to Acosta, Sen. Patty Murray, Democrat of Washington, who strenuously opposed Acosta's nomination, sent the nominee a long list of concerns that remain unanswered as he takes over the department.
Murray, ranking member of the Senate committee on Health, Education, Labor and Pensions, wrote, "it concerns me greatly that you expect solutions to be brought to you" on matters such as pension protections (as labor secretary, Acosta will oversee the Pension Benefit Guaranty Corporation, which insures pensions for 40 million Americans). Throughout the confirmation hearings, Acosta dodged and weaved, repeatedly saying, "I look forward to being briefed" on major labor policy issues that are the bread and butter of workers' lives. As Murray wrote, "you responded with this answer even to questions about essential worker protections," such as minimum wage and overtime rules.
In a last-ditch plea urging senators to oppose Acosta, the Economic Policy institute noted he is "unwilling to defend the secretary of labor's authority to fully protect the overtime rights of salaried workers that has been exercised by Republican and Democratic secretaries for almost eighty years."
As Acosta settles into his new job, he will help Trump nominate highly influential directors to head up major Labor Department agencies, including the Occupational Safety and Health Administration, the Mine Safety and Health Administration, the Federal Contract Compliance Programs and the Wage and Hour division. Even as Trump and his lieutenant Acosta dictate the larger agenda, these sub-agencies drive the gears of policy and regulatory enforcement, on everything from the minimum wage to worker safety and civil rights on the job.
Given Acosta's stated allegiance to Trump's radical labor rollback, unions and workers and labor advocates will need to forge a larger pro-labor movement than we have seen in decades. Since more than 40 percent of unionized workers supported Trump (the highest since Reagan in 1984), this job is doubly tough yet urgent. Labor and its friends must make workers' rights and protections a central feature of the resistance.
Despite that (mostly white) blue-collar support, Trump and his new labor secretary are poised to carry out a labor rollback that will, quite literally, hurt millions of American workers — both on the job and in their pocketbook. Yet, this deeply dangerous agenda is getting scant attention from media amid the administration's daily plethora of harm and noise. And while there are vigorous labor movements like the Fight for 15 pushing hard for workers' needs, the larger Trump resistance has yet to make labor a central feature of its movement and message. With upcoming May Day marches and protests, and a "Workers March" on Sunday April 30, that may soon change.
As the "Death on the Job" report clarifies in painful detail, lives are at stake. On the Obama administration's watch, despite some significant progress on safety, 4,836 workers were killed on the job in 2015. Another 3.7 million suffered injury and illness due to their working conditions. Some 937 construction workers died at work that same year — workers now at far greater risk by Trump policies undermining silica standards and OSHA enforcement.
To prevent Trump and Acosta from inflicting further pain on America's workers and workplaces, labor and its allies — and all of us — will need to engage and persuade Trump voters, Congress and the Democratic Party, to resist this deadly policy onslaught.