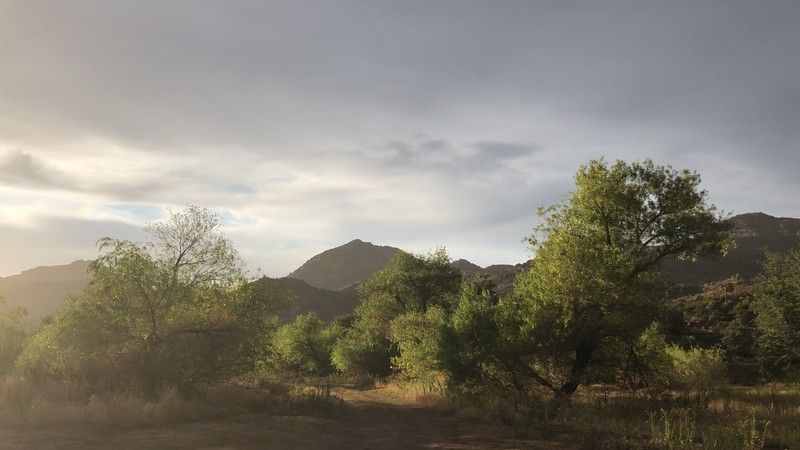 The Department of Agriculture has pushed forward the release of an Environmental Impact Statement (EIS) for the Resolution Copper mine in Oak Flat Arizona. The release of this document kickstarts a 60-Day timeline in which federal land must be handed over to Resolution Copper, a joint venture between Rio Tinto and BHP Billiton Mining. The EIS, previously set for a December, 2021 publication date, is now expected as early as January. 
The copper mine would be the largest in North America, sinking a section of the Tonto National Forest into a two-mile wide crater. This process, called block caving, targets an untapped copper vein 7,000 feet below the surface.  
The land demolished would include Oak Flat Campground, a popular recreation area and Chich'il Bildagoteel, a culturally important site for local Apache.  
Rio Tinto operates world-wide with a significant presence in Australia, Namibia, and Mongolia. Environmental groups and native populations have been vocally critical of the company's practices.  
"This is something we've seen a lot over the years," Randy Serraglio, conservation advocate at the Center for Biological Diversity, told AZ Central, "These giant mining companies apply political pressure to get what they want." 
September 27, 1955 – President Dwight D. Eisenhower signs Public Land Order 1229 declaring Oak Flat off limits for mining due to cultural and natural value. [Subcommittee on Public Lands and Forests] 
September 25, 1971 – The Department of the Interior, under President Richard M. Nixon, renews the mining ban at Oak Flat but opens a loophole in the law: the land cannot be mined under federal ownership, but it can be traded to private holders who won't be subject to land use restrictions. [Colorado Natural Resources, Energy & Environmental Law Review] 
November 2013 – Resolution Copper introduces the General Plan of Operations (GPO) for a proposed mine at Oak Flat. [Resolution Mine EIS] 
December 19, 2014 – Congress passes the National Defense Authorization Act — a military spending bill — that includes Section 3003, added by Arizona Senators John McCain and Jeff Flake. The "Midnight Rider," introduced the night before a vote, states that Oak Flat would be swapped with private land owned by Rio Tinto and BHP Billiton Mining companies. Senator McCain received campaign contributions from Rio Tinto affiliates; Senator Flake was a lobbyist for Rio Tinto in Namibia. [NYT] 
July 22, 2015 – Apache protestors finish a cross-country trip to Washington, D.C with a gathering  on the lawn of the Capitol building. Naelyn Pike, a 16-year-old Apache activist and co-leader of the Apache Stronghold coalition, tells the Huffington Post: "[The Resolution Copper Mining Proposal is] like taking away a church. But the thing about Oak Flat is it's worse, because you can rebuild a church. Oak Flat will be completely destroyed and it could never come back." [Huffington Post] 
November 5, 2015 – Senators Bernie Sanders (D-VT) and Tammy Baldwin (D-WI) introduce the first version of the Save Oak Flat Act, S. 2242 to repeal Senator McCain's midnight rider in the National Defense Authorization Act:  
"Section 3003 was strongly opposed by Indian tribes nationwide because it sets dangerous legislative precedent for the lack of protection of tribal sacred areas located on Federal lands by mandating the conveyance of Federal lands with significant religious, cultural, historic, and anthropological significance for Indian tribes to a private company that will destroy the land."  
The Save Oak Flat Act will die in congress that year. [GovTrack] 
March 18, 2016 – The Environmental Impact Statement (EIS) for Resolution Copper begins. The Federal Register notes that, "The EIS will analyze the no action alternative, which would neither approve the proposed GPO [General Plan of Operations] nor complete the land exchange. However, the responsible official does not have discretion to select the no action alternative…" [The Federal Register] This means that the EIS alone, which will take four years and include hundreds of hours of public comment, cannot stop the Rio Tinto mine.  
January 17, 2019 – Senator Sanders introduces a third version of the Save Oak Flat Act. [Govtrack] 
August 9, 2019 – Tonto National Forest releases a 1,400-page Draft EIS kickstarting 90 days of public comment. Wendsler Nosie, Sr., Apache resistance leader and grandfather of youth activist Naelyn Pike, offers testimony at a public hearing: "It's like destroying Mount Sinai…How is that going to be replaced?" [Resolution Mine EIS – Public Meeting Transcript]  
March 13, 2020 – Scientists and Apache activists testify before a congressional subcommittee calling for a halt to the Resolution Copper project. Naelyn Pike, now 21 years old, asked: "How can we practice our ceremonies at Oak Flat when it is destroyed? How will the future Apache girls and boys know what it is to be Apache, to know our home when it is gone?" [AZ Central] 
May 24, 2020 – A Rio Tinto mine in Australia destroys an Aboriginal site with evidence of continued human inhabitance dating back 46,000 years. [The Guardian] 
June 11, 2020 – A Rio Tinto senior executive tells employees that the company's public apologies about the Aboriginal site do not reflect any concession of wrongdoing. [The Guardian] 
September 11, 2020 – The Rio Tinto CEO and two top executives resign over controversies relating to the destruction of the Aboriginal site. [The Guardian]  
December 1, 2020 – The website for the US Department of Agriculture is updated with a new release date for the Resolution Copper Environmental Impact Timeline — January 2021. [ResolutionMine.US] 
Within 60 days — potentially before the inauguration of president-elect Joe Biden — the land at Oak Flat will swap ownership. Resolution Copper will be allowed to mine on sacred Apache land.