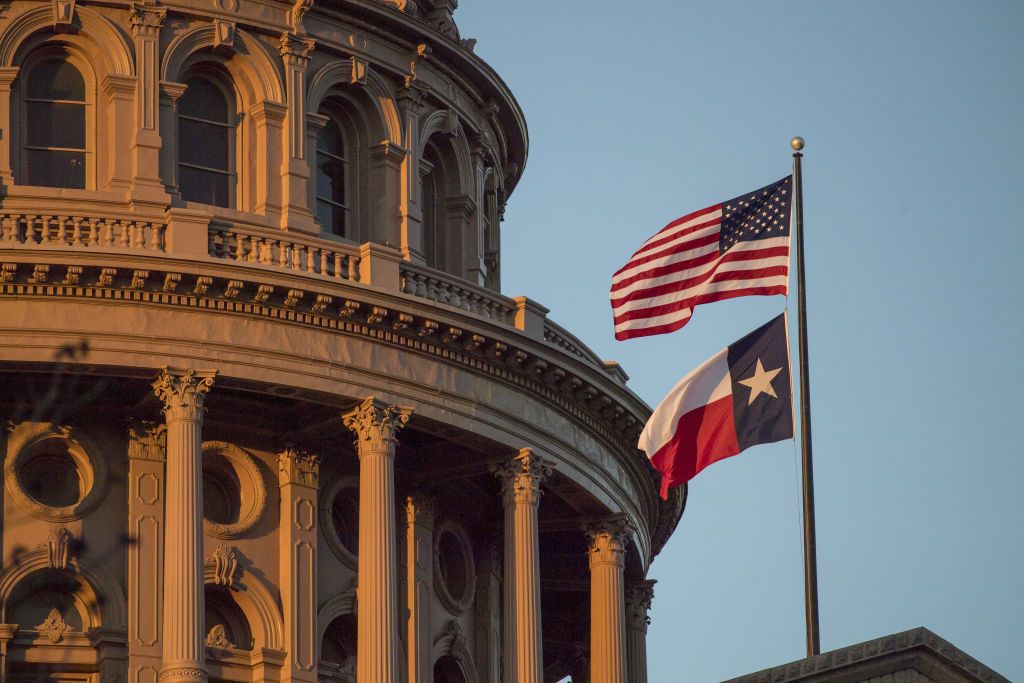 The Texas Legislature made national headlines last week, when a fistfight between lawmakers nearly broke out at the Capitol building. On Monday, May 22, the last day of the 85th legislative session, Republican State Rep. Matt Rinaldi announced he had called federal immigration officials to deport protesters who had gathered in the statehouse to object to what is commonly called SB-4.
A controversial law passed earlier this session by the lawmakers, SB-4 overturns existing policies and practices of municipal governments throughout Texas, which had barred their police officers from asking about the immigration status of individuals they detain.
State Rep. Poncho Nevárez, a Democrat from Eagle Pass, approached Rinaldi, who then threatened to shoot him. Rinaldi later said on Facebook that he made the threat in self-defense.
SB-4 has drawn heated debate from all sides, especially from the law's opponents who see the bill as a slippery slope to racial profiling by making immigrants and people of color more likely to be targeted by the police
Texas' governor, Republican Greg Abbott, signed the law in May; it goes into effect Sept. 1.
But SB-4 is part of a bigger story about Texas Republicans' efforts to wrest control from local governments. In its analysis of the recently concluded session, The Texas Tribune named local control as one of the biggest losers. Citing examples including state Republicans' attacks on local nondiscrimination ordinances, state attacks to vote down texting-while-driving bans, and a "bathroom bill" regulating which bathrooms transgender individuals can legally use, in addition to SB-4, The Tribune wrote that conservatives' tune has changed since "some of the biggest local governments in Texas have been doing things that Republican leaders don't like."
Abbott recently framed centralizing power in Austin as a matter of good business sense. "The goal here is to make it far easier for businesses to conduct operations in the state of Texas that deal with cross-city and cross-county lines," he said at a March lunch hosted by the Texas Conservative Coalition Research Institute highlighting another piece of legislation that would "prohibit any local ordinance from exceeding the standard set by the state." (Though it was unclear which bill he was referring to, The Tribune posited that it was likely HB-153, a Republican measure that would prevent cities from making occupational licensing requirements stricter than those required by the state.) At the same event, Abbott said rules governing fracking and ride-hailing services such as Uber are better imposed at the statewide level.
For months, Abbott has stressed that the state will not bend to the will of voters in populous urban cities. "This is not the United States of Municipalities," Abbott said, proposing a "broad-based ban on regulations at the local level unless and until certain standards are met."
SB-4 is the perfect test case. Abbott and the majority of Republican state lawmakers support it, arguing that police officers should be free to ask detainees about immigration status. The bill's opponents operate on the local level — a broad coalition of police chiefs, city councils and individual citizens who fear SB-4 will hobble relationships between police and the communities they serve, and will upend the sanctuary cities they have sought to maintain in light of the Trump administration's recent immigration policies.
That overall initiative to siphon power from localities and into the statehouse runs runs counter to Republicans' historical support for local control. As he announced his candidacy for president while governor of Texas in 1995, George W. Bush said, "It is conservative to insist on education standards, basics and local control."
Abbott, who sued the Obama-led federal government multiple times during his tenure as Texas attorney general from 2002 to 2014, anticipated accusations of hypocrisy.
"When people say, 'Well, gosh, Abbott, you were for, quote, 'local control' when you were suing the federal government and sued the Obama administration 31 times,' That's not true," Abbott said. "I sued the Obama administration 31 times because I thought they were violating the United States Constitution. It wasn't because of local control."
When pressed to distinguish between local versus state control and state versus federal control, Abbott has expanded the question to one more philosophically suited to the Republican notion of individualism. "If you really want to talk about local control, you reduce it to the lowest common denominator and that is the individual," Abbott said in March. "We retain the right as individuals for our own local control, for each of us, to be able to chart our own course, chart our own destiny based upon our own DNA."
Texas Republicans have been on the cutting edge of their national party's political and ideological front, so their latest about-face on local-versus-state and state-versus-national control may be a signal of what may be in store in other Republican-dominated states and in Trump's Washington.