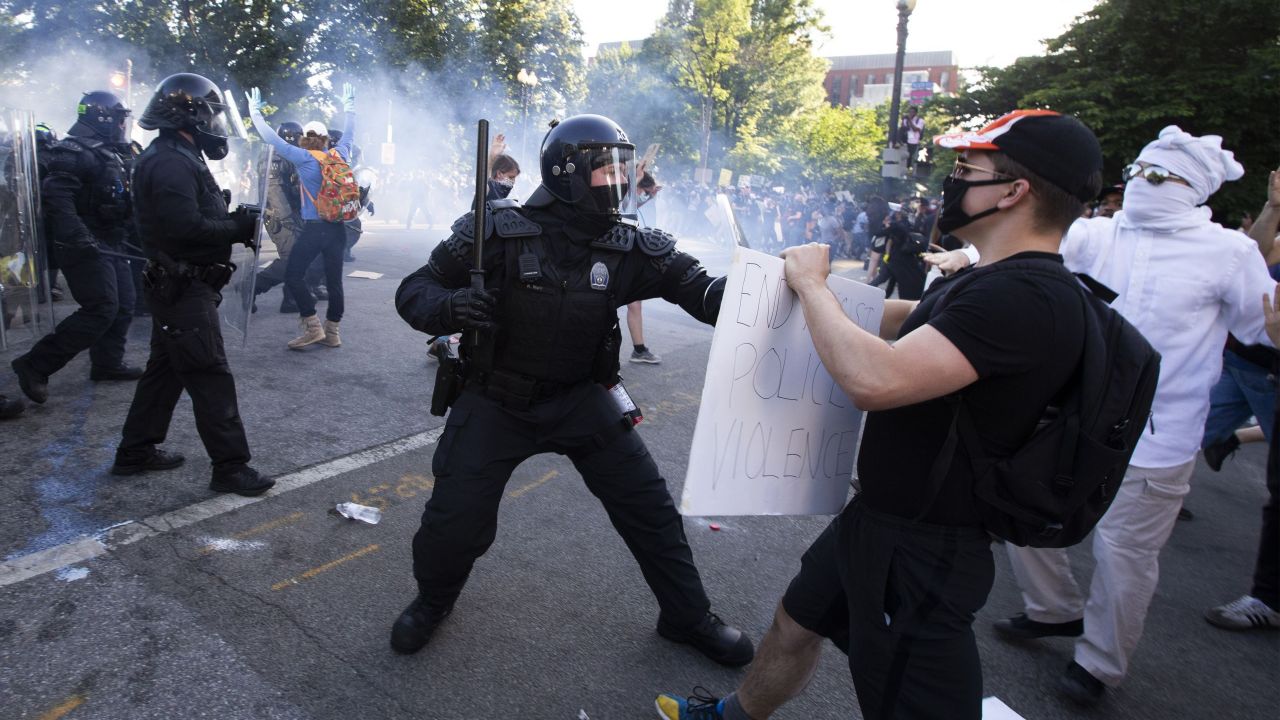 June 2, 2020
Last evening, the White House ordered Lafayette Square cleared of protesters so Trump could walk from the building to nearby St. John's Episcopal Church and back, to try to override images of him hiding in the White House bunker with pictures of him walking outside. To clear the square, National Guard units attacked the peaceful protesters there with tear gas, rubber bullets, and flash-bang explosives. Once the protesters had fled, the president strode across the square to the church and back, accompanied by Attorney General William Barr, Defense Secretary Mark Esper, Chair of the Joint Chiefs of Staff General Mark Milley in battle fatigues, and various advisors.
The stunt has drawn a significant backlash. Former CIA officials called out the behavior as that of a budding dictator. Gail Helt, a former CIA analyst who is now a professor of political science, told Washington Post reporter Greg Miller, "I've seen this kind of violence…. This is what autocrats do. This is what happens in countries before a collapse. It really does unnerve me."
White House officials tried to escape blame for the attack on peaceful protesters by saying that the park should have been cleared hours before. Advisor Kellyanne Conway told reporters that the president did not know how law enforcement would clear the area for him to proceed.
James N. Miller, former undersecretary of defense for policy from 2012 to 2014, accused Esper of betraying his oath of office as Miller resigned from the Defense Science Board today. "Law-abiding protesters just outside the White House were dispersed using tear gas and rubber bullets — not for the sake of safety, but to clear a path for a presidential photo op," Miller wrote. "You then accompanied President Trump in walking from the White House to St. John's Episcopal Church for that photo…. You may not have been able to stop President Trump from directing this appalling use of force, but you could have chosen to oppose it. Instead, you visibly supported it." He urged Esper to think about where he would draw the line.
Esper apparently already wishes he had drawn it further back than he did. He told a reporter, "I didn't know where I was going … I thought I was going to do two things: to see some damage and to talk to the troops." Pentagon officials told reporters that neither Esper nor the Chair of the Joint Chiefs of Staff General Mark Milley knew they were going to be part of a photo-op, and did not intend to participate.
Notably, although former presidents try to stay out of the business of criticizing their successors, former President George W. Bush made a statement saying that he and Mrs. Bush "are anguished by the brutal suffocation of George Floyd and disturbed by the injustice and fear that suffocate our country." He called for ending "systemic racism in our society," and called out "the doctrine and habits of racial superiority." Without explicitly criticizing Trump, he called for "empathy, and shared commitment, and bold action, and a peace rooted in justice."
Even televangelist Pat Robertson told Trump that his response to the protests "isn't cool."
Some Republican leaders also objected. Senator Tim Scott of South Carolina, the only black Republican Senator, said "If your question is, 'Should you use tear gas to clear a path so the president can go have a photo op,' the answer is no." Senator Ben Sasse of Nebraska said: "There is no right to riot, no right to destroy others' property, and no right to throw rocks at police. But there is a fundamental — a Constitutional — right to protest, and I'm against clearing out a peaceful protest for a photo op that treats the Word of God as a political prop."
They were lone voices. Other Republican leaders in Congress tried to pretend they were largely unaware of an event that has roiled the nation. Senator Mitt Romney of Utah said "I didn't watch it closely enough to know." Senator Ron Johnson of Wisconsin said he "didn't really see it." Senate Majority Leader Mitch McConnell of Kentucky said "I'm not going to critique other people's performances." Senator Josh Hawley of Missouri said he'd seen "conflicting reports" about what happened.
Still others cheered Trump on. When asked if he believed there was an abuse of power yesterday, Senator Ted Cruz of Texas said: "By the protesters, yes." Today McConnell blocked a resolution that would have condemned the event.
Meanwhile, former Vice President Joe Biden gave his first formal public speech since the pandemic forced a halt to his campaigning in mid-March. Speaking in front of American flags at Philadelphia's City Hall, he said "Donald Trump has turned this country into a battlefield riven by old resentments and fresh fears…. Is this who we are? Is this who we want to be? Is this what we want to pass on to our children and our grandchildren? Fear, anger, finger pointing, rather than the pursuit of happiness? Incompetence and anxiety, self-absorption, selfishness?"
"We are in a battle for the soul of this nation," Biden said. "Who we are. What we believe. And maybe most important — who we want to be."
Martha Raddatz of ABC News illustrated that question tonight in a photograph of soldiers on the steps of Washington, D.C.'s Lincoln Memorial.
Your Lincoln Memorial this evening. pic.twitter.com/QByGgWeDDm

— Martha Raddatz (@MarthaRaddatz) June 3, 2020
—
Notes:
CIA: CIA veterans who monitored crackdowns abroad see troubling parallels in Trump's handling of protests, Greg Miller, Washington Post, June 2, 2020.
WH official telling me operation should have been carried at Lafayette Park hours earlier when the area was not as crowded with protesters. The official said it was about "optics" and that the operation didn't work out as well as they had hoped, given the chaos that erupted.

— Jim Acosta (@Acosta) June 2, 2020
Milley: Top Military Leader's DC Stroll In Fatigues Sets Off Wave Of Criticism, Zoë Richards, Talking Points Memo, June 2, 2020.
Pentagon official says Defense Secretary Esper and Chairman Milley were not aware of Trump church photo-op plan, CNBC, June 2, 2020.
Senators: GOP senators scold Trump over St. John's photo op, Ursula Perano, Axios, June 2, 2020.
Tape of Senators refusing to discuss Trump:
Robertson:
Pat Robertson tells Trump that his response to the George Floyd protests "isn't cool."
Biden:
Joe Biden Laces Into Trump for Fanning 'Flames of Hate,' Katie Glueck, The New York Times, June 2, 2020.
Joe Biden's remarks on civil unrest and nationwide protests, CNN, June 2, 2020.