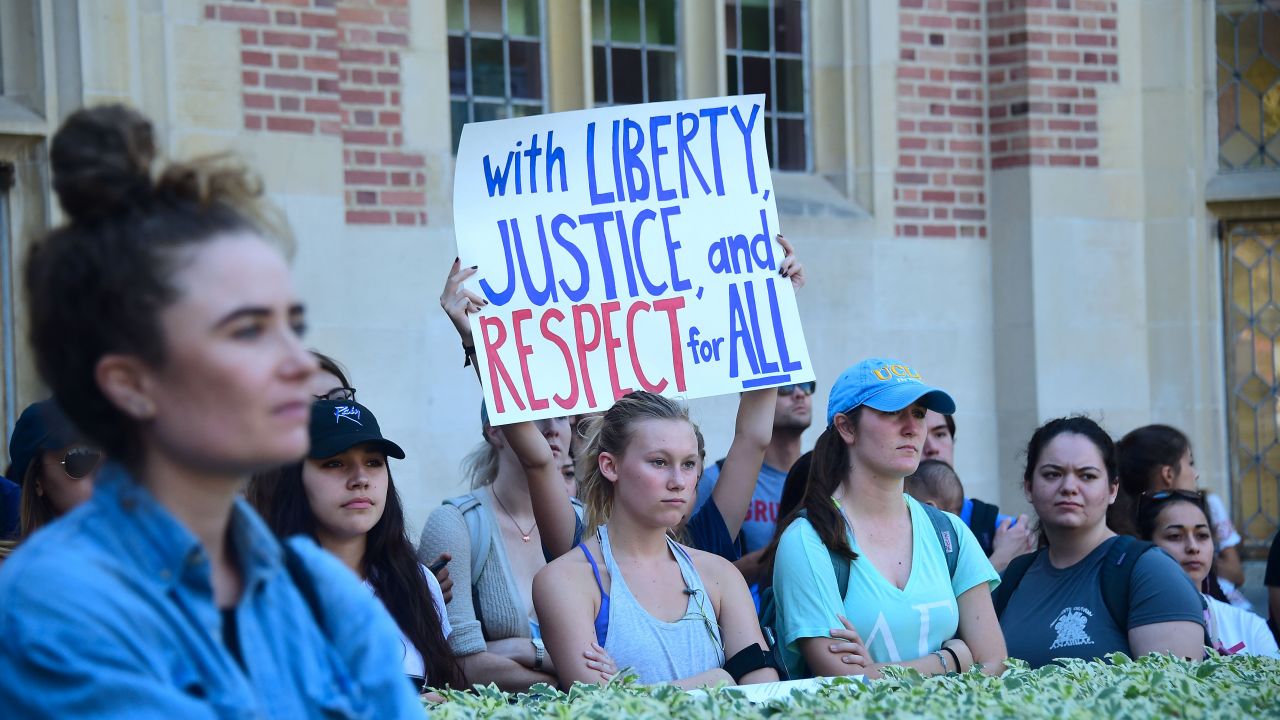 From a reader, Sara Gunther: "I am extremely concerned about all the hate crimes I am reading about. What can I do if I witness a bias attack?"
---
Short answer: We reached out to experts to devise a strategy. Here's what they recommend: 1) Be a good witness, record and identify the incident. 2) Be prepared to speak out, but don't escalate the conflict. 3) Be an ally. 4) Find a safe space. 5) Learn more.

1. Be a good witness
Report it. "First of all," said J. Thomas Manger, police chief of Montgomery County, Maryland, "be a good witness. Call 911 so the police can respond." In his county, hate crimes increased by 17 percent this year. When people are assaulted by hate, he said, "These are crimes against all of us."
Call the police even if it is not a physical attack. "What is the worst that can happen? The victim leaves? The perpetrator gets away?" Manger said. "What if we talk to the victim and the witness who calls it in, and they say it was a white pickup truck, with three teenagers and they yelled out racist slurs at a black guy standing at the bus stop. The next day, there may be racial slurs spray painted on the side of a nearby business. I have news for you: My detectives have a lead on where to start."
We have to take bias attacks seriously, said Michael Lieberman, the Anti-Defamation League's (ADL) Washington counsel. "One of the things we tell the Jewish community is that every single hate crime matters, every single anti-Semitic incident is serious and if we don't take it seriously, then why should law enforcement?"
Record it. If you see someone spray painting a slur on the side of a house or a place of worship, record it on your smartphone and report it. If an incident takes place in a store or a restaurant, follow the person to the parking lot and get a photo of their license plate. If someone shouts from a moving car, do the same. Or snap a shot of the person on a bicycle yelling at immigrants in the park.
History tells us that when law enforcement authorities demonstrate that there are consequences to this hate, then it will dissipate.
— Michael Lieberman, Anti-Defamation League
Lieberman says that in addition to calling the police, victims of or witnesses to hate incidents should report them to any local human-rights commission or victim-services professionals who can help galvanize action. "History tells us that when law enforcement authorities demonstrate that there are consequences to this hate then, it will dissipate," he said. Attacks often go unreported, Manger said, because the victim is humiliated or the witness thinks there is nothing police can do. There are, however, many things his department will do. "Not only will we investigate every one of these cases," he said, "but we also provide services to the victims that will help them work through the emotional impact or … help them get money to make repairs."
Identify it. When you call the police, identify the incident accurately as hate speech or a bias crime, counseled Chuck Wexler, the director of the Police Executive Research Forum. Wexler worked in a civilian capacity in the Boston Police Department during the desegregation of Boston Schools in the 1970s. If racial slurs were reported as graffiti or vandalism alone, he said, the real significance would be lost. He said he also thinks large police departments would be wise to have special units and dispatchers trained to handle bias incidents.
Flag Online Hate Speech. YouTube, Facebook, Twitter, Google and other sites allow users to flag offensive content for review. Last May, those internet giants pledged to review hate speech within 24 hours, removing it if necessary. But only 40 percent of all the complaints were assessed in a timely fashion, according to a recent report by the European Union. If you see a direct threat online, you should report it to your local police, Manger said. "Why not? It could be a crime," he added. Manger's department will determine whether it was a matter of free speech or whether it crosses the line — threatening someone based on race, religion, ethnic background, gender or disability.
Muslim Advocates' report, Click Here to End Hate, outlines how to take action against anti-Muslim bigotry online. The legal explanations and strategies can be applied to any online hate.

2. Speak out, but don't escalate
Millions of people now believe it's OK to publicly express "demonizing, marginalizing speech and even violent behavior" toward people who are different, said Carolyn Lukensmeyer, executive director of the National Institute for Civil Discourse. "People may have thought like this before the campaign," she said, "but the social norm was that it is not OK to say it. That has changed." If we are to revive a sense of civility, people must speak up and make it clear that they will not permit racism, discrimination and intolerance.
Lukensmeyer offered guidelines for speaking out:
Do not turn your back or look away. That sends the message that the behavior or speech is acceptable.
Make eye contact with other bystanders before you speak so you become a group. Invite the group to intervene with you. One example that includes both good tactics and bad, according to Lukensmeyer, comes in an unverified Facebook post by man who said he was standing on a long supermarket line in Los Angeles when a customer waiting behind him in line pointed to the cover of a magazine featuring Hillary Clinton and Michelle Obama and loudly denigrated them with sexist and racist language. People nearby grimaced and looked down. This witness wrote that he summoned up his courage to address the others: "I'm sorry, everyone, but I must ask for some support in addressing this hateful and ignorant man. Look up, please. Someone look up because I can't do this alone." He then wrote that he repeatedly told the man to keep his mouth shut. Lukensmeyer applauds the tactic of calling for help from the others, but she strongly cautions against meeting the offender's aggression with aggression.
Choose language that won't escalate the conflict. Keep it calm. Keep it respectful. Be specific to the situation. For example: Tell the bystanders: "Help me here, this is unacceptable." Tell the offender: "Please stop saying that. Many of us don't feel that way. How would you feel if someone yelled at your sister for wearing a cross?… used those words to describe your mother? … told your nephew to go back to x country?"
Don't use aggressive body language, words or tone of voice that might heighten the tension.

3. Become an ally
If you are alone without support from others, move to join the person who is being mistreated. Ignore the attacker. Pick a topic and engage in a conversation to help the marginalized individual feel safe.
For example, a French illustrator drafted a visual guide to confronting Islamaphobic harassment that is trending on the internet. It shows a Muslim woman being harangued on the subway. A bystander sits down beside the woman and cheerfully chats with her until the attacker runs out of steam.

4. Find a safe place
If the attacker doesn't stop, calmly escort the person to a safe place. Tell the aggressor, "We've moved on, please leave us alone." Wexler said citizens have to balance their own safety with the desire to intervene: "The most important thing is to get assistance." For example, at Baylor University, the morning after the election, a student named Natasha Nkham was shoved and called the "N-word." A male student denounced the behavior and walked with Nkham to her class. Word went out and within a few days, hundreds of students showed up to walk with Nkhama and help her feel safe.
Create a safe space. Join community members to wash off, paint over or denounce hateful graffiti. After a synagogue in Montgomery County, Maryland was spray painted last year, clergy of every faith — priests, imams, rabbis, ministers — showed up at police headquarters to denounce the crime. "The impact of all those faith leaders standing together, saying that this is wrong and we won't tolerate it, was a very powerful thing for a community to do," said Manger. "Within a couple of weeks, we caught the person who did it and arrested him," he added. Derogatory slurs are not just any vandalism. "This is a traumatic thing," Manger said. If your house is defaced, "it carries an emotional impact on some people that can last years."
Reclaim public space. A rider entered a car on the New York City subway and found it was covered with swastikas and "F-you Liberals" written in black marker. He asked his fellow passengers if anyone had a marker. People — young and old, black, white, Hispanic and Asian — dug into their bags until the man had the appropriate tools to change the swastikas into flowers and pinwheels, and the words to "Hugs, You Liberals." Manger advises documenting hate graffiti before temporarily transforming it and alerting the transit authority so it can be removed.

5. Learn more
Break out of your bubble. Social media frequently becomes an echo chamber, surrounding you in a bubble of like-minded colleagues and friends. A recent article on Good's website suggests seeking out voices you would not usually hear from — particularly marginalized opinions and perspectives.
Engage people you work with. If a colleague at the office holds bigoted views, Lukensmeyer suggests issuing a lunch invitation. Don't try to change his or her mind, but begin a conversation. "Just ask questions," she says. "'Why do you feel this way?' or 'Where did you learn that?' The more a person is asked to come up with words to describe what is essentially an embedded emotion, the more likely that person will some day have an 'Aha!' moment on his own."
State actions. Find out what your state government is doing to address the spasm of post-election hate crimes across the country. Delaware, Maryland, Massachusetts and New York all have set up hotlines or bias crime units. California and Connecticut have issued bulletins and underscored state laws.
The norms of civility and respect have been eroding for some time, according to Lukensmeyer. Anti-Muslim behavior escalated significantly after 9/11 and the inability of powerful people to work together to solve the country's problems, has been decades in the making. But the 2016 campaign took incivility to new levels: Insults, slurs and name-calling were piped into living rooms across America, then replayed over and over on the internet. Disrespectful language led to hateful actions and physical violence. We all have to assume responsibility for speaking up, said Lukensmeyer, if we are going to bring civility back to public spaces where "every human being has a right to feel safe." The decision to intervene comes down to instinct and common sense, Manger said. Above all, people should stay safe, he stressed, but it is important to get out the message that these are crimes against all of us: "We have to publicly condemn them and remind the community that this is not who we are. We won't tolerate this."