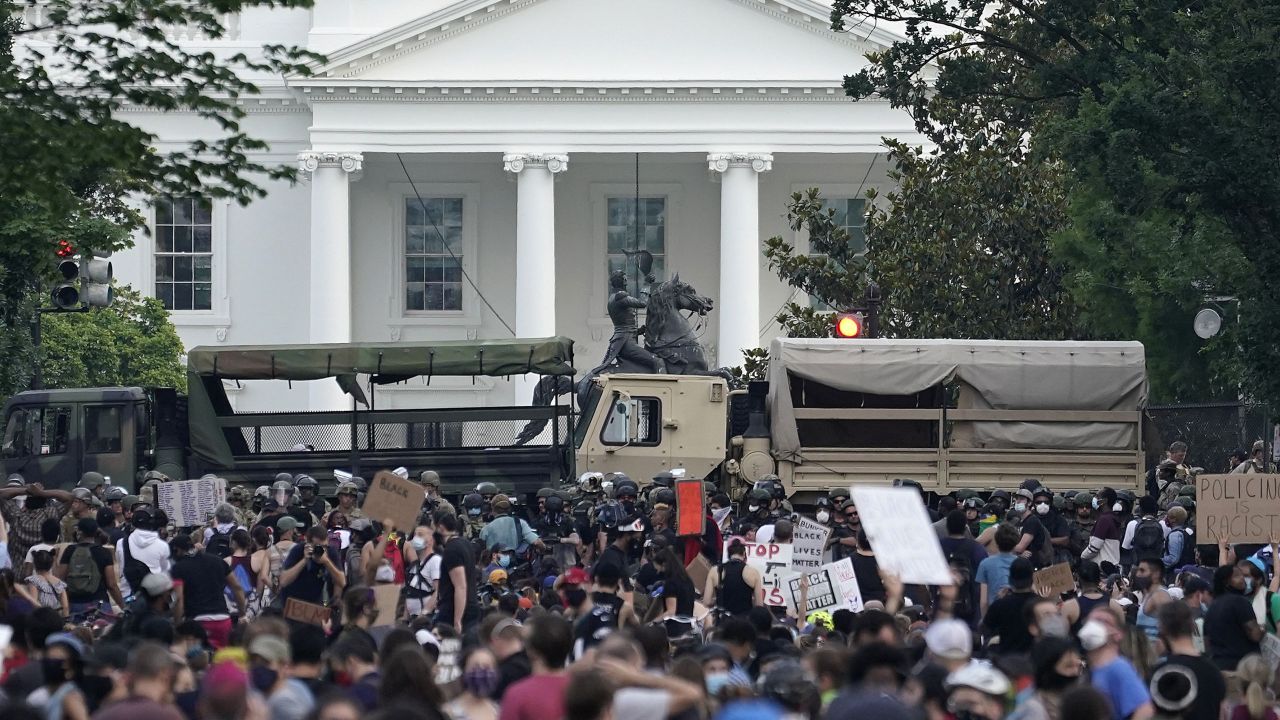 June 4, 2020
The large picture today is one of a president increasingly isolated as protests increase and establishment figures turn against him and the politics he represents.
That large picture is made up of many individual moments.
Protests continued for a tenth day today in the face of ongoing police brutality. That statement is going to anger some readers, but hoo, boy, the images of the police attacking peaceful protesters and journalists are going to be in textbooks in a few years, and our great grandchildren are going to ask how on earth this happened.
Confusion over who the troops in Washington, D.C. actually are turned into anger today. The mayor of the city, Mayor Muriel E. Bowser, rejected the White House push to take control of D.C. police, and did not request any help from outside the city. Nonetheless, the streets have been full of men in unidentifiable uniforms without name tags, both customary on military personnel.
Speaker of the House Nancy Pelosi demanded from Trump "a full list of the agencies involved and clarifications of the roles and responsibilities of the troops and federal law enforcement resources operating in the city. Congress and the American people need to know who is in charge, what is the chain of command, what is the mission, and by what authority is the National Guard from other states operating in the capital."
Contrary to reports from those present, Attorney General William Barr said today that the protesters in Lafayette Square on Monday whom police cleared out with tear gas and rubber bullets were violent, and that officials "could not continue to protect" federal property. Barr was, perhaps, responding to a tweet from Richard W. Painter, the chief White House ethics lawyer in the George W. Bush administration. On Tuesday, Painter tweeted "Attorney General Barr personally ordered an attack on peaceful people in the courtyard of a church. He should be impeached and removed from office immediately for that and everything else he has done to destroy the rule of law in America."
Trump is literally behind a wall, now, as officials have ordered the White House compound barricaded behind fences and metal enclosures as if it were a military base.
There are also small—very small– cracks in Trump's Republican support in Congress. Lisa Murkowski (R-AK) praised General James Mattis's statement opposing Trump and said she is not sure she'll vote for the president's reelection in the fall. "I think there are… important conversations that we need to have as an American people amongst ourselves about where we are right now," she said. Trump immediately vowed he would work to unseat her when her term is up in 2022.
The Senate Intelligence Committee approved a measure that would require presidential campaigns to report to federal authorities any offers made by foreign individuals to influence elections, including campaign donations or coordination with a campaign. Senator Marco Rubio (R-FL) is following Senator Richard Burr (R-NC) in his deep concern over foreign attacks on our elections. The bill passed thanks to Democrats and the crossover vote of Senator Susan Collins (R-ME), but Senate Republicans plan to defeat this provision when it comes to the floor of the Senate.
And Senator Chuck Grassley (R-IA), has said he will block two of Trump's appointees from nomination until the president adequately addresses his removal of the inspectors general of the Intelligence Community and the State Department. The White House has refused to account for those firings, instead reiterating that the president has the authority to fire the men. Notably, though, the stalled nominations were for the undersecretary for arms control and international security at the State Department and the director of the National Counterterrorism Center, important positions both, but probably nothing that will badly hamper the president. If Grassley had wanted the threat to have teeth, he could have put a hold on judicial appointments, which Majority Leader Mitch McConnell has continued to push through at a cracking pace even during this crisis week in American history.
Trump is literally behind a wall, now, as officials have ordered the White House compound barricaded behind fences and metal enclosures as if it were a military base. The Washington Post wrote: "The White House is now so heavily fortified that it resembles the monarchical palaces or authoritarian compounds of regimes in faraway lands — strikingly incongruous with the historic role of the executive mansion at 1600 Pennsylvania Ave. NW, which since its cornerstone was laid in 1792 has been known as the People's House and celebrated as an accessible symbol of American democracy."
The Secret Service says the changes are in effect only until June 10.
We are pleased to be presenting daily posts from Heather Cox Richardson's "Letters From an American" email newsletter. You can sign up to receive it in your inbox here. 
—-
Notes:
Pelosi letter: Letter to President Trump, Nancy Pelosi, June 4, 2020.
Barr: AG Barr defends clearing protest near White House, disputes claims demonstration was peaceful, Kevin Johnson, USA TODAY, June 4, 2020.
Barr gave the order: Barr personally ordered removal of protesters near White House, leading to use of force against largely peaceful crowd, Carol D. Leonnig, Matt Zapotosky, Josh Dawsey and Rebecca Tan, Washington Post, June 2, 2020.
Painter:
White House wall: With White House effectively a fortress, some see Trump's strength – but others see weakness, Phillip Rucker, Ashley Parker, Matt Zapotosky and Josh Dawsey, Washington Post, June 4, 2020.
Senate intelligence committee vote: Senate panel approves legislation requiring campaigns to report foreign election help, Manu Raju and Jeremy Herb, CNN, June 4, 2020.
Grassley: Top Republicans will block Trump nominees until administration explains watchdog firings, Zachary Cohen, CNN, June 4, 2020.
McConnell: McConnell pushes through two more judges while ignoring protests and pandemic, Dan Desai Martin, The American Independent, June 2, 2020.