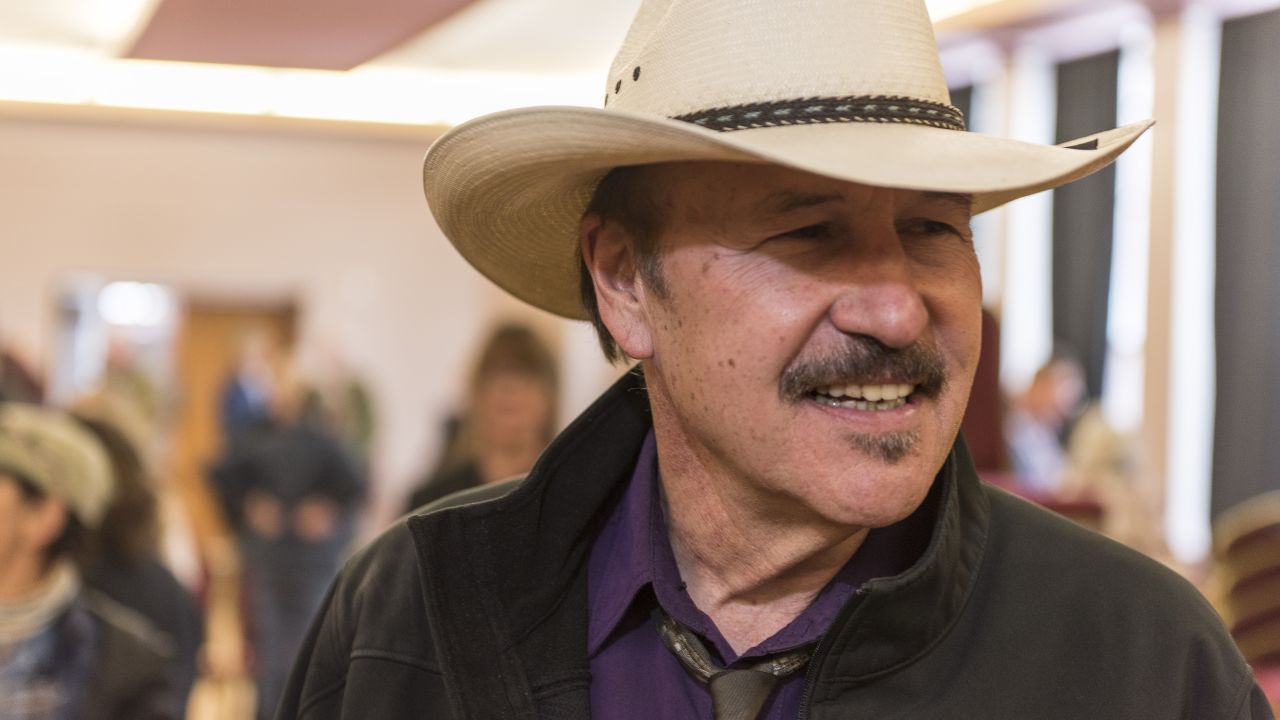 Republican Ron Estes won an election to become Kansas' newest congressman last night, replacing Mike Pompeo, who now heads the CIA for President Donald Trump. But that wasn't before his party panicked, declaring the race an all-hands-on-deck moment. Ted Cruz, who won Kansas in the primaries, showed up in the state to campaign alongside Estes. Trump himself recorded a robocall: "Ron is going to be helping us, big league."
Estes' opponent was local civil rights lawyer James Thompson, who, inspired by Bernie Sanders, made his first foray into politics this year. He didn't have much help from the national organs of the Democratic Party, but raised some $250,000 from about 20,000 people. His populist energy had a special appeal in the district, which is home to Koch industries. The billionaire brothers who own the company exercise a special influence over Kansas politicians, and were a driving force behind some of Gov. Sam Brownback's crippling budget cuts in recent years, making the Republican the second-least popular governor in America (Chris Christie wins gold in that category.)
Estes beat his opponent by only 7 points — disappointing for Democrats who were hoping to see a win in this deep-red state, but worrying for Republicans, whose own polling shows Democratic engagement to be off the charts. In a district where Republicans tend to win by double-digit margins (Donald Trump won by 27 points), Estes underperformed. "If the election was in two more weeks, Thompson might win," a Kansas Republican strategist told The Hill on Monday. "Thank God the election is tomorrow."
---
Now, both parties are turning their eyes toward two other special elections that will play out over the next several weeks. The first will take place in Georgia, where handsome Democratic technocrat Jon Ossoff is running to claim the seat in Congress that Health and Human Services Secretary Tom Price vacated. The other is in Montana, where respected bluegrass musician Rob Quist is running a rabble-rousing, populist campaign against Greg Gianforte, a tech millionaire transplanted from New Jersey who recently lost a bid to become Montana's governor.
Both races — but the Georgia race especially — have attracted quite a bit of attention, and with that attention has come money: According to FEC filings, super PACs and dark money groups championing one candidate or another have spent nearly $8 million in Georgia. Republican Party-affiliated groups supporting Ossoff's opponents, such as the Congressional Leadership Fund and the National Republican Congressional Committee, account for the bulk of it. When Tom Price handily won re-election in 2016, he did so without any spending from these DC-based super PACs and dark money groups. The White House is also paying attention: According to New York magazine's Olivia Nuzzi, Steve Bannon is obsessing over the Georgia election and has a staffer devoted to keeping him updated on it. Ossoff is vague about policy and short on rhetoric, but his youth and energy are encouraging for Democrats.
Georgia holds something called a "jungle primary," where candidates of all parties run against each other. If any of them can win more than 50 percent of the vote during the primary, no general election is held — that person wins the seat outright. If no candidate reaches the 50 percent threshold, the election becomes a runoff between the top two candidates.
The Georgia special election is in a red district that was represented for more than two decades by Newt Gingrich, and Ossoff might have trouble winning a head-to-head match against a single Republican. But there are a whopping 18 candidates in this race, most of whom are Republicans. With voters divided among candidates, Ossoff's supporters are trying to push him over the 50 percent threshold in the April 18 primary. So far, early voting turnout is looking good for Democrats.
Meanwhile, in Montana, Quist, a bluegrass legend, is running against Gianforte, a millionaire political donor who recently spent more that $5 million of his own money to run for governor, only to lose. He now appears ready to buy himself a seat in Congress. Like Thompson in Kansas, Quist has struck a populist tone, making universal health care and support for Planned Parenthood cornerstones of his campaign, and he champions keeping public lands public. It's a major issue in Montana: 29 percent of the state is public land, and Gianforte holds the familiar Republican position that the state and its people would be best served if these acres were auctioned off. The Montana special election on May 25.
---
Both parties have piled quite a bit of weight on these elections, framing them, variously, as referenda on Trump, on the Democratic Party's future and on the health of "the resistance." A loss for Democrats could indicate that opposition to Trump is weaker than it appears. Conversely, a win could suggest to Democrats that taking back the House is an option when — thanks mostly to extremely effective gerrymandering by Republicans — it is a near impossibility in 2018.
But these elections can give the Democratic Party an idea of the campaigns and messaging that will work in various red states. In Georgia, Ossoff has been very cautious in the positions he takes, at times seeming to not stand for much beyond the party itself (Nuzzi describes him as "radically boring"). Meanwhile, even without much support from the party, Quist is doing well in Montana, championing causes like universal health care that have broad appeal among voters but are often viewed as untenable in Washington.
In the past, the Democratic Party has, at times, struggled to even show up. It's left some elections in red states entirely uncontested. The three red-state special elections this year indicate that that may be changing: With or without the support of the Democratic National Committee and the bevy of national-level Democratic fundraising groups, candidates are tapping into a wellspring of voter enthusiasm and running aggressive campaigns.
The DNC may, belatedly, be taking note: Next month, DNC chair Tom Perez is considering a visit to Montana (alongside Bernie Sanders) to support Quist.