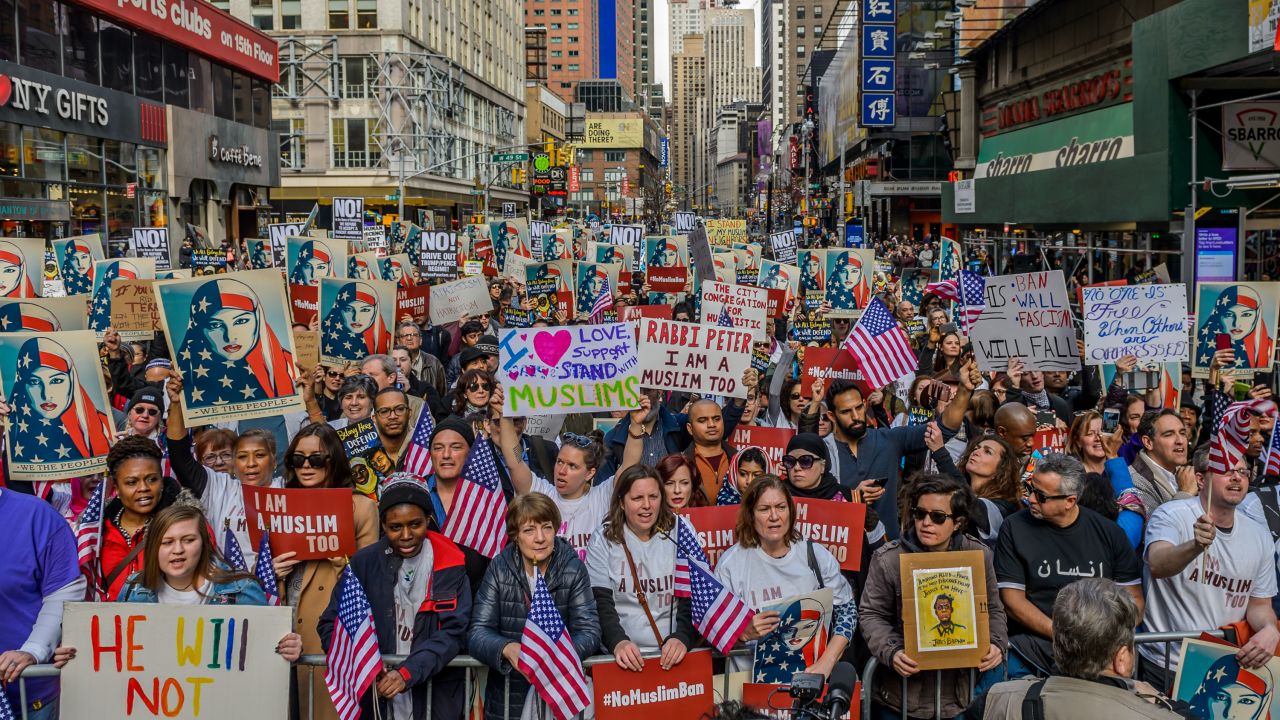 This post originally appeared at Yes! Magazine.

1. Going door to door for Muslims
On the day President Trump's first travel ban took effect in January, dozens of volunteers, many of them Jewish, went door to door in neighborhoods around Oakland, California, soliciting support for Muslims. Canvass organizers with Jewish Voice for Peace had armed them with a script to engage people and advice not to argue. They were to ask homeowners and storekeepers to post signs in their windows: "We stand with our Muslim, Arab and immigrant neighbors."
It was the first of what would become monthly canvassing events across the Bay Area, and given the political climate of that first day, everyone was flying blind: "We had no idea what the reaction would be," said Penny Rosenwasser, a Jewish Voice member and an organizer.
What they got was this: Storeowners hugged them. People on the street and clerics in mosques thanked them. One immigrant openly wept.
And while not everyone agreed to display the signs, Rosenwasser said, not a single volunteer — who ranged in age from 9 months to 90 years and represented many faiths — reported a hostile experience.
"How wonderful it is to walk through the neighborhoods and see the signs in these windows and know I'm connected to people who want to extend the same feelings of solidarity and care," Rosenwasser said.

2. Fostering Syrian refugee children
Kim Powe and Greg Euteneier decided years ago they wanted to open their Seattle home to refugee kids displaced from their homes by turmoil and war. But the couple had never quite settled on what country they wanted those children to come from — until Trump was elected president.
The couple, who also have a 5-year-old daughter, are being licensed as foster parents through the US State Department's Unaccompanied Refugee Minor program, which identifies refugee children who have no parents or relatives to care for them. It then pairs them with American families willing to provide them safe and loving homes.
"I've been given many blessings in my life," said Powe, interim executive director at the Seattle-based social justice organization Puget Sound Sage. "When I learned of this program, it spoke to me. I thought, This is it."
Powe said she decided on Syrian children because of the devastation of the six-year-long civil war. And she wanted them to be Muslim, she said, because of Trump's vitriol toward them.
The family expects the new members to arrive by summer — unless the federal courts uphold Trump's looming travel ban.

3. MoMA curators send message to Trump
In a poignant display of solidarity, New York City's Museum of Modern Art in February replaced works in its fifth-floor galleries, long dedicated to pre-1950 Western themes, with contemporary pieces by artists from Muslim countries subject to President Trump's travel ban.
Nine works by Iranian, Iraqi, and Sudanese artists were installed after Trump issued his first executive order banning refugees and visitors from those and four other majority-Muslim countries. Works in the MoMA galleries are periodically rehung and the new additions — among them an oil painting by Sudanese-born Ibrahim El-Salahi and a bronze statue titled "the Prophet," by Iranian sculptor Parviz Tanavoli — replaced those by such masters as Picasso and Matisse.
The museum made no public pronouncement about the changes, other than a statement appearing on wall labels, that the works affirm the "ideals of welcome and freedom as vital to this museum as they are to the United States."

4. Techies promise: never again
As tech industry executives in December were preparing to sit down with then-President elect Donald Trump at Trump Tower in New York, rank-and-file workers who had gathered for a tech meeting in San Francisco shared a mounting frustration. The way they saw it, Trump had ridden to victory on a platform of divisive, anti-immigrant rhetoric, floating the idea of a Muslim registry. And this high-visibility meeting — and Silicon Valley's apparent complicity — perpetuated the image of their industry as selfish and uncaring.
Days before the big meeting, they launched neveragain.tech as a way, they say, to take the stand their leaders would not and in solidarity with Muslim Americans, immigrants, and those whose "lives and livelihoods are threatened by the incoming administration's proposed data collection policies."
Drawing references to past atrocities that involved registries — IBM's collaboration with Nazi Germany and the US incarceration of 120,000 Japanese people — 2,843 tech workers, managers and executives from companies ranging from Google to startups signed a pledge refusing to build a religious database or facilitate the mass deportations of people.
"There are many people in the tech community who have strong morals and ethics around this and are fighting for justice in the world," said Valerie Aurora, an industry consultant and one of the organizers.

5. Buddy system for court hearings
In Denver, one group is borrowing from the civil rights and women's movements, training volunteers to accompany immigrants who face possible deportation and documenting their interactions within the system. The technique of accompaniment and documentation by American Friends Service Committee grew out of a local church sanctuary movement in 2013. Under Trump, both the number of volunteers and immigrants seeking assistance, have increased, said organizing director Jennifer Piper.
Typically, the partnering begins with an undocumented immigrant's first contact with immigration authorities. It involves not just shadowing them at immigration check-ins and court hearings and detailing every interaction they have, but surrounding them with support, including help finding and paying for a lawyer, if necessary. The goal ultimately is to build the strongest case possible to avoid deportation and keep families together, Piper said.
Of the 15 immigrants whose cases have been fully documented since the program started, 14 have avoided deportation, Piper said, and most pay it forward by volunteering to accompany others. "If we can bring all that moral, spiritual and economic support to a case as soon as there has been interaction, immigrants are more likely to win before ever needing sanctuary," Piper said.

6. Businesses say no to ICE
An immigrant advocacy group in Austin, Texas, searching for safe havens for those faced with the threat of deportation has launched a kind of know-your-rights campaign for private businesses. As part of its "ICE out of Austin" movement, Grassroots Leadership is building an underground network of sanctuary businesses willing to harbor undocumented immigrants in the event of a raid, or provide refuge to any threatened or targeted group.
Alejandro Caceres, the group's immigration organizer, said Grassroots worked with attorneys to create the legal language for the campaign. It reached out initially to businesses that participated in the Day Without Immigrants — about 100 or so establishments, most of them restaurants owned by Spanish speakers.
The language outlines what sanctuary businesses are permitted to do — or not do — if they have undocumented workers on staff and how far they may go to support them.
Caceres said he wants private businesses to feel empowered to banish ICE officers from their properties, including their parking lots, and to demand to see warrants before an arrest can be made.
"We want people to be actively on the lookout and make sure ICE doesn't feel comfortable in parking lots and businesses," Caceres said.