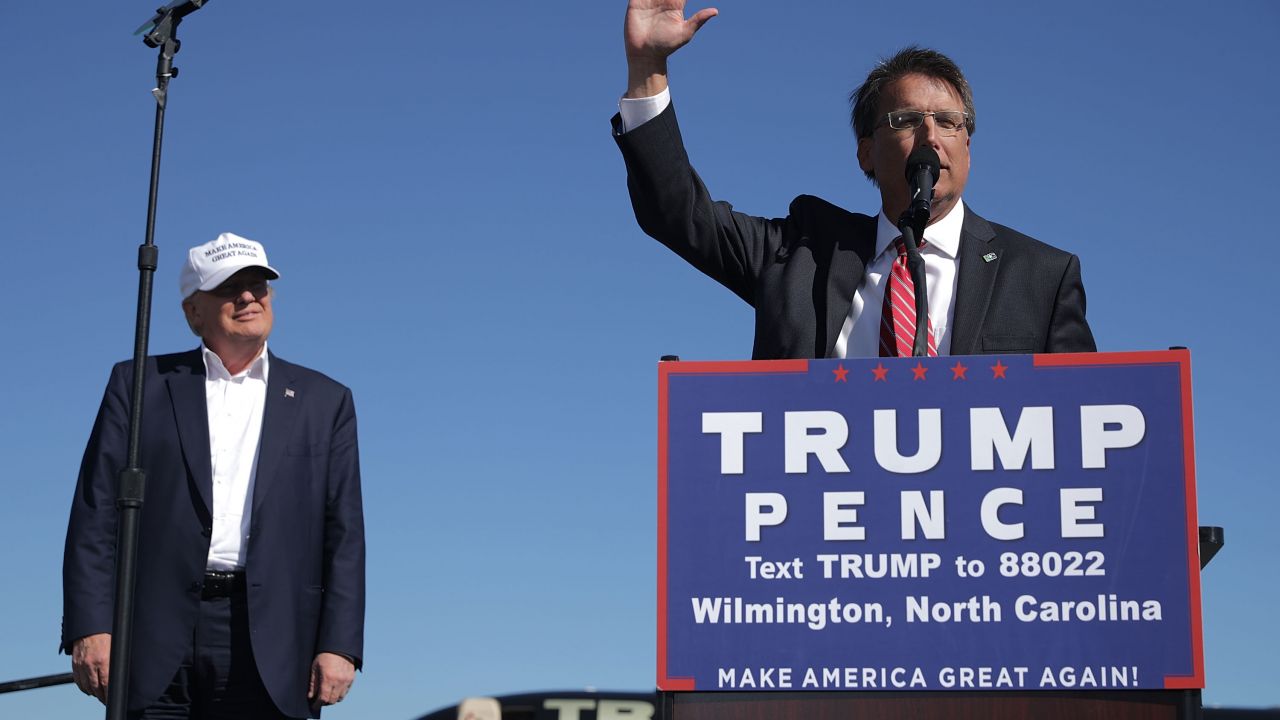 We produce this news digest every weekday. You can sign up to receive these updates as an email newsletter each morning.
---
Electoral fraud? –> Mark Joseph Stern for Slate: "North Carolina Republican Gov. Pat McCrory, champion of the country's most notorious anti-LGBTQ law, lost his bid for re-election on Nov. 8 — at last count, by 7,448 votes. Yet nearly two weeks later, McCrory still refuses to concede. Instead, he and his legal team are baselessly alleging that the results were tainted by fraud, petitioning election boards to review the results and determine their validity.
"McCrory is not so obtuse as to think he can actually overtake his opponent, Democratic Attorney General Roy Cooper, in raw votes. His strategy is more insidious: He seems intent on delaying the formal declaration of a winner — and delegitimizing the voting process — in order to let the Republican-dominated legislature ignore the true result and re-install McCrory as governor for another four years."
"Partisan gerrymander" –> Jason Stein and Patrick Marley for The Milwaukee Journal Sentinel. "Two weeks after a stunning election defeat, Wisconsin Democrats won an equally surprising legal victory Monday as a federal court struck down legislative maps drawn by Republicans in 2011. The judges ruled 2-1 that the maps were unconstitutional because they were 'intended to burden the representational rights of Democratic voters… by impeding their ability to translate their votes into legislative seats.'" This case likely will wind up in the Supreme Court. Depending on the outcome there, The Journal Sentinel reports, "the case could have national implications because it includes a new method of determining whether legislative maps are drawn in a way that discriminates against voters of a particular party."
Trump's bad suggestion for the UK –> In a breach of diplomatic protocol, President-elect Trump tweeted, "Many people would like to see @Nigel_Farage represent Great Britain as their ambassador to the United States. He would do a great job!" Although he stepped down from his role as its leader, Farage remains the most prominent voice in the UK's right-wing populist Independence Party, and was one of the leading forces behind Brexit.
Prime Minister Theresa May's office dismissed the appeal: "There is no vacancy," the press was told. Now, the BBC is reporting, "Nigel Farage has accused Downing Street of putting its dislike of him ahead of the national interest after No. 10 dismissed Donald Trump's comment that he could be a 'great' ambassador."
Trump vs. the "lying" press –> In a meeting yesterday that supposedly was off-the-record, Trump lambasted television media executives and anchors. "Trump started with [CNN chief] Jeff Zucker and said, 'I hate your network, everyone at CNN is a liar and you should be ashamed,'" a source reportedly told the New York Post's Emily Smith and Daniel Halper. Politico's Hadas Gold reports: "Trump turned to NBC News President Deborah Turness at one point, the source said, and told her the network won't run a nice picture of him, instead choosing 'this picture of me,' as he made a face with a double chin. Turness replied that they had a 'very nice' picture of him on their website at the moment."
The New Yorker's David Remnick: "For more than 20 minutes, Trump railed about 'outrageous' and 'dishonest' coverage. When he was asked about the sort of 'fake news' that now clogs social media, Trump replied that it was the networks that were guilty of spreading fake news. The 'worst,' he said, were CNN ('liars!') and NBC.
"This is where we are. The president-elect does not care who knows how unforgiving or vain or distracted he is. This is who he is, and this is who will be running the executive branch of the United States government for four years."
Meanwhile, Trump released a short video in which he spoke about his presidential agenda, "based on a simple core principle: putting America first." The Associated Press — via The Washington Post — notes that in the video, "Notably missing… is his pledge to repeal the Affordable Care Act and his vow to build a southern border wall with Mexico."
Yet another — petty — confict of interest –> Danny Hakim and Eric Lipton report for The New York Times: "When President-elect Donald J. Trump met with the British politician Nigel Farage in recent days, he encouraged Mr. Farage and his entourage to oppose the kind of offshore wind farms that Mr. Trump believes will mar the pristine view from one of his two Scottish golf courses, according to one person present."
(We've covered this wind farm story in the past, prompting some late-night tweets from Trump.)
Too hot –> John Vidal for The Guardian: "The Arctic is experiencing extraordinarily hot sea surface and air temperatures, which are stopping ice forming and could lead to record lows of sea ice at the north pole next year, according to scientists. Danish and US researchers monitoring satellites and Arctic weather stations are surprised and alarmed by air temperatures peaking at what they say is an unheard-of 20C higher than normal for the time of year. In addition, sea temperatures averaging nearly 4C higher than usual in October and November."
Morning Reads was compiled by John Light and edited by Michael Winship. See a story that you think should be included in Morning Reads? Tell us in the comments!
---
We produce this news digest every weekday. You can sign up to receive these updates as an email newsletter each morning.