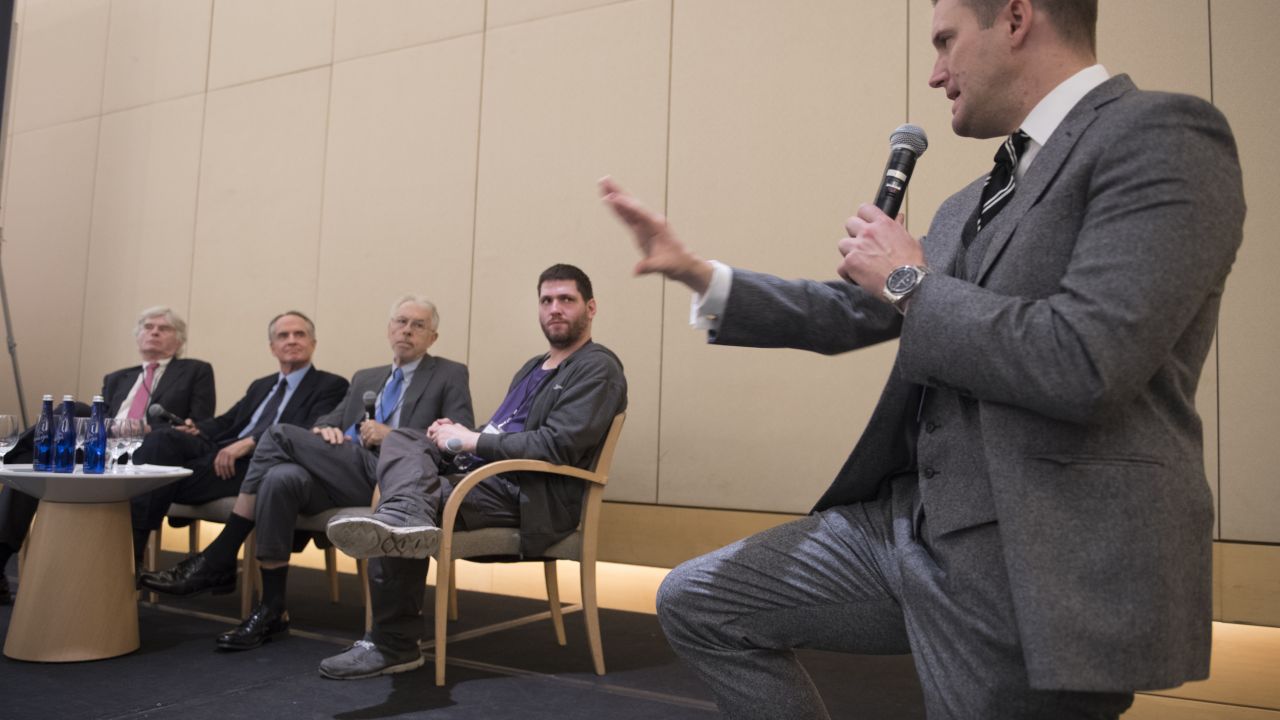 We produce this news digest every weekday. You can sign up to receive these updates as an email newsletter each morning.
---
The alt-right's victory lap –> On Saturday, an all-day conference was held just blocks from the White House, sponsored by the National Policy Institute, a white-supremacist think tank. Lisa Mascaro writes for the Los Angeles Times: "Sitting around conference tables, the formally dressed men more resembled Washington lobbyists than the robed Ku Klux Klansmen or skinhead toughs that often represent white supremacists, though they share many familiar views. This new generation is aiming to influence Washington in Washington's own ways: churning out position papers, lobbying lawmakers and, and perhaps most importantly, removing the cloak of anonymity to fully join the national political conversation.
"Heidi Beirich, who monitors hate groups for the Southern Poverty Law Center, said today's nationalists are picking up where David Duke left off when the former Klan imperial wizard shed his robes to enter politics in the early 1980s. 'This is how you sneak these ideas into the mainstream,' she said. 'The guys in the suits are the ones we have to worry about…' Beirich noted that even the newer white nationalist label, alt-right, removes the reference to 'white,' while positioning the nationalists on the 'right' as part of the conservative movement."
"Heil the people!" –> Joseph Goldstein reports for The New York Times on the rally that was held at the end of the conference. After many hours of speeches, the group was addressed by the alt-right's ideological leader Richard Spencer: "Earlier in the day, Mr. Spencer himself had urged the group to start acting less like an underground organization and more like the establishment. But now his tone changed as he began to tell the audience of more than 200 people, mostly young men, what they had been waiting to hear. He railed against Jews and, with a smile, quoted Nazi propaganda in the original German. America, he said, belonged to white people, whom he called the 'children of the sun,' a race of conquerors and creators who had been marginalized but now, in the era of President-elect Donald J. Trump, were 'awakening to their own identity.'
"As he finished, several audience members had their arms outstretched in a Nazi salute. When Mr. Spencer, or perhaps another person standing near him at the front of the room — it was not clear who — shouted, 'Heil the people! Heil victory,' the room shouted it back." As several have pointed out, "Heil victory," in German, is the old, tragically familiar, "Sieg heil."
The Democrats' abandoned voters –> Sabrina Tavernise reports for The New York Times from a black barbershop in Milwaukee, where residents in the famously segregated city are contemplating a Trump presidency — and their own decision not to vote. "'I don't feel bad,' [Cedric] Fleming said, trimming a mustache. 'Milwaukee is tired. Both of them were terrible. They never do anything for us anyway' …The biggest drop [in Wisconsin voter turnout] was here in District 15, a stretch of fading wooden homes, sandwich shops and fast-food restaurants that is 84 percent black. In this district, voter turnout declined by 19.5 percent from 2012 figures, according to Neil Albrecht, executive director of the City of Milwaukee Election Commission. It is home to some of Milwaukee's poorest residents and, according to a 2015 documentary, 'Milwaukee 53206,' has one of the nation's highest per-capita incarceration rates."
Police crack down on pipeline opponents –> At a demonstration yesterday against the Dakota Access Pipeline, heavily armed law enforcement officials deployed tear gas and blasted demonstrators with water cannons in freezing temperatures. "Protesters also reported being hit with rubber bullets and percussion grenades on a bridge just north of the encampments established by indigenous and environmental activists in opposition to the controversial pipeline," Julia Carrie Wong reports for The Guardian. "…One hundred sixty-seven people were injured and seven were taken to the hospital, according to Jade Begay, a spokeswoman for the Indigenous Environmental Network."
Obama reserves right to speak out on Trump –> In a conversation with New Yorker editor David Remnick, Obama appeared oddly zen about seeing his legacy potentially being torn to shreds by President-elect Donald Trump. But during a speech in Peru, he said he might break with tradition — past presidents don't usually comment on their successor's words and deeds — and speak up. "I want to be respectful of the office and give the president-elect an opportunity to put forward his platform and his arguments without somebody popping off," Obama said, but if an issue "goes to core questions about our values and our ideals, and if I think that it's necessary or helpful for me to defend those ideals, then I'll examine it when it comes."
Set Zillow search to "other solar systems" –> Stephen Hawking says it is time to find a new planet. Peter Holley for The Washington Post: "If humanity survives the rise of artificial intelligence, the ravages of climate change and the threat of nuclear terrorism in the next century, it doesn't mean we're home free, according to Stephen Hawking. The renowned theoretical physicist has gone as far as providing humanity with a deadline for finding another planet to colonize: We have 1,000 years."
Morning Reads was compiled by John Light and edited by Michael Winship. See a story that you think should be included in Morning Reads? Tell us in the comments!
---
We produce this news digest every weekday. You can sign up to receive these updates as an email newsletter each morning.