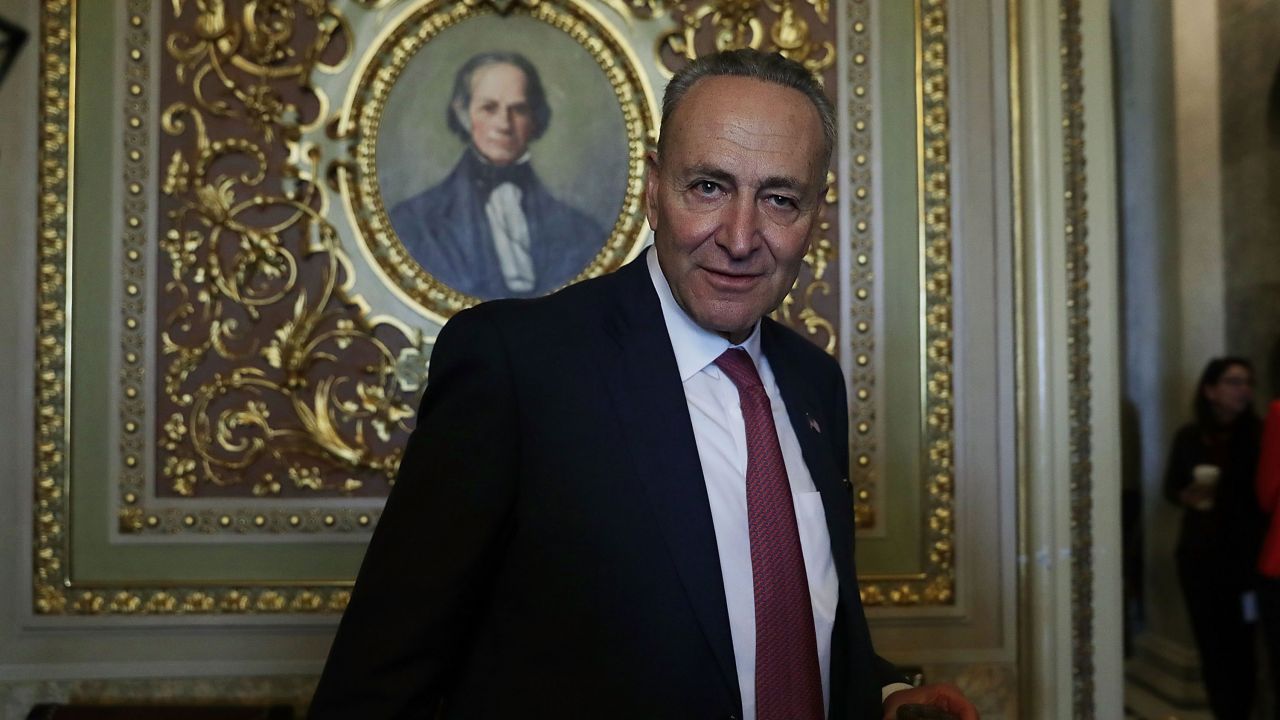 We produce this news digest every weekday. You can sign up to receive these updates as an email newsletter each morning.
---
Trying to put the party back together –> In a bid to unite the centrist, more corporate-friendly elements of the Democratic Party with its progressive wing, newly elected Senate Minority Leader Chuck Schumer elevated to power positions in the party Bernie Sanders and Elizabeth Warren, as well as West Virginia's Joe Manchin, a moderate-to-conservative Dem who will be up for reelection in 2018. They all say that on certain issues they may be able to join with Trump if he means what he says. "On infrastructure spending, child tax credits, paid maternity leave and dismantling trade agreements, Democrats are looking for ways they can work with Mr. Trump and force Republican leaders to choose between their new president and their small-government, free-market principles," Jennifer Steinhauer writes for The New York Times. But they're also declaring their readiness to fight Trump's race-baiting, including the appointment of Steve Bannon as his chief strategist.
In a speech last night, Bernie Sanders said that Democrats would hold Trump to proposals aimed at helping the working class, like that infrastructure spending bill: "Toward the end of the campaign, he was actually using the term that many Democrats don't use, and he was saying he was going to be the champion of the American working class. That's what he said. Well, Mr. Trump, we have a list of everything that you said, and we are going to hold you to account."
Watch out for the Muslim registry –> Reuters: "An architect of anti-immigration efforts who says he is advising President-elect Donald Trump said the new administration could push ahead rapidly on construction of a US-Mexico border wall without seeking immediate congressional approval. Kansas Secretary of State Kris Kobach, who helped write tough immigration laws in Arizona and elsewhere, said in an interview that Trump's policy advisers had also discussed drafting a proposal for his consideration to reinstate a registry for immigrants from Muslim countries."
Kobach, a potential attorney general in the Trump administration, has built a career making life harder for immigrants to America. In addition to drafting Arizona's notoriously harsh immigration laws, he wrote a Kansas law requiring proof of citizenship, such as passports or birth certificates, when registering to vote. Laws like these may have helped decide key races this year.
Another possible Trump AG: Lyin' Ted –> Eli Yokley for Morning Consult: "Sen. Ted Cruz said Wednesday he was eager to work with President-elect Donald Trump after their caustic campaign for the Republican nomination. But as speculation swarms about the possibility of him serving as the Trump administration's attorney general, the Texas Republican stopped short of affirming that he would. 'I am excited for the opportunity to work with the new administration to get the job done,' he told reporters at the Capitol, saying the Election Day results delivered a mandate for a GOP-controlled government."
Frank Gaffney may also be advising Trump. Jon Schwarz reports for The Intercept that Gaffney, who was forced out of the Reagan administration, is a noted Islamaphobe and conspiracy theorist behind a far-right, anti-Muslim think tank: "If Gaffney is a Trump advisor, it's an extremely bad sign. Every society has people like Gaffney, but in healthy, functioning democracies they live quietly in their parents' basements, free to play with action figures and construct intricate fantasy worlds without hurting anyone else."
For what it's worth –> Darren Samuelsohn has an exhaustive list of potential conflicts of interest within the nascent Trump administration.
Obama SCOTUS move –> David Dayen for New Republic: "Come January, President Barack Obama will be consigned to the sidelines as Donald Trump occupies the Oval Office and begins the work of dismantling his legacy. But there is one action that Obama could take on Jan. 3, 2017, that could hold off some of the worst potential abuses of a Trump administration for up to a year. Obama can appoint his nominee Merrick Garland to the Supreme Court on that date, in between the two sessions of Congress."
"We'll get the best people" –> Foreign policy expert and NeverTrumper Eliot Cohen was urging his friends and colleagues inside the Beltway to offer their services to the Trump administration out of a sense of duty to country. But when the Trump transition team contacted him, the conversation was so toxic that in a Washington Post op-ed he is now publicly rescinding his advice.
It's not all over –> Even as the Trump's team moves to make fossil fuels more viable, he won't attempt to inhibit renewables, Peter Maloney reports for UtilityDrive. Emily Schwartz Greco writes for our site that the momentum on climate change will now have to come from states and cities.
Morning Reads was compiled by John Light and edited by Michael Winship. See a story that you think should be included in Morning Reads? Tell us in the comments!
---
We produce this news digest every weekday. You can sign up to receive these updates as an email newsletter each morning.