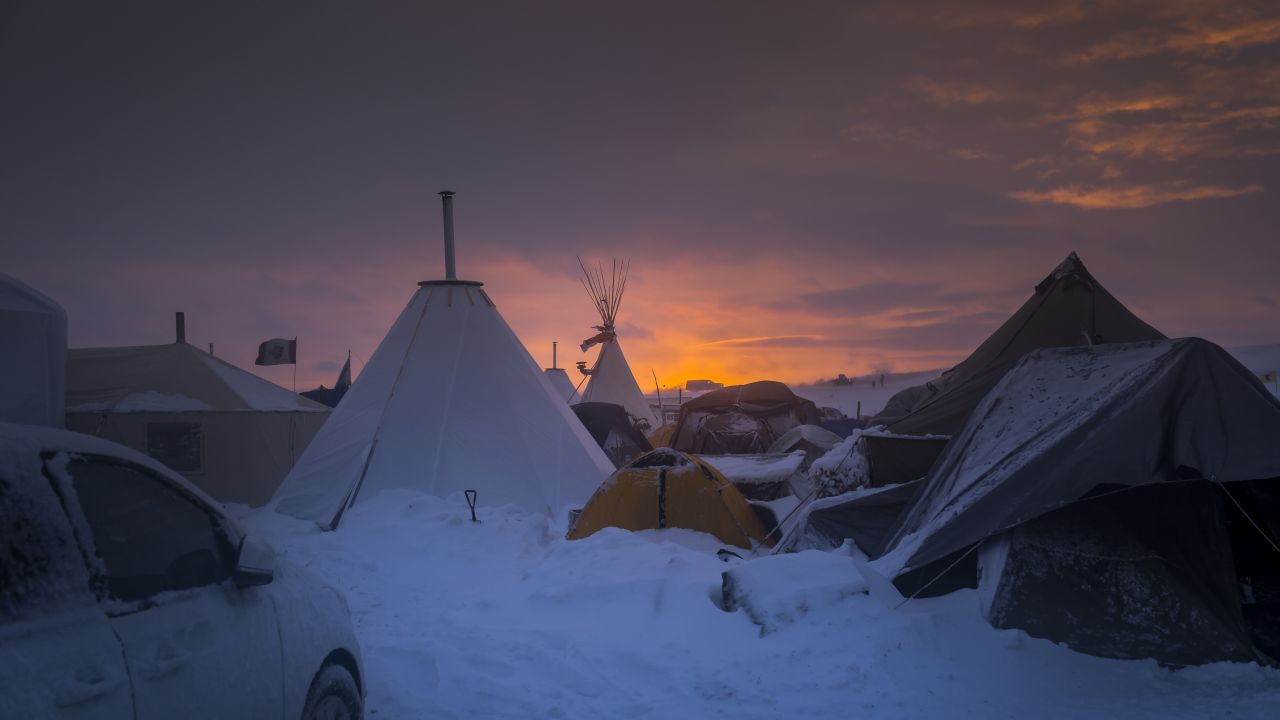 We produce this news digest every weekday. You can sign up to receive these updates as an email newsletter each morning.
---
Next steps at Standing Rock –> After pipeline proponent Donald Trump takes office, Energy Transfer Partners, the company behind the Dakota Access Pipeline, may file a new request to build it along the current route. But that won't be enough to circumvent the Obama administration's recent decision to block part of the pipeline. "If an agency decides that a full environmental review is necessary, it can't just change its mind with a stroke of a pen a few weeks later," EarthJustice attorney Jan Hasselman, who represents the Standing Rock Sioux tribe, told Grist's Rebecca Leber. "That would be violation of the law, and it's the kind of thing that a court would be called upon to review. It doesn't mean they're not going to try."
Meanwhile: Donald Trump's administration is weighing the privatization of Native American reservations to get at the coal, oil and gas goodies underneath. We're not making this up. Valerie Volcovici reports for Reuters that "a group of advisors to President-elect Donald Trump on Native American issues wants to free those resources from what they call a suffocating federal bureaucracy that holds title to 56 million acres of tribal lands, two chairmen of the coalition told Reuters in exclusive interviews. The group proposes to put those lands into private ownership — a politically explosive idea that could upend more than century of policy designed to preserve Indian tribes on US-owned reservations, which are governed by tribal leaders as sovereign nations."
Mistrial –> In Charleston, South Carolina, "The trial of Michael T. Slager, the police officer whose videotaped killing of an unarmed black man staggered a nation already embroiled in a debate about police misconduct and racial bias in law enforcement, ended in a mistrial on Monday," Alan Blinder reports at The New York Times. "… The outcome was disappointingly familiar to critics of police practices and conduct, and demonstrated the steep hurdles associated with prosecuting a police officer for a shooting while on duty. Although other cases involving claims of police misconduct have ended in mistrials and acquittals, few resonated as widely as this case in North Charleston, where Mr. Slager fired eight shots as Mr. Scott ran away." Prosecutors will seek a new trial.
Pentagon covers up $125 billion –> That's according to The Washington Post's Craig Whitlock and Bob Woodward. This eye-popping sum is in administrative fees alone, and does not include the cost of America's military campaigns abroad. The figure first popped up in a study, the reporters write, but was later suppressed: "Pentagon leaders had requested the study to help make their enormous back-office bureaucracy more efficient and reinvest any savings in combat power. But after the project documented far more wasteful spending than expected, senior defense officials moved swiftly to kill it by discrediting and suppressing the results." As journalists Adam H. Johnson and Glenn Greenwald note on Twitter, that $125 billion is double Russia's entire military budget.
#ThisIsNotNormal –> We noted yesterday that Trump's pick for national security adviser has a disturbing tendency to share fake news stories on Twitter — a bad habit for the man expected to use facts to advise the president on life-or-death decisions. Politico's Bryan Bender and Andrew Hanna take a closer look, noting that Flynn "has used social media to promote a series of outrageous conspiracy theories about Hillary Clinton, President Barack Obama and their inner circles in recent months — pushing dubious factoids at least 16 times since Aug. 9, according to a POLITICO review of his Twitter posts. Flynn, who has 106,000 Twitter followers, has used the platform to retweet accusations that Clinton is involved with child sex trafficking and has 'secretly waged war' on the Catholic Church, as well as charges that Obama is a 'jihadi' who 'laundered' money for Muslim terrorists."
Ignoring the president –> Trump surrogates waffled over the weekend as to whether or not 3 million Americans committed voter fraud in this year's presidential election. They did not: evidence suggests only four — repeat, four — did, and Trump's lawyers seem to agree. Philip Bump writes for The Washington Post: "In court filings submitted in an effort to block recount efforts by Green Party candidate Jill Stein in Michigan and Pennsylvania, attorneys for the president-elect stated unequivocally that there was, in fact, no evidence that any voter fraud had occurred."
McCrory — finally — throws in the towel –> NBC News reports, "North Carolina Gov. Pat McCrory conceded the close gubernatorial race on Monday to his Democratic challenger, Roy Cooper, concluding one of the last outstanding contests of the 2016 election nearly a month after voters cast their ballots." Since Nov. 9, McCrory had been working to challenge the results that showed Cooper with a thin margin of victory. The polling firm Public Policy Polling (PPP) suggested that McCrory's eventual loss was not a given — he was first elected in 2012 with broad support. But only a year later, his approval ratings had plummeted, and they stayed low for the rest of this time in office. "What happened in the summer of 2013 to make McCrory so permanently unpopular?" the PPP's Tom Jenson asks. "He allowed himself to be associated with a bunch of unpopular legislation, and progressives hit back HARD, in a way that really caught voters' attention and resonated with them."
This scenario holds a lesson for progressives during a Trump presidency, Jenson continues: "Push back hard from day one. Be visible. Capture the public's attention, no matter what you have to do to do it. Don't count on the media to do it itself because the media will let you down. The protesters in North Carolina, by making news in their own right week after week after week, forced sustained coverage of what was going on in Raleigh. And even though it was certainly a long game, with plenty more frustration in between, those efforts led to change at the polls 42 months after they really started."
Morning Reads was compiled by John Light and edited by Michael Winship. See a story that you think should be included in Morning Reads? Tell us in the comments!
---
We produce this news digest every weekday. You can sign up to receive these updates as an email newsletter each morning.