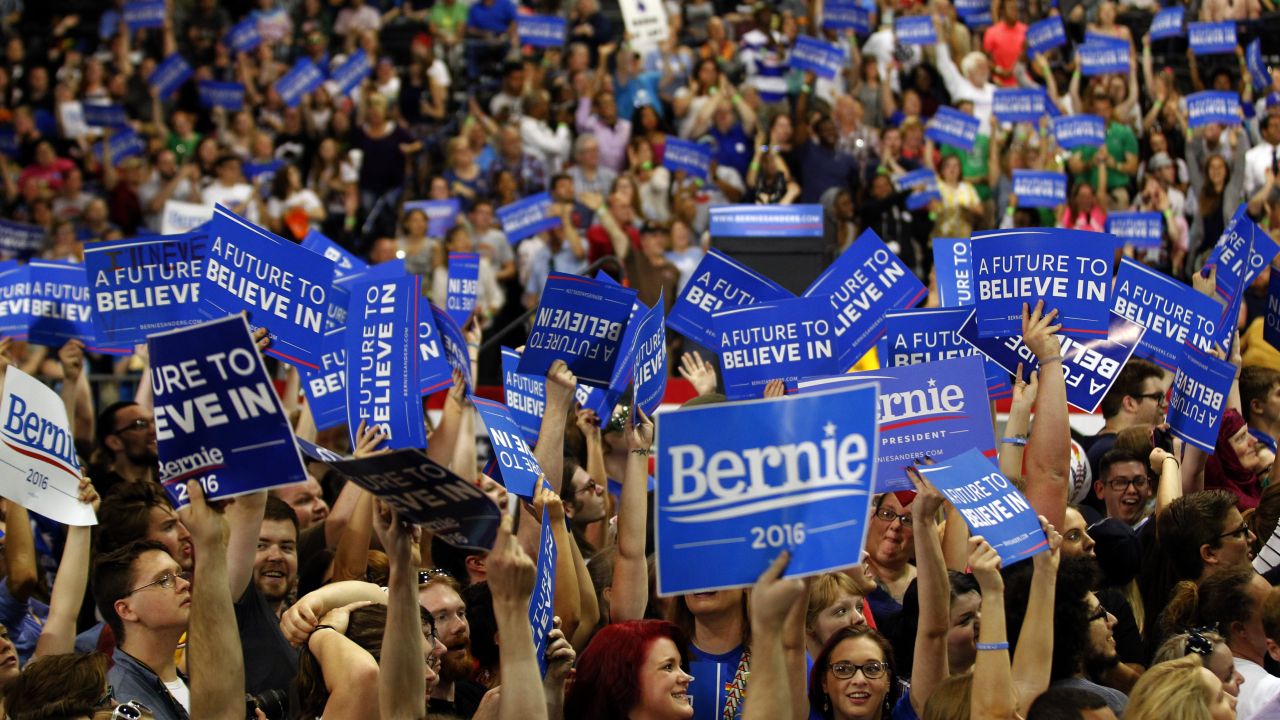 Breaking –> David Nakamura at The Washington Post reports, "President Obama will make a historic trip to Hiroshima, Japan, on May 27, becoming [the] first sitting U.S. president to visit the site of the world's first atomic bombing… Obama aides say there will be no presidential apology for the U.S. decision to drop the atomic bomb on Aug. 6, 1945, which killed an estimated 140,000 people in Hiroshima. Three days later, a second atomic bomb killed up to 80,000 people in Nagasaki."
Believe it or not, it's still primary season –> Although the nominations seem as good as locked for both parties, a number of states have yet to vote. Republicans in Nebraska and West Virginia head to the polls today for a more or less pointless primary, and Democrats in West Virginia will choose between Bernie Sanders and Hillary Clinton. Clinton dominated West Virginia in 2008, Steven Shephard writes for Politico, but this time it may go to Sanders. When it comes to November, however, the state, once a Democratic stronghold, will probably go to the GOP.
Suit and countersuits –> The New York Times: "Days after the Justice Department demanded that North Carolina back away from a new state law restricting access to restrooms, locker rooms and changing rooms, [Governor Pat] McCrory, in a lawsuit filed in Federal District Court here, accused the department of 'a baseless and blatant overreach' stemming from a 'radical reinterpretation' of the Civil Rights Act of 1964. The state General Assembly's Republican leaders filed a similar suit against the Justice Department."
Chris Christie gets his reward –> Reuters: "Republican presidential candidate Donald Trump said on Monday he has chosen New Jersey Governor Chris Christie, a rival turned ally, to lead his White House transition team as he prepares for the general election campaign."
But: At New York public radio station WNYC, reporter Matt Katz, an expert on all things Christie, lists reasons this new job will be an uncomfortable fit for the governor. For one, Christie prosecuted and jailed New Jersey developer and political operative Charlie Kushner. He's the father of New York Observer owner Jared Kushner, husband of Trump's daughter Ivanka. For two, Jared was ordered by the Donald to "put together a blueprint for a transition team," the team Christie now leads. For three, back in December, Trump said Christie "totally knew" about shutting down the George Washington Bridge to punish a Democratic mayor. That could leave both of them with some explaining to do.
Not dead yet –> Jonathan Martin in The New York Times: "Senator Ted Cruz's supporters are mounting an effort to seize control of the Republican platform and the rules governing the party's July convention, the first indication that Mr. Cruz will not simply hand his delegates over to Donald J. Trump. In an email sent Sunday to pro-Cruz convention delegates, a top aide to the Texas senator wrote that it was 'still possible to advance a conservative agenda at the convention.'" Among positions that Cruz supporters find infuriating are Trump's comments on Planned Parenthood and anti-transgender laws.
Latest climate casualties –> Reuters: "Five tiny Pacific islands have disappeared due to rising seas and erosion, a discovery thought to be the first scientific confirmation of the impact of climate change on coastlines in the Pacific, according to Australian researchers. The submerged islands were part of the Solomon Islands, an archipelago that over the last two decades has seen annual sea levels rise as much as 10mm (0.4in), according to research published in the May issue of the online journal Environmental Research Letters."
Dead in the water –> The Army Corps of Engineers has blocked a proposal to build North America's largest coal export terminal in Washington State. The project, called the Gateway Pacific Terminal, was staunchly opposed by Native Americans and by others warning that delivering coal from Montana and Wyoming to new markets would do nothing to rein in emissions and confront climate change. Oregon Public Broadcasting reports: "The agency found the project's trestle and associated wharf would impact 144 acres over the water, and that would interfere with the [Lummi Nation] tribe's ability to access fish in their usual and accustomed fishing areas."
At last, a national mammal –> Gregory Korte at USA Today: "Here's one thing Washington can agree on: The majesty of the North American bison. President Obama signed the National Bison Legacy Act into law Monday, two weeks after both houses of Congress approved the bill by what appeared to be unanimous voice votes. Sponsored by Rep. William Lacy Clay, D-Mo., the bill has just one purpose: To declare the bison the national mammal of the United States."
Morning Reads was written by John Light and edited by Michael Winship. See a story that you think should be included in Morning Reads? Tell us in the comments!
---
We produce this news digest every weekday. You can Sign up to receive these updates as an email newsletter each morning.