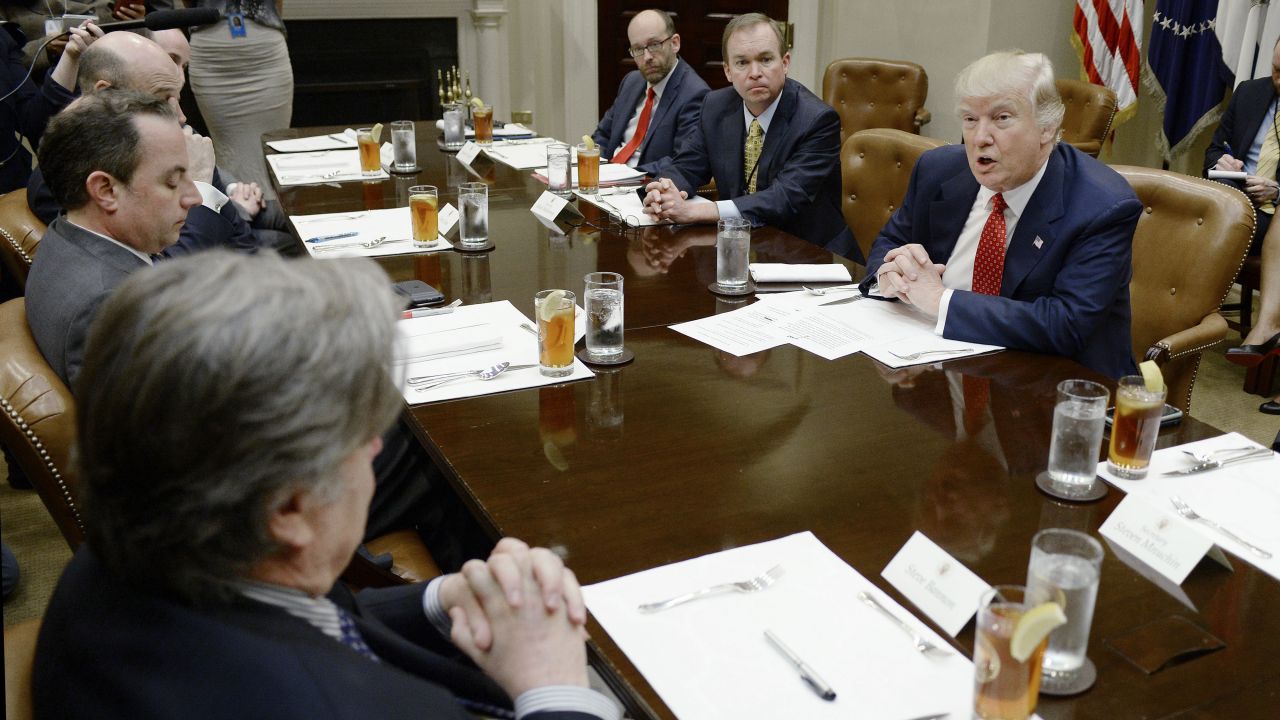 We produce this news digest every weekday. You can sign up to receive these updates as an email newsletter each morning.
---
Big cuts to come –> New York Times reporters spoke with four Trump administration officials who outlined the president's plan for the coming fiscal year's budget. It will propose billions to be slashed from federal agencies — notably the State Department and the Environmental Protection Agency — and from many social programs, while vastly increasing military spending. Notably, two social safety net programs that help seniors, Social Security and Medicare, will not be affected. The president's budget proposal will have to be approved by Congress.
Nothing to see here –> Mike Allen at Axios writes that the Trump administration drafted intelligence officials, including CIA director Mike Pompeo, and elected officials, including the chairs of the House and Senate intelligence committees, to knock down news stories linking the Trump campaign and administration to the Russian government. (CNN reports that the White House asked the FBI to do the same, but the agency's deputy director, and perhaps director James Comey himself, resisted.)
This is, to say the least, unusual. "Intelligence officials from the Obama administration said it's rare for the CIA director to talk directly to a single journalist," Mike Allen notes. Jane Chong reports in two articles for LawFare (here and here), that Trump officials are either trying to influence the trajectory of the investigation or shape how intelligence agencies communicate with the press — either of which runs afoul of agency rules.
The Pruitt email saga continues –> It now turns out that new EPA head and friend of polluters everywhere Scott Pruitt used a private email address to conduct state business while Oklahoma attorney general, according to a report by Oklahoma City's Fox TV affiliate. (Lest we forget, in the past, using a private email account messed with a certain public official's career.) Correspondence on his government email account shows that Pruitt stuck Oklahoma government letterhead on letters to the EPA actually written by fossil fuel lobbyists. Who knows what else lurks in his private emails?
Meanwhile, not all of the emails from Pruitt's government account have been released — and his successor in the Oklahoma attorney general's office is attempting to block their release.
The Democrats have a new chairman –> On the second ballot, former Secretary of Labor Tom Perez was elected chair of the Demcratic National Committee following a race that boiled down to a contest between Perez and Minnesota Rep. Keith Ellison, head of the Congressional Progressive Caucus. Pete Buttigieg, mayor of South Bend, Indiana, was a distant third.
Though all three share a vision for a more progressive Democratic Party, the race opened old wounds from the Clinton-Sanders primary days. Ellison declared his candidacy on Nov. 15, attracting endorsements from Bernie Sanders and Elizabeth Warren as well as such establishment types as Chuck Schumer and Harry Reid. But a month later, Obama and Clinton allies coaxed Perez into the race. Since Perez and Ellison had similar ideas about the future of the party, some progressives were annoyed by the move, Clio Chang writes for The New Republic: They felt that Perez's entry into the race achieved nothing other than denying Sanders supporters a symbolic victory. At The Intercept, Glenn Greenwald writes that Obama and Clinton may have pushed Perez at the behest of Haim Saban, Clinton's top donor and a critic of Ellison. Saban once described Ellison, the first Muslim elected to the US Congress, as "an anti-Semite and anti-Israel individual."
However, after winning the race for DNC chair, Perez made Ellison deputy chair. "I'm asking you to give everything you've got to support Chairman Perez," Ellison told his supporters. The two will now lead the work of rebuilding state and local Democratic parties, which atrophied during the Obama presidency.
Meanwhile, in a special election for a state senate seat in Delaware, Democratic candidate Stephanie Hansen, buoyed by anti-Trump sentiment, soundly defeated her Republican opponent, allowing Democrats to maintain a legislative majority there. Paul Blumenthal reports for The Huffington Post.
Gerrymandering before the Supreme Court? –> Wisconsin has appealed a case challenging partisan gerrymandering to the United States Supreme Court. "If the Justices do take up the case, they will be doing so at a critical juncture in American politics," Thomas Wolf blogs at NYU's Brennan Center for Justice website. "Since the last redistricting cycle, partisan gerrymandering and its ill effects have reached new, intolerable extremes in Wisconsin and elsewhere, with legislators taking advantage of political dysfunction and increasingly powerful mapping technology to lock-in advantages over their political opponents."
It only takes three –> At Rolling Stone, Joshua Holland floats the idea that three Senate Republicans could switch their party affiliation and join with Democrats in opposing Trump's agenda, giving the opposition party a majority on key votes: "Just three individuals could restore the checks and balances that are clearly so necessary with an administration headed by a reality-TV star who seems to have little knowledge of, or interest in, public policy."
May I have the correct envelope, please?–> Big historic oops at the Oscars last night, when presenters Warren Beatty and Faye Dunaway mistakenly announced the movie La La Land as Best Picture. Once the error was realized, the real winner was revealed to be Moonlight.
"But let's be honest," Yesha Callahan writes at The Root. "The bigger story isn't the fact that there was a mix-up, it's the fact that a coming of age story of a young, black, gay man dealing with poverty and homophobia was made with $1.5 million. And not only did it win Best Picture, but Mahershala Ali became the first Muslim actor to ever win an Oscar." The film also received the award for best adapted screenplay. Congratulations to all.
Morning Reads was compiled by John Light and edited by Michael Winship.
---
We produce this news digest every weekday. You can sign up to receive these updates as an email newsletter each morning.