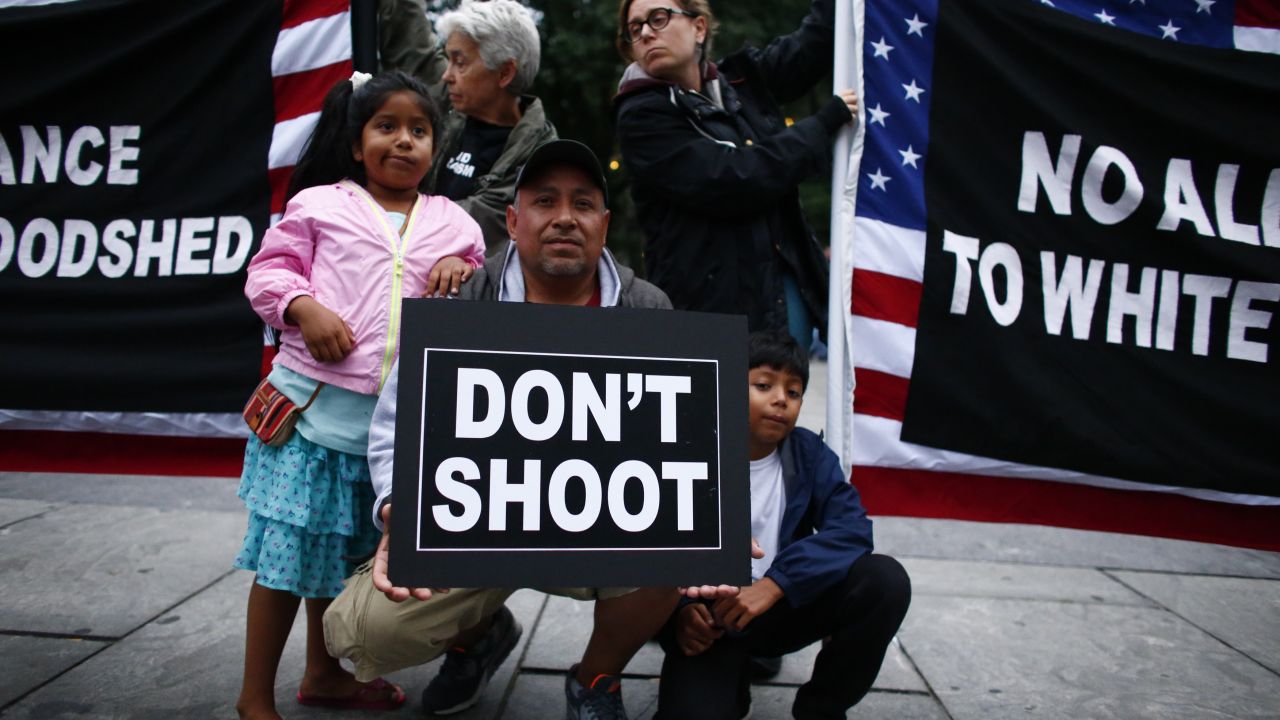 We produce this news digest every weekday. You can sign up to receive these updates as an email newsletter each morning.
---
No justice, no peace –> Jon Swaine and Ciara McCarthy for The Guardian: "Young black men were again killed by police at a sharply higher rate than other Americans in 2016, intensifying concerns over the expected abandonment of criminal justice reform by Donald Trump's incoming administration. Black males aged 15-34 were nine times more likely than other Americans to be killed by law enforcement officers last year, according to data collected for The Counted, an effort by The Guardian to record every such death. They were also killed at four times the rate of young white men.
"Racial disparities persisted in 2016 even as the total number of deaths caused by police fell slightly… Citing the Guardian findings, the American Civil Liberties Union (ACLU) expressed renewed concern over Trump's nomination of Jeff Sessions for US attorney general. Sessions, a right-wing Republican senator for Alabama, has been hostile to critics of police, such as the Black Lives Matter movement."
GOP pushing confirmations down Senate's throat –> On Saturday, the Office of Government Ethics wrote to Senate Democrats warning that Republicans have stuffed too many confirmation hearings for President-elect Trump's Cabinet choices into too short a time, leaving required ethics reviews incomplete. Hearings begin this week, "with six scheduled for Wednesday alone," Allegra Kirkland at Talking Points Memo notes. "Both billionaire charter school advocate Betsy DeVos, Trump's pick for education secretary, and Exxon Mobil CEO Rex Tillerson, his choice for secretary of state, have hearings on Wednesday. These particularly controversial nominees have complex business ties, further complicating vetting efforts."
New Jersey Democratic Sen. Corey Booker told CBS' Face the Nation, "These are people who are billionaires and have vast holdings and vast wealth. The American people have a right to know if they're going to be entering into those offices with conflicts of interest." None of which seemed to faze Republican Senate Majoriy Leader Mitch McConnell who, on the same CBS Sunday show announced, "The Democrats are really frustrated that they lost the election. So all of these little procedural complaints are related to their frustration at having not only lost the White House, but having lost the Senate."
This, despite the fact that as Jonathan D. Salant at NJ.com reports, "McConnell seemed to agree with Booker eight years ago, when incoming President Barack Obama's nominees came before the Senate. In a February 2009 letter to then-Senate Majority Leader Harry Reid of Nevada, McConnell said FBI background checks, nominees' financial disclosure statements and all reviews by the Office of Government Ethics should be completed before hearings were scheduled."
Laboratories of democracy –> Also in Talking Points Memo, Caitlin MacNeal reports, "As Donald Trump won the White House in November, Republicans also gained power in state legislatures and won governorships, giving GOP state lawmakers the power and momentum to start the year by introducing a slew of conservative legislation…
"In particular, four states swung to complete Republican control in the November election, with the GOP winning the Kentucky and Iowa legislatures and the governorships in Missouri and New Hampshire. With their newfound control of state government and the momentum of Trump's election to the White House, Republican lawmakers in those states have already gotten started on legislation pushing pet conservative issues."
The Putin Report –> ICYMI, Mother Jones has the complete text of the declassified report from the office of the director of national intelligence on Russia's hacking of Demcrats to influence the 2016 election. A.J. Vicens writes, "On Friday, Clapper, Rogers, FBI Director Jim Comey and CIA Director John Brennan briefed President-elect Donald Trump on the classified evidence linking Russia to the hacks and the leaking of the swiped emails. After the briefing, Trump released a statement noting that Russia is one of many actors that try to hack US targets, but the statement did not acknowledge the US intelligence community conclusion that Moscow had mounted the cyberattack against the United States as part of an operation to help elect Trump president."
And on Saturday, the about to-be-leader-of-the-free-world tweeted, "Having a good relationship with Russia is a good thing, not a bad thing. Only 'stupid' people, or fools, would think that it is bad!"
Meryl comes out swinging –>  Accepting a lifetime achievement honor at last night's Golden Globe Awards in Hollywood, Meryl Streep "called out Donald Trump in a wide-ranging speech," Maane Khatchatourian reports for Variety. "Slamming Trump without actually naming him, she said 'disrespect invites disrespect, violence incites violence,' after recalling an incident in which the now-president-elect in November [2015] appeared to mock the appearance of a New York Times reporter with a physical disability. 'When the powerful use their position to bully, we all lose,' she added.
"The legendary actress concluded her speech by stressing the importance of the Committee to Protect Journalists and the need to safeguard the truth."
The about-to-be-leader-of-the-free-world, who can leave no perceived slight untouched, tweeted early this morning that Streep is "one of the most over-rated actresses in Hollywood." Over the course of her career, Streep has received 19 Academy Award nominations. She has won the Oscar three times.
Morning Reads was compiled by Michael Winship and edited by Karin Kamp. See a story that you think should be included in Morning Reads? Tell us in the comments!
---
We produce this news digest every weekday. You can sign up to receive these updates as an email newsletter each morning.