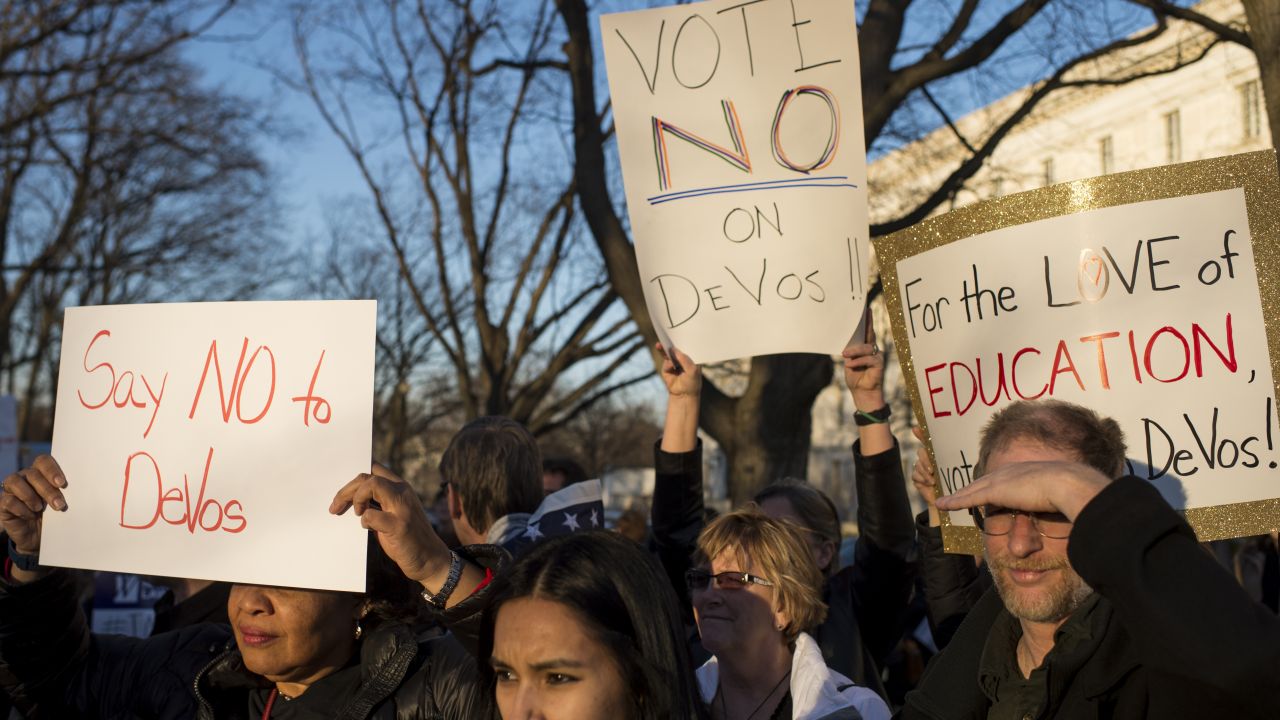 We produce this news digest every weekday. You can sign up to receive these updates as an email newsletter each morning.
---
Democrats protest DeVos vote –> A vote on megadonor Betsy DeVos' nomination to lead the Department of Education is scheduled for noon today. In a last-ditch effort to drum up one more Republican vote against her, Democrats held the floor of the Senate all night, Deirdre Fulton reports for Common Dreams. As of this writing, they're still there. Two Republicans said last week that they would vote with the Democrats — making today's vote likely to be a 50-50 tie, unless Dems get that additional GOP defector. In the case of a tie, Vice President Mike Pence will cast the deciding vote for DeVos.
Norm Eisen and Richard Painter — respectively, ethics advisers to Barack Obama and George W. Bush — write in The Hill that DeVos has not met the minimum ethical standards:
Her extensive financial holdings present significant — and unresolved — conflict of interest issues. She also failed to provide the Senate with accurate information about her involvement with outside organizations. We have regretfully come to the conclusion that these concerns disqualify DeVos for that Cabinet position. This is not a claim that we make reflexively. We supported the nomination of Secretary of State Rex Tillerson, who took extensive steps to avoid conflicts with his former employer, ExxonMobil. Likewise, we have welcomed the plan that Trump's son-in-law, Jared Kushner, has announced to address his ethics issues, although we await final details and implementation. By contrast, DeVos' failure to meet even minimum standards leaves us with no choice but to speak out.
The latest Big Lie –> In a speech to US troops at Central Command in Florida, Trump said the media intentionally has ignored terrorist attacks. "It's gotten to a point where it's not even being reported," he claimed (via Esme Cribb at Talking Points Memo). "And in many cases the very, very dishonest press doesn't want to report it. They have their reasons and you understand that."
The White House later released a list of the 78 attacks they claim the president was talking about. "But the list includes many atrocities that received blanket western media coverage including the Paris Bataclan attacks, the Nice truck killings and the San Bernardino shootings," David Smith reports for The Guardian. "Many others including the Sydney siege and Germany's Christmas market attack received wide international coverage. The list also includes multiple errors and spelling mistakes, including 'San Bernadino,' and excludes numerous terror attacks across the Middle East."
So where did Trump get this idea? At The Washington Post, Aaron Blake theorizes that Trump's fantasy stems from a fake, media-covering-up-terrorist-attacks narrative that's a favorite at Alex Jones' conspiracy site InfoWars. Trump is a fan of Jones' work.
The latest on the travel ban –> The Department of Justice has submitted its defense of the ban, and an hour of oral arguments will be held at the 9th Circuit court in San Francisco today (it will be live streamed, beginning at 6 p.m. ET). Whatever that court decides will almost certainly be appealed to the Supreme Court, Adam Liptak reports for The New York Times. The Marshall Project has a map of the US showing where immigrants from the seven countries covered by the ban live.
"Making the EPA Great Again" –> That's the name of a hearing that the House Committee on Science, Space and Technology will hold today. (This is the same committee, led by Republican Lamar Smith of Texas, that has waged relentless war on climate scientists.) Lawmakers are expected to discuss the Secret Science Reform Act, which would limit the studies EPA is able to use, cut back on its powers and keep data from the public. Sharon Lerner writes for The Intercept that this is just the latest attack on the EPA's ability to regulate polluting industries and protect public health:
The proposal may sound reasonable enough at first. But because health research often contains confidential personal information that is illegal to share, the bill would prevent the EPA from using many of the best scientific studies. It would also prohibit using studies of one-time events, such as the Gulf oil spill or the effect of a partial ban of chlorpyrifos on children, which fueled the EPA's decision to eliminate all agricultural uses of the pesticide, because these events — and thus the studies of them — can't be repeated. Although it is nominally about transparency, the bill leaves intact protections that allow industry to keep much of its own inner workings and skewed research secret from the public, while delegitimizing studies done by researchers with no vested interest in their outcome.
Meanwhile, 447 former EPA officials are urging Congress to oppose Pruitt's nomination to head the agency, saying his many lawsuits against the agency "strongly suggest that he does not share the vision or agree with the underlying principles of our environmental laws." Devin Henry reports for The Hill.
Good for business –> Daniel Lippman and Anna Palmer report for Politico that MSNBC and Fox News are hiking ad rates on Donald Trump's favorite shows:
The ad rates for Morning Joe have more than doubled post-election, according to one veteran media buyer. Trump, who reportedly watches the show most mornings, has a close relationship with Morning Joe host Joe Scarborough, and they talk regularly. Fox News' The O'Reilly Factor and other prime-time programs on Fox News have boosted their rates about 50 percent. Trump also is a frequent viewer of the network's prime-time shows. 'The president's media habits are so predictable, advertisers migrate to those areas,' said one media buyer.
Unbelievable –> Judd Legum reports for ThinkProgress that in a new lawsuit, "First Lady Melania Trump revealed her intention to leverage the presidency to ink new 'licensing, branding and endorsement' deals worth many millions of dollars. In the filing, Melania Trump's lawyer described the position of first lady as a 'once-in-a-lifetime' money-making opportunity. She told the court she intended to pursue deals in 'apparel, accessories, shoes, jewelry, cosmetics, hair care, skin care and fragrance.'"
Here's a strategy –> Activists are writing letters to the White House addressed to "President Bannon." The idea, USA Today reports, is to wound Trump's ego and get him to scale back Bannon's power.
Thin orange skin –> The White House is mad about actress Melissa McCarthy's portrayal of press secretary Sean Spicer on Saturday Night Live. "The devastating Saturday Night Live caricature of Spicer that aired over the weekend — in which a belligerent Spicer was spoofed by a gum-chomping, super soaker-wielding Melissa McCarthy in drag — did not go over well internally at a White House in which looks matter," Politico reports. "More than being lampooned as a press secretary who makes up facts, it was Spicer's portrayal by a woman that was most problematic in the president's eyes, according to sources close to him."
If you haven't yet seen that skit, here it is.
Morning Reads was compiled by John Light and edited by Michael Winship.
---
We produce this news digest every weekday. You can sign up to receive these updates as an email newsletter each morning.