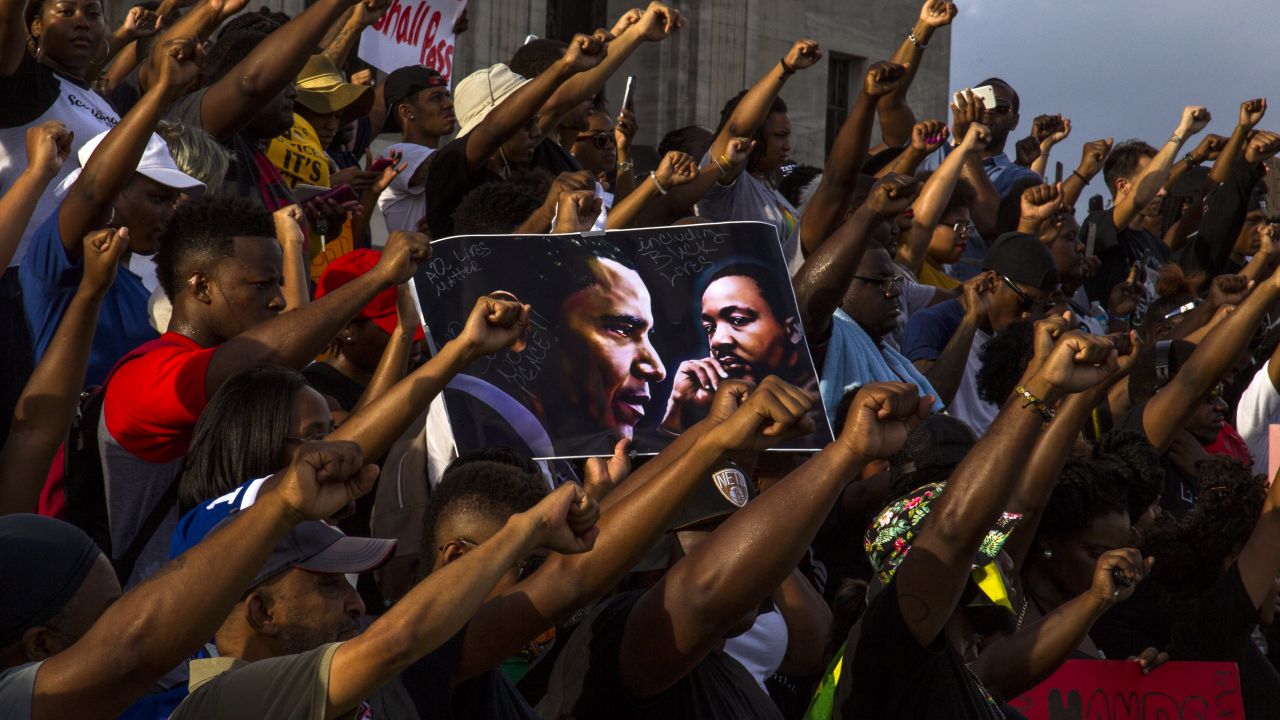 America's racial divide –> The country continues to grapple with the aftermath of the killing of black men in Louisiana and Minnesota by white policemen, and the subsequent killing of five police officers by a sniper in Dallas. Protests continued through the weekend in Minneapolis and Baton Rouge — the sites of the two police shootings — resulting in hundreds of arrests, including DeRay McKesson, a leading figure in the Black Lives Matter movement. Demonstrations also took place in other cities across the country.
Tomorrow, President Obama and former President George W. Bush will speak at an interfaith memorial service in Dallas and meet with families of the slain police. Vice President Biden also will attend.
We also learned more about the Dallas shooter, Micah Johnson, a 25-year-old African-American military veteran who is believed to have acted alone. Ellie Hall and Ema O'Connor report for Buzzfeed that Johnson served in Afghanistan, and was awarded several medals for his service.
Johnson was killed by a police robot, and is likely the first American to be killed by law enforcement in America in this way (other Americans have died, intentionally and accidentally, in military drone strikes overseas). Dallas Police Chief David Brown said his force "saw no other option but to use our bomb robot." Some experts see this as indicative of a trend toward militarization in American policing. "This is sort of a new horizon for police technology," an expert on police methods told The Atlantic. "Robots have been around for a while, but using them to deliver lethal force raises some new issues."
Democrats settle on a final platform –> After a contentious battle that became a rallying cry for Bernie Sanders supporters, the Democratic Party now has an official platform, pending formal approval by the convention later this month. It is considerably more populist than what it may have been without Sanders' efforts, although his delegates to the drafting committee didn't get everything they wanted. In particular, a push by Sanders delegates to include language opposing the Trans-Pacific Partnership, a free trade deal laden with corporate favors, did not succeed. Even though Clinton has said she opposes the TPP deal, Patrick Healy reports for The New York Times that her delegates balked at going against President Obama, who supports it. The platform also does not call for a fracking ban or single-payer health care, two other Sanders priorities.
Still: As mentioned, the party platform is distinctly more progressive than it has been in the past, including promises to get tougher on financial crime. Whether a more progressive platform translates into a more progressive party after the November elections remains to be seen. At The Washington Post, Dave Weigel outlines the Sanders camp's wins and losses.
Meanwhile: More details on another, TPP-like agreement — the TransAtlantic Trade and Investment Partnership (TTIP) with Europe — have been leaked — and, like the TPP, if it goes through, the deal looks likely to undermine international efforts to fight climate change. Arthur Nelson at The Guardian: "The latest draft version of the TTIP agreement could sabotage European efforts to save energy and switch to clean power, according to [members of the European Parliament]. A 14th round of the troubled negotiations on a Transatlantic Trade and Investment Partnership (TTIP) free trade deal between the EU and US is due to begin on Monday in Brussels. A leak obtained by the Guardian shows that the EU will propose a rollback of mandatory energy savings measures, and major obstacles to any future pricing schemes designed to encourage the uptake of renewable energies. Environmental protections against fossil fuel extraction, logging and mining in the developing world would also come under pressure from articles in the proposed energy chapter."
The UK will have a new PM –> Griff Witte for The Washington Post: "Theresa May moved Monday onto an unchallenged path to become Britain's next prime minister after her lone rival pulled out of the race and set in motion a possible fast-track leadership change as the country plots its exit from the European Union. Andrea Leadsom, the country's energy minister, abandoned her campaign just days after she was voted by Conservative lawmakers to be one of two contenders to campaign for the keys to 10 Downing St. The contest was expected to last through the summer, but Leadsom said a drawn-out contest would have been harmful to the country at a time when it needs to move quicker with its exit from the European Union."
Spending bill would gut budgets of financial regulators –> A spending bill that has passed the Republican House of Representatives would cut the budgets of the IRS and the SEC, and give Congress oversight of the Consumer Financial Protection Bureau. All three agencies are critical to the protection of Americans from the sort of crash that happened in 2008. The White House has promised to veto the bill.
RBG's not a Trump fan –> The New York Times' Adam Liptak has a fascinating sit-down interview with Ruth Bader Ginsburg. The 83-year-old Supreme Court justice reviews this year's session, offers her thoughts about the future of the Court — and reveals that she really doesn't like Donald Trump. "'I can't imagine what this place would be — I can't imagine what the country would be — with Donald Trump as our president,' she said. 'For the country, it could be four years. For the court, it could be — I don't even want to contemplate that.' It reminded her of something her husband, Martin D. Ginsburg, a prominent tax lawyer who died in 2010, would have said. '"Now it's time for us to move to New Zealand,"' Justice Ginsburg said, smiling ruefully."
Morning Reads is compiled by John Light and Michael Winship. See a story that you think should be included in Morning Reads? Tell us in the comments!
---
We produce this news digest every weekday. You can Sign up to receive these updates as an email newsletter each morning.