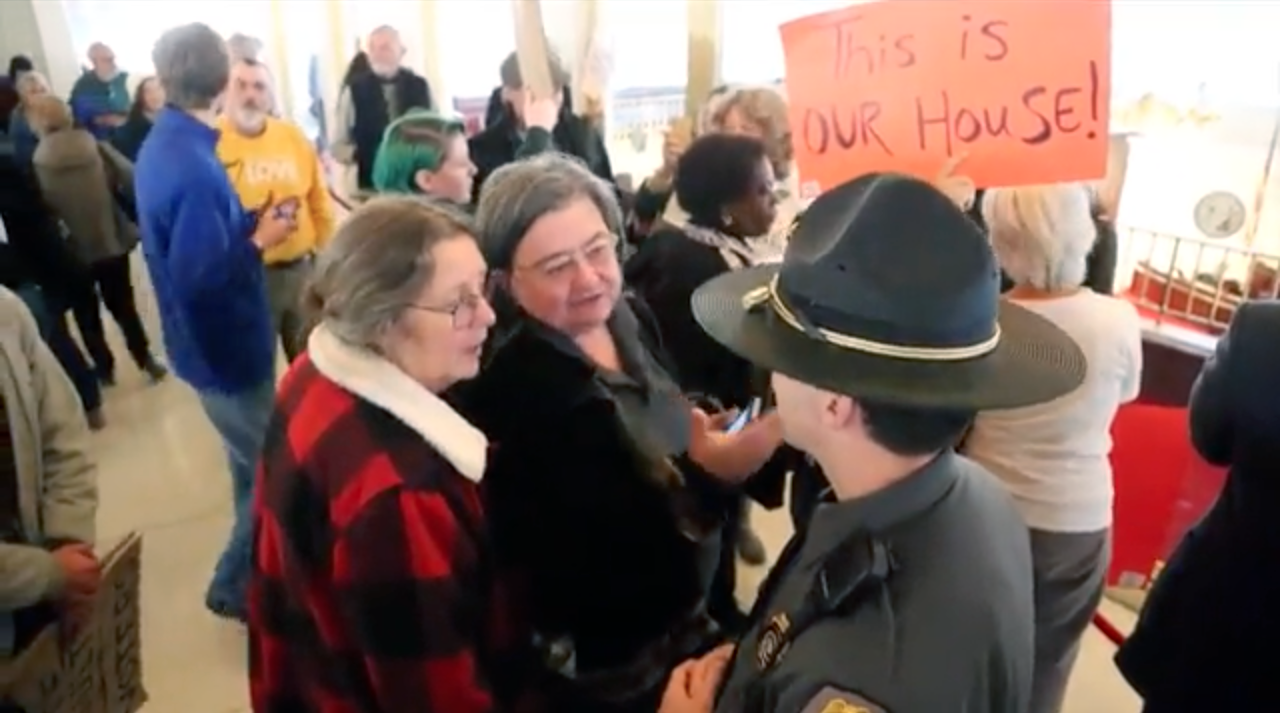 We produce this news digest every weekday. You can sign up to receive these updates as an email newsletter each morning.
---
North Carolina's coup –> Two weeks ago, North Carolina Gov. Pat McCrory, who signed many of the state's recent controversial and discriminatory laws, conceded that although it was a close race, he had lost his bid for reelection to Democrat Roy Cooper. Now, in a last-minute bid to retain control over lawmaking in North Carolina, the GOP-dominated state legislature is moving to dramatically limit the new governor's power. These legislators come from districts that were redrawn to help them stay in charge — gerrymandering that has been ruled as discriminatory by a federal court. Colin Campbell and Will Doran report for the Raleigh News & Observer.
At Slate, Mark Joseph Stern writes that as the state legislature debated these laws last night, it took the unusual step of closing the gallery to the public, ejecting protesters as well as those watching quietly and members of the press.
Obama: "Something must be done" –> NPR reports, "President Obama says the United States will respond to Russian cyberattacks that the intelligence community has concluded were part of an effort to influence the 2016 presidential election." In an interview with Steve Inskeep that aired today on Morning Edition, Obama said, "I think there is no doubt that when any foreign government tries to impact the integrity of our elections… we need to take action. And we will — at a time and place of our own choosing. Some of it may be explicit and publicized; some of it may not be."
Meanwhile, John Podesta, chair of Hillary Clinton's campaign, has a Washington Post op-ed arguing that the FBI appears to be handling the Russian hacking with a partisan bent.
Russians went after Republicans, but less aggressively –> Shane Harris, Devlin Barrett and Julian E. Barnes for The Wall Street Journal: "Russian hackers tried to penetrate the computer networks of the Republican National Committee, using the same techniques that allowed them to infiltrate its Democratic counterpart, according to US officials who have been briefed on the attempted intrusion. But the intruders failed to get past security defenses on the RNC's computer networks, the officials said. And people close to the investigation said it indicated a less aggressive and much less persistent effort by Russian intelligence to hack the Republican group than the Democratic National Committee. Only a single email account linked to a long-departed RNC staffer was targeted."
Also in The Journal: "Just over a month before President-elect Donald Trump takes office, few Americans expect he will be a good president, while most are concerned he will have conflicts of interests between his business relationships and his decisions in the Oval Office, according to a CBS poll released Thursday morning.
"Just over a third of Americans, 34 percent, think Mr. Trump will be a good or very good president, and 36 percent of respondents said he will be a poor president, according to the poll. By comparison, in December 2008, 63 percent of Americans expected Barack Obama to make a good or very good president, with 7 percent of Americans expecting him to perform poorly. In Dec. 2000, less than half of Americans thought George W. Bush would be a good president, but just 14 percent expected him to be a poor president."
Guilty –> From Charleston, South Carolina, "After nearly a week of painful testimony that vividly re-created the massacre at this city's famed Mother Emanuel church, it took jurors about two hours Thursday to convict Dylann Roof in his federal hate crimes trial," Dustin Waters and Mark Verman report for The Washington Post. "Roof was charged with 33 counts in his federal indictment. He was found guilty on every single one."
Blow against Big Pharma –> Katie Thomas at The New York Times: "A wide-ranging investigation into generic drug prices took its most significant turn yet on Thursday, as state attorneys general accused two industry leaders, Teva Pharmaceuticals and Mylan, and four smaller companies of engaging in brazen price-fixing schemes — and promised that more charges were coming. A civil complaint filed by 20 states accuses the companies of conspiring to artificially inflate prices on an antibiotic and a diabetes drug, with executives coordinating through informal industry gatherings and personal calls and text messages. Officials said the case was a small example of broader problems in the drug business."
Race for DNC head gets more complicated –> Tom Perez, President Obama's secretary of labor, announced yesterday he is running for head of the Democratic National Committee against Minnesota congressman and House Progressive Caucus leader Keith Ellison. Ellison has already secured the endorsement of incoming Senate Minority Leader Chuck Schumer, as well as the party's progressive leaders in the Senate, Bernie Sanders and Elizabeth Warren. Perez is expected to have support from Hillary Clinton and Barack Obama, though the president himself is not expected to make a public endorsement.
One more conflict of interest –> Patrick Caldwell for Mother Jones: "Donald Trump's pick to run the Energy Department also happens to be the favorite politician of the company attempting to build the Dakota Access Pipeline. For the past two years, former Texas Gov. Rick Perry has held a paid position on the board of directors of Texas-based Energy Transfer Partners, the company behind the controversial project."
Standing up for the little guy –> Dan Kopf writes for Quartz that Donald Trump has picked as his top administrators a gang who collectively hold more wealth than more than a third of Americans combined: "The 17 people who US president-elect Donald Trump has selected for his cabinet or for posts with cabinet rank have well over $9.5 billion in combined wealth, with several positions still unfilled. This collection of wealth is greater than that of the 43 million least wealthy American households combined — over one third of the 126 million households total in the US."
Morning Reads was compiled by John Light and edited by Michael Winship. See a story that you think should be included in Morning Reads? Tell us in the comments!
---
We produce this news digest every weekday. You can sign up to receive these updates as an email newsletter each morning.