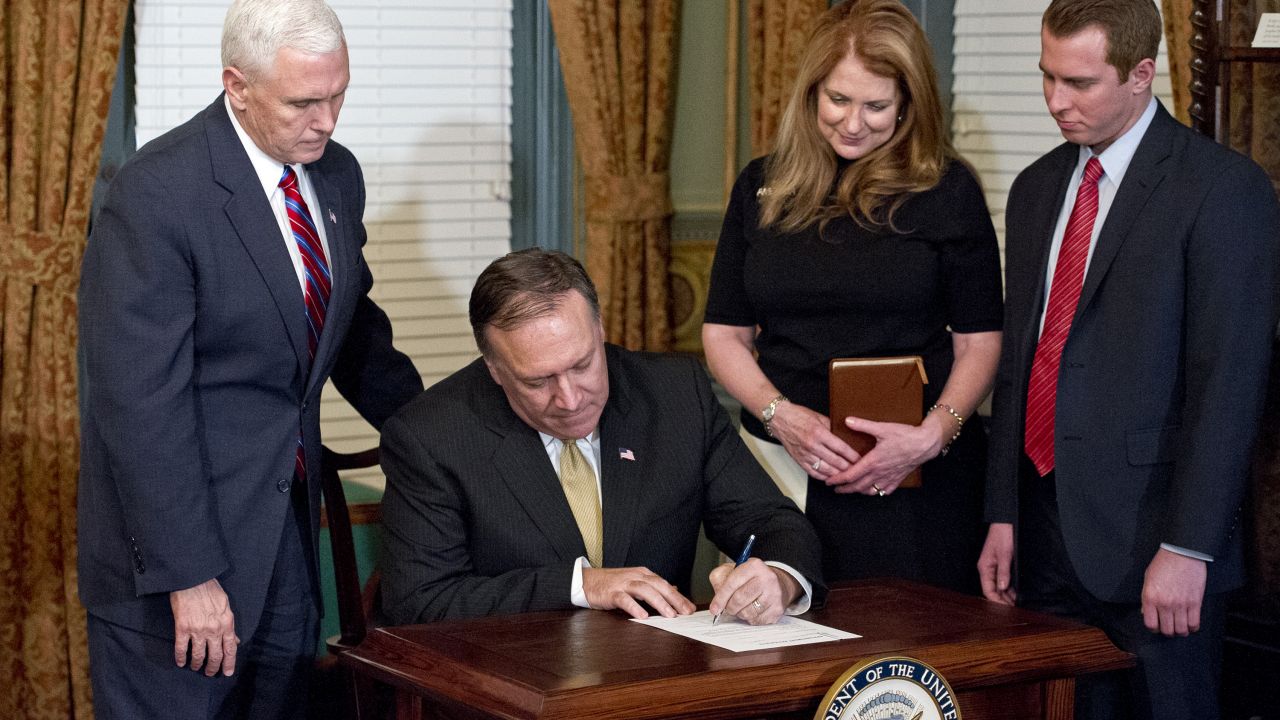 We produce this news digest every weekday. You can sign up to receive these updates as an email newsletter each morning.
---
Mike Pompeo is confirmed –> The new director of the CIA and former Republican congressman from Kansas has in the past suggested that he would greenlight practices that amount to torture, and has framed America's wars in the Middle East as part of a struggle between Christianity and Islam. Despite this, Zaid Jilani and Alex Eammons report for The Intercept, he won confirmation yesterday, with 14 Democrats voting in his favor, including Senate Minority Leader Chuck Schumer (D-NY), and one Republican, Sen. Rand Paul (R-KY), voting against him. The total was 66-32.
But this was not before a debate on the government's surveillance powers. Both Paul and Sen. Ron Wyden (D-OR) denounced the nominee's position on the mass collection of citizens' communications. Trump's "focus on 'law and order' may lead to a push for more domestic surveillance," Scott Shackford writes for Reason. "And certainly there are going to be politicians (on both the left and the right!) who are going to encourage it."
Meanwhile, at The Hill, Devin Henry reports that after the Pompeo fight the Republican Senate leadership is indefinitely delaying plans to move forward on Department of the Interior nominee Ryan Zinke and Department of Energy nominee Rick Perry. Education Secretary-designate Betsy DeVos, Commerce Secretary-designate Wilbur Ross and UN ambassador-designate Nikki Haley will likely face confirmation votes in the Senate today, The Guardian reports.
Tillerson goes to the Senate floor –> The secretary of state-designate squeaked through the Senate Foreign Relations Committee on a party-line vote of 11-10. Sen. Marco Rubio (R-FL) was the crucial swing vote — as of yesterday morning, he said he still had doubts about Tillerson because of his closeness with Russia and with other authoritarian governments around the world. But the man Donald Trump mocked as "little Marco" ultimately caved, fearing backlash from heavyweight funders and the White House, Jim Newell reports for Slate. In doing so, Rubio said he would be watching future nominations to top positions at the State Department closely. "Upcoming appointments to critical posts in the Department of State are not entitled to and will not receive from me the same level of deference I have given this nomination," he claimed. The full Senate will now vote on Tillerson's nomination.
New FCC head is bad news for an open internet –> Ajit Pai, currently the top Republican on the FCC, will be promoted to head the agency, NPR reports. Pai has spoken of expanding America's broadband internet — an area in which our country lags behind many other developed countries. But his history on net neutrality is worrying: He reliably voted against the policy when Obama's FCC Chairman, Tom Wheeler, pushed to protect it. Undoing Wheeler's work could create a situation in which the companies we pay to access the internet — such as Time Warner and Comcast — can control and censor what we see and also control how fast we see it, so that pages and streaming services provided by their business rivals load more slowly.
Stifling the EPA –> Andrew Revkin and Jesse Eisenger at ProPublica write, "The Trump administration has imposed a freeze on grants and contracts by the US Environmental Protection Agency, a move that could affect a significant part of the agency's budget allocations and even threaten to disrupt core operations ranging from toxic cleanups to water quality testing, according to records and interviews…
"One EPA employee aware of the freeze said he had never seen anything like it in nearly a decade with the agency. Hiring freezes happened, he said, but freezes on grants and contracts seemed extraordinary. The employee said the freeze appeared to be nationwide, and as of Monday night it was not clear for how long it would be in place."
Devil in the details –> Trump's press secretary Sean Spicer held his first official press briefing yesterday. Reporters tried to nail him down on disputed details of past statements, attempting to figure out the extent to which the administration's recent distortions on such issues as attendance at the inauguration and a meeting with the CIA were intentional. One question was whether the CIA gave Trump a standing ovation when he came to meet with its members or if the applause throughout the president's remarks came from staffers for the president and vice president. Spicer maintained that yes, CIA officers had given Trump an ovation, and no, the members of the audience were not placed there by the Trump team. Now, at The Huffington Post, S.V. Date provides some more context:
"While President Donald Trump brags about how hundreds of CIA employees gave him standing ovations during his Saturday visit, it should not have come as a surprise," he writes. "He never told them to sit. The 400 agency staffers were standing when Trump entered the room, were still standing when he came to the lectern, and then remained standing through his 15 minutes of remarks."
More on criminalized protest –> We noted Spencer Woodman's story for The Intercept last week, in which he reported that five states are moving to impose strict penalties on protesters or remove protections for protesting. In one state, North Dakota, a law would give motorists a pass if they run over a protester and successfully argue that it was an accident. Now, Woodman reports that three more states are considering laws upping fines on protesters, bringing the total to eight. In the oil-and-gas-rich state of Colorado, for example, "obstructing or tampering with oil and gas equipment would be reclassified from a misdemeanor to a 'class 6' felony, a category of crime that reportedly can be punished by up to 18 months behind bars and a fine of up to $100,000."
Citizens United turns 7 –> Donald Trump was sworn in on the seventh anniversary of the Citizens United money in politics decision — an appropriate commemoration, given that his administration looks likely to advance corporations' power in government (with several bankers and CEOs actually running aspects of his administration). At the Center for Responsive Politics, Emily Dalgo and Ashley Balcerzak look back on what that court decision meant for the 2016 election. "After the 5-4 decision, which freed corporations and unions to make unlimited independent political expenditures, the super PAC was born. And that creature has gone forth and multiplied: Super PAC spending in the 2016 cycle was almost double its level in last presidential election, $1.1 billion compared to $609 million in 2012. The number of super PACs likewise nearly doubled, going from 1,300 to more than 2,400 in just four years."
Are you worried about the end of the world? –> You're not alone. Many of America's super-rich are too, and they're using their wealth to hunker down and prepare for the worst, Evan Osnos reports for The New Yorker.
Morning Reads was compiled by John Light and edited by Michael Winship. See a story that you think should be included in Morning Reads? Tell us in the comments!
---
We produce this news digest every weekday. You can sign up to receive these updates as an email newsletter each morning.