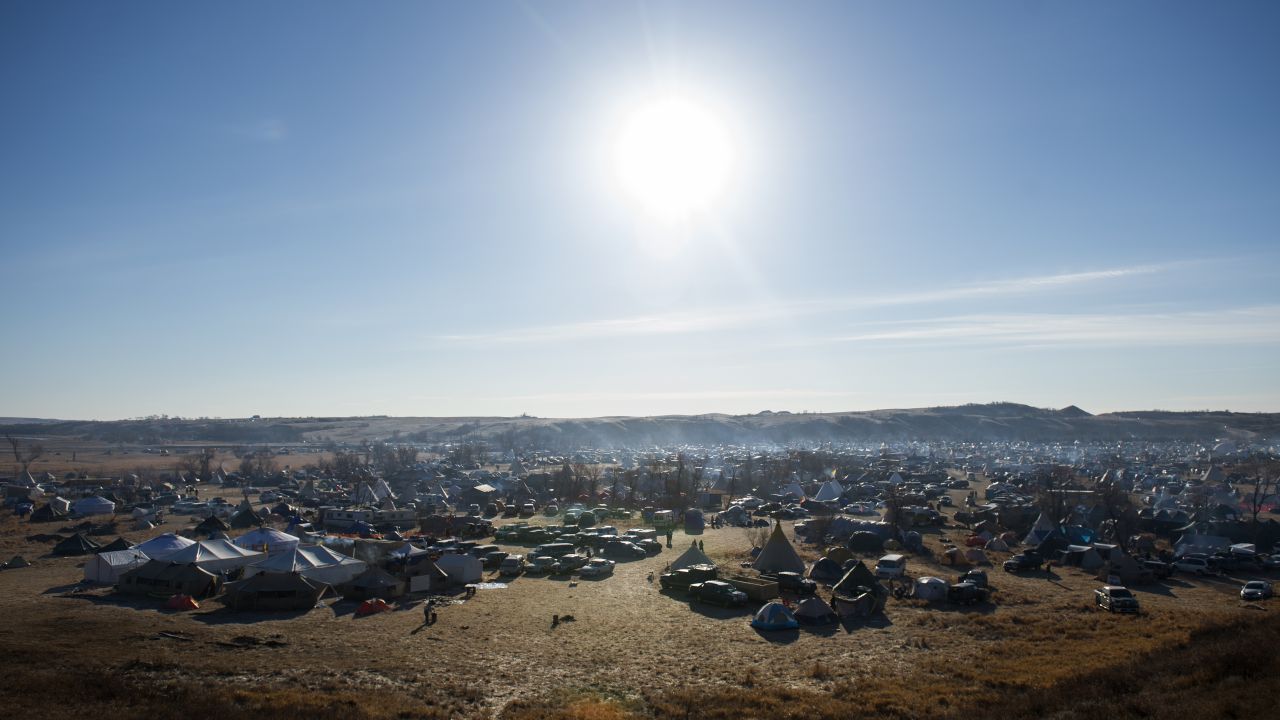 We produce this news digest every weekday. You can sign up to receive these updates as an email newsletter each morning.
---
North Dakota governor escalates DAPL fight –> After the Army Corps of Engineers clarified an order yesterday that activists opposing the Dakota Access Pipeline vacate the land on which they're camped — saying it would not forcibly remove the protesters — North Dakota Gov. Jack Dalrymple issued an order of his own. He would, he said, forcibly remove the pipeline foes if they did not leave. The activists, many of them local Native Americans, occupy both federal land and private land they say was illegally seized from tribes. Terray Sylvester reports for Reuters: "The governor did not specify how he intended to enforce his order other than by directing state and local agencies to refuse emergency assistance and other services to anyone who remained at the site. He said the order was effective immediately and would stay in force 'until rescinded.' But Standing Rock Sioux spokeswoman Phyllis Young told a news conference Monday night the tribe would stand its ground."
Goodbye, Obamacare? –> President-elect Trump's pick to head the Department of Health and Human Services is an obstetric surgeon who has been an outspoken critic of the agency's primary work in recent years, implementing Obamacare. Rep. Tom Price (R-GA) will come into the administration with a plan already drawn up on how to abolish the current president's signature law. Sarah Kliff writes for Vox that Price "would replace the law with a plan that does more to benefit the young, healthy and rich — and disadvantages the sick, old and poor. Price's plan provides significantly less help to those with pre-existing conditions than other Republican proposals, particularly the replacement plan offered by House Speaker Paul Ryan (R-WI). The biggest cut to the poor in Price's plan is the full repeal of the Medicaid expansion, a program that currently covers millions of low-income Americans, which Price replaces with, well, nothing."
Pope wants climate action –> "Pope Francis urged national leaders on Monday to implement global environmental agreements without delay, a message that looked to be squarely aimed at US President-elect Donald Trump," Philip Pullella reports for Reuters. "Addressing a group of scientists that included theoretical physicist Stephen Hawking, the pope gave his strongest speech on the environment since the election of Trump, who has threatened to pull out of the 2015 Paris Agreement on climate change." In an interview last week with The New York Times, Trump said he would keep an "open mind" about the Paris Agreement. Lest anyone read too much into that, Reince Preibus said in an interview with Fox over the weekend that on "this issue of climate change" Trump will "have an open mind about it but he has his default position, which most of it is a bunch of bunk."
Add another conflict of interest to the pile –> This one involves Trump's Washington, DC, hotel, which is in a building owned by the government's General Services Administration, an agency tasked with buying stuff and setting up contracts for the government. The lease explicitly states "No … elected official of the government of the United States … shall be admitted to any share or part of this lease, or to any benefit that may arise therefrom…"
Government Executive magazine writes: "GSA need not wait for constitutional experts to weigh in, nor for Trump's lawyers to craft a comprehensive solution to appropriately distance Mr. Trump from his entire web of business interests. The lease presents relatively straightforward government contracting issues, and the contracting agency with responsibility for addressing those issues is GSA. To protect the integrity of the federal government's procurement process, GSA must end its lease arrangement with President-elect Trump now."
New era of surveillance –> "The UK is about to become one of the world's foremost surveillance states, allowing its police and intelligence agencies to spy on its own people to a degree that is unprecedented for a democracy," James Vincent reports for The Verge. "The UN's privacy chief has called the situation 'worse than scary.' Edward Snowden says it's simply 'the most extreme surveillance in the history of western democracy.' …The UK government will keep a record of every website every citizen visits for up to a year, with this information also including the apps they use on their phone, and the metadata of their calls."
Donor's reward –> Lee Fang reports for The Intercept: "Trae Stephens, a principal at billionaire Peter Thiel's venture capital firm Founders Fund, was appointed last week by Donald Trump to help lead the transition effort at the Defense Department. Thiel, who made a $1,000,000 donation to a pro-Trump Super PAC, is Trump's highest-profile supporter in Silicon Valley. At Thiel's Founder Fund, Stephens 'focuses on startups operating in the government space,' according to his official biography. Before that, he worked at another Thiel-backed firm: Palantir, a highly controversial data analysis firm that is currently competing for Defense Department contracts."
Morning Reads was compiled by John Light and edited by Michael Winship. See a story that you think should be included in Morning Reads? Tell us in the comments!
---
We produce this news digest every weekday. You can sign up to receive these updates as an email newsletter each morning.