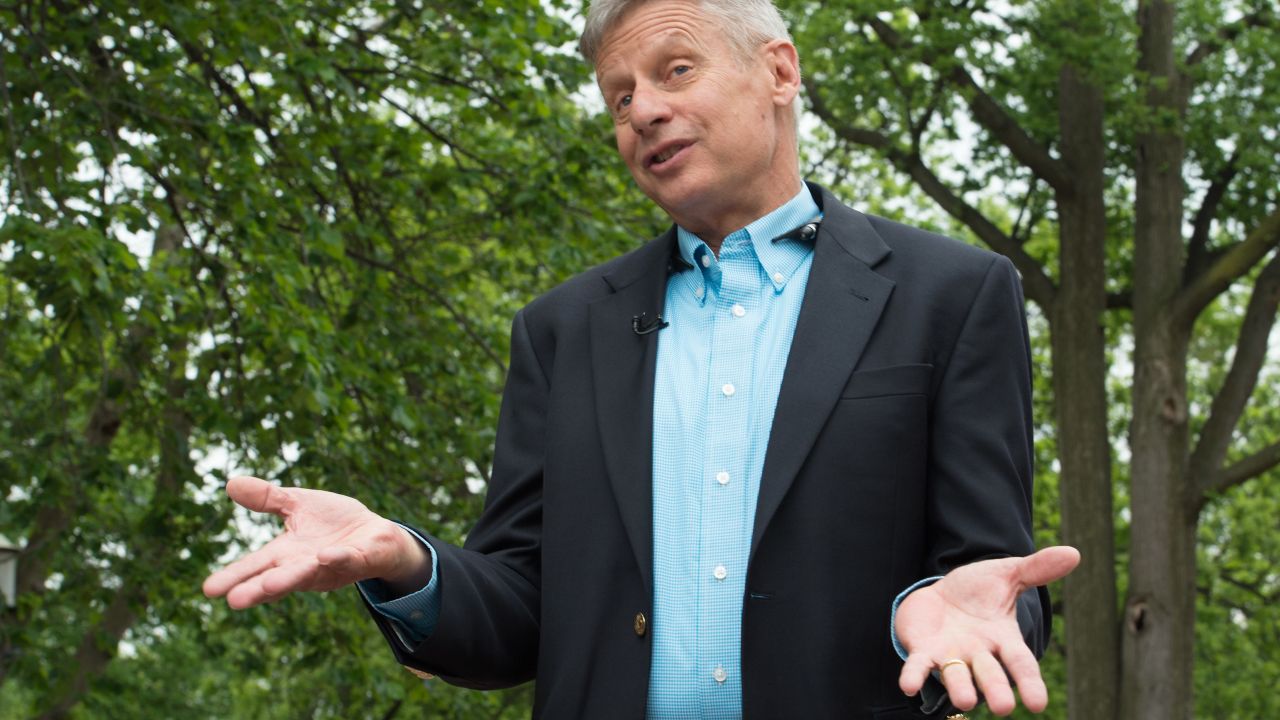 This year's leading third party? –> The Libertarian Party is looking at the Democratic and Republican candidates, taking note of Clinton and Trump's high unfavorables and calculating that this could be the year for their third party to shine. Today At 9 p.m. ET, CNN sponsors a town hall with the Libertarian presidential candidate, former New Mexico Gov. Gary Johnson, and his running mate, former Massachusetts Gov. Bill Weld.
And: Matt Welch writes for the libertarian magazine Reason that the Johnson/Weld ticket is consistently polling around 9 percent, "drawing about evenly from Hillary Clinton/Donald Trump/other-not voting, while also finding… strongest support among independents and millennials." To get into this fall's presidential debates, the Libertarian Party must poll at 15 percent.
And: Clare Malone of FiveThirtyEight has an excellent profile of what the party stands for this year, and why it hopes to draw support from those dissatisfied with the right and the left.
"Glimmer of hope" on guns –> Timothy Gardner and Richard Cowan for Reuters: "US senators pushed for a compromise gun-control bill on Tuesday, a day after the Senate failed to advance four gun measures following last week's mass shooting in Orlando, the deadliest in modern US history. Senate Majority Leader Mitch McConnell said he would schedule a vote on a bill by fellow Republican Sen. Susan Collins that would prevent about 109,000 people on 'no-fly' and other surveillance lists from purchasing guns. Collins said she expected a vote on the bill this week or next…
"Some senior Republicans would not commit to supporting the Collins bill, citing worries about people being denied the ability to buy weapons without adequate safeguards. But the No. 3 Senate Democrat, Chuck Schumer, told reporters: 'There may be a glimmer of hope now,' adding that Collins' proposal seemed to be 'a step in the right direction.'" The bill moves away from the more aggressive actions proposed by Democrats following the massacre — but the NRA is staunchly opposing this legislation, too.
Clinton goes after Trump on the economy –> Secretary Clinton: "A few weeks ago, I said his foreign policy proposals and reckless statements represent a danger to our national security. But you might think that because he has spent his life as a businessman he would be better prepared to handle the economy. Well, it turns out he's dangerous there, too. Just like he shouldn't have his finger on the button, he shouldn't have his hands on our economy."
Donald Trump's empty wallet –> At The Washington Post, Matea Gold and Philip Rucker write, "As top Republicans expressed astonishment and alarm over Donald Trump's paltry campaign fundraising totals, the presumptive nominee blamed party leaders Tuesday and threatened to rely on his personal fortune instead of helping the GOP seek the cash it needs… If he did tap his wealth to finance his bid, it would effectively amount to abandonment of the Republican National Committee and the rest of the GOP ticket, which relies on the presidential nominee to help fund a national field organization for the fall elections. GOP strategist and fundraiser Austin Barbour said if Trump fundraising does not pick up, it 'could have a devastating impact' on the Republican Party."
And: At the CNN website, election-law scholar Rick Hasen notes, "Trump's fundraising failures thus far may signal to the biggest Republican donors that his campaign is a lost cause, and that the best way to hedge against a likely Clinton presidency is to pour money into close Senate races. Wealthy donors may find it more effective to throw millions into Super PACs in competitive Senate and House races rather than at a presidential campaign that doesn't seem to have its act together."
Drone rules arrive –> The FAA is beginning to lay out rules for unmanned aircraft, hoping to prevent a disaster. Ashley Halsey III for The Washington Post: "Many years in the making, and after 4,600 public comments, the new rules have a narrow focus that will be criticized by those who hoped the Federal Aviation Administration would sketch out a futuristic grand plan, while drawing praise from others who worried that the agency would offer too much regulation too soon… The rules focus primarily on the burgeoning drone hobby market rather than the much more complex business of integrating the swarm of commercial drones expected in the skies in the next decade."
Whisper campaign –> At The Intercept, Lee Fang writes that a Politico article about Wall Street's opposition to Hillary Clinton naming Elizabeth Warren as her vice presidential pick (we pointed to it yesterday) quoted five anonymous sources: "Is the 'top Democratic donor' Politico quoted a self-interested executive at Citigroup or Goldman Sachs fearful that Warren would influence policy decisions? We'll never know. Journalists in this way let powerful individuals take potshots without any fear of accountability and without the reader being able to discern what conflicts of interest might be involved."
We're not making this up –> Right-wing Iowa congressman Steve King introduced an amendment to a spending bill that would have kept Harriet Tubman's face off the $20 bill, which currently features Andrew Jackson. Luckily, cooler heads prevailed and the House Rules Committee blocked a vote on King's latest nonsense. Joseph Morton at the Omaha World-Herald writes, "Reporters pressed King on why there shouldn't be a woman or person of color on a piece of US paper currency. King characterized such thinking as 'sexist' and 'racist.' …King said the plan to replace Jackson represents 'liberal activism' by President Barack Obama."
Morning Reads was written by John Light and edited by Michael Winship. See a story that you think should be included in Morning Reads? Tell us in the comments!
---
We produce this news digest every weekday. You can Sign up to receive these updates as an email newsletter each morning.