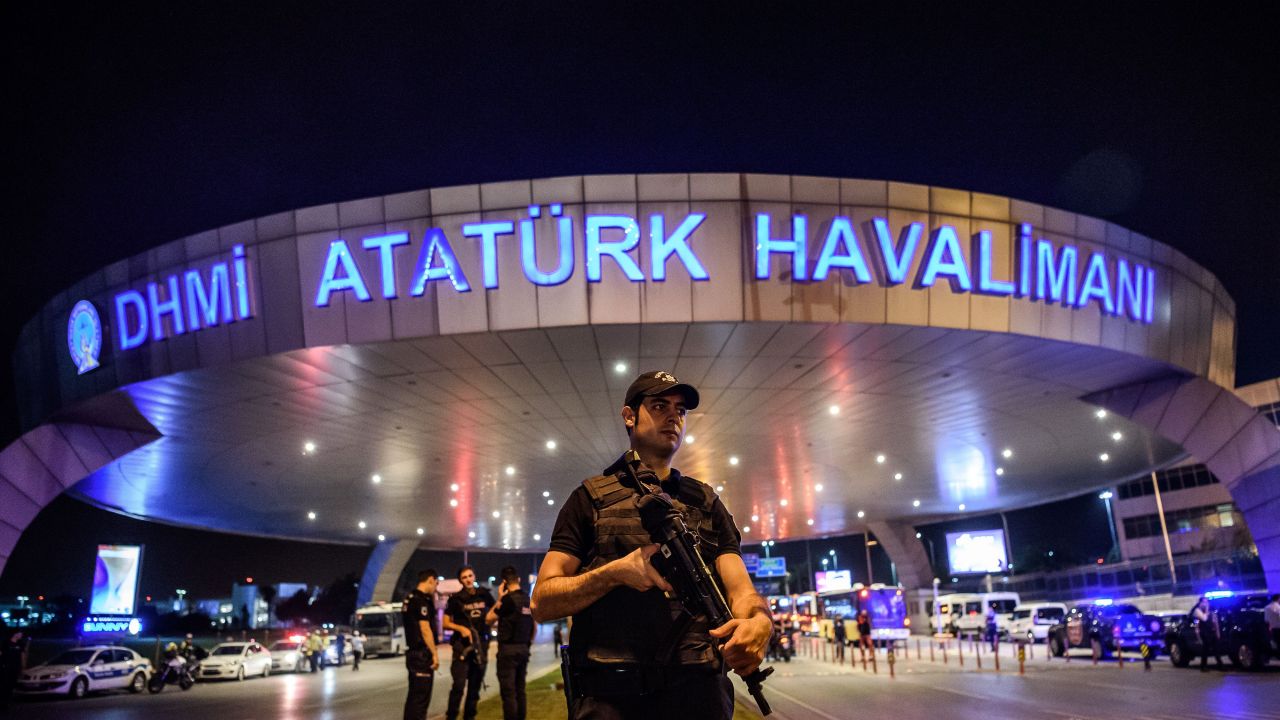 Attack in Istanbul –> The BBC: "A gun and bomb attack on Istanbul's Ataturk airport has killed 41 people, at least 13 of them foreigners, and injured more than 230, officials say. Three attackers arrived in a taxi and began firing at the terminal entrance late on Tuesday. They blew themselves up after police fired back."
Turkish officials were quick to say that ISIS appears to be behind the attack. Reuters: "Two US counterterrorism officials familiar with the early stages of investigations said Islamic State was at the top of the list of suspects even though there was no evidence yet."
Benghazi… again –> After years of investigating Hillary Clinton for personal wrongdoing related to the 2012 attack on the American consulate in Benghazi, Libya, Republicans on the House Select Committee on Benghazi issued their allegedly final report yesterday, "finding no new evidence of culpability or wrongdoing by Hillary Clinton…"
This follows a report by Democrats on Monday tallied up Republicans' spending on the partisan investigation and came up with a price tag to taxpayers of $7 million.
But: That doesn't mean the investigation didn't succeed in saddling Clinton with baggage. Donovan Slack for USA Today: "The National Rifle Association's political arm is launching its first ad campaign of the 2016 presidential race, with a survivor of the terror attack in Benghazi urging viewers to vote for Donald Trump. The ad, which the NRA Political Victory Fund is backing with more than $2 million, is the group's first campaign in the presidential race and one of the larger expenditures by an outside group on behalf of the presumptive Republican nominee."
And: The Hillary Clinton email story, which just won't die, also emerged out of the Benghazi investigations.
Soliciting foreign money –> Adam Weinstein for Fusion: "In recent days, as the UK pondered its future in the European Union and presumptive GOP presidential nominee Donald Trump waded in with a press conference on his Scottish golf course, the Scottish National Party's 54 members of the British Parliament received multiple emails from Trump's campaign, soliciting donations for his presidential bid — a possible violation of US campaign-finance laws, they say."
And then, via the Iceland Monitor: "At least three prominent Icelandic politicians have received an email from US presidential candidate Donald Trump asking for money to fund his campaign. Leader of the Left-Green Alliance Katrín Jakobsdóttir was one of those to receive the email yesterday afternoon, in which Trump pledged personally to match any donation made in the next 48 hours from his own pocket."
But: Trump might be protected from campaign-finance laws if this is all a mistake, which, hey, maybe it is. Caitlin MacNeal writes at Talking Points Memo: "Campaign-finance law bars campaigns from accepting donations from foreign nationals and from soliciting campaign contributions from foreign nationals. However, it's 'unlikely' that the Trump campaign's emails would lead to any legal action because campaigns are held accountable if they purposefully solicit the donation, Richard Skinner, a policy analyst at the Sunlight Foundation, told TPM. It's not clear whether the Trump campaign included British MPs on the fundraising email lists on purpose."
Smart business move –> Jennifer A. Dlouhy at Bloomberg: "Five coal-mining companies spent $95 million to lobby US lawmakers and more than half a billion dollars on salaries for top executives in the decade before they filed for bankruptcy, according to a report by an environmental group. At the same time, the companies — Walter Energy Inc., Patriot Coal Corp., Alpha Natural Resources Inc., Arch Coal Inc. and Peabody Energy Corp. — benefited from a federal program that leases land for coal production at a discount. The environmental group, the Western Values Project, said in a report to be released Tuesday that the companies' 'excessive' spending shows the leases helped lobbyists and executives, not the public."
Corbyn out (?) –> Griff Witte for The Washington Post: "The turbulence wrought by the public's decision to exit the European Union had already claimed the career of Prime Minister David Cameron, leaving the governing Conservative Party to joust through the summer over who will lead the country starting in September. Now it has also paralyzed the opposition Labour Party, with an overwhelming majority of party leader Jeremy Corbyn's parliamentary members voting on Tuesday to oust him. Rather than step down, Corbyn vowed to fight on — triggering what will likely be an ugly and protracted war for the party's soul."
Meanwhile, Adam Withnall at The Independent reports, as the second day of the European Union's post-Brexit emergency meeting began, German Chancellor Angela Merkel "called on the rest of Europe to take the opportunity in the coming days to move on with the situation it finds itself in. Asked if she saw any possibility for Britain to U-turn on its EU decision, Ms Merkel said: 'I want to say very clearly tonight that I see no way to reverse this.' Early indications suggest many EU leaders appear keen to get Brexit over and done with now the UK has decided to leave."
And in DC: "The city's bevy of lawyers and lobbyists are working around the clock to advise corporations bracing for the fallout from Britain's historic decision to exit the European Union." Catherine Ho at The Washington Post reports.
A little bit different from Flint –> Politico: "In a 'dear colleagues' letter, House office buildings superintendent William Weidemeyer told members and staff that the Cannon House Office Building was experiencing lead levels above normal, according to a recent water test." Taps were shut off and bottled water was provided the very same day.
Morning Reads was written by John Light and edited by Michael Winship. See a story that you think should be included in Morning Reads? Tell us in the comments!
---
We produce this news digest every weekday. You can Sign up to receive these updates as an email newsletter each morning.