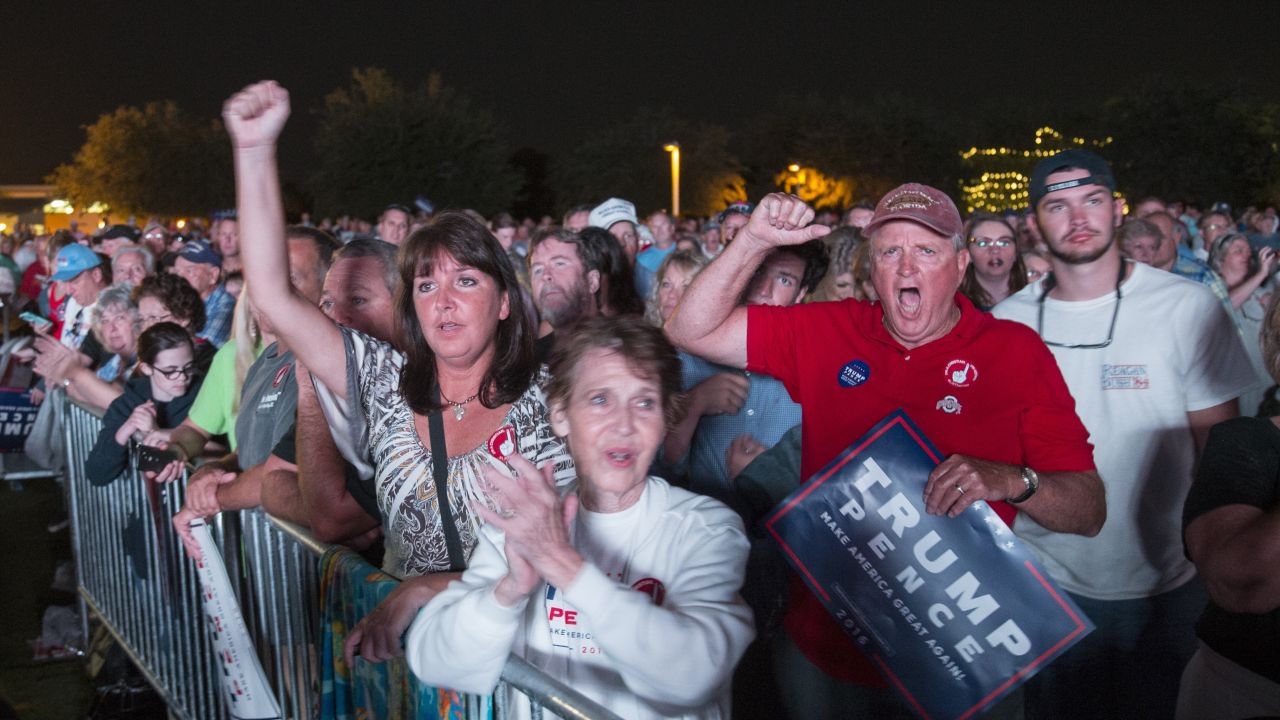 We produce this news digest every weekday. You can sign up to receive these updates as an email newsletter each morning.
---
Trump doubles down –> In the wake of the videotape in which Donald Trump bragged about harassing and groping women, and his subsequent drop in the polls, the candidate has shifted to a new campaign strategy. According to Monica Langley at The Wall Street Journal, he plans to "renew the nationalist themes that built his base and amplify his no-holds-barred attacks against Hillary Clinton to try to depress Democratic voter turnout, his advisers said." To that end, he has been dog whistling his mostly white supporters that "other communities" will try to steal the election through fraud.
At a rally in Wilkes Barre, Pennsylvania, he warned about about the vote count in Philadelphia: "I hear these horror shows and we have to make sure that this election is not stolen from us and is not taken away from us. And everybody knows what I'm talking about," he said. (In 2012, several mostly black precincts in Philadelphia registered no votes for Mitt Romney, but not because of foul play, The Washington Post's Philip Bump reports.)
This shift in strategy accompanies a Republican civil war. Yesterday morning, Trump declared, "It is so nice that the shackles have been taken off me and I can now fight for America the way I want to," amidst a torrent of his tweets attacking Republicans, such as House Speaker Paul Ryan and Arizona's Sen. John McCain, who have renounced their support for him. A profile in courage, at least one Republican senator, after unendorsing Trump, has re-endorsed him.
They got themselves into this mess –> Lisa Mascaro reports for the Los Angeles Times that gerrymandering is to blame for Republican candidates vacillating on Trump: "Across the country, Republicans in contested races face a terrible bind: They have to run from Donald Trump to hold onto swing votes, even if that angers some core supporters. But in secure, heavily conservative GOP districts, Republicans face the opposite pressure: to cleave fast to Trump, who remains popular despite statements that have alienated many voters.
"The crisis sparked by the Trump campaign has split the Republican Party in two, and ironically, the gerrymandering of districts that helped build the GOP congressional majority is now working to make that fracture worse. The division of interests between Republicans who represent solidly conservative districts and those who represent swing areas — or senators who must run statewide — has seldom been more stark. 'The Republican Party has drawn itself into an ideological cul-de-sac that bears no resemblance to the larger electorate,' said David Wasserman, House editor at the nonpartisan Cook Political Report. 'The middle has shrunk dramatically.'"
US re-evaluates role in Yemen –> Amidst a Syria-style implosion that has claimed 10,000 lives in Yemen, the United States is questioning whether it should be supplying a Saudi-led campaign against Yemeni rebels. One hundred and forty of those deaths occurred over the weekend when American-manufactured bombs were dropped on a funeral.
In The New York Times, Mohammed al-Asaadi, a former journalist who now works for UNICEF, writes about life with his four children in the Yemen war zone: "Every day, you wake up to an unpleasant surprise: the death or injury of a friend or a family member. You witness the destruction of your childhood neighborhood, school and the little shop where you once bought candy. You have to live without electricity, water, fuel and social services. You don't want to live a life where your utmost achievement is surviving another day and your ultimate pleasure is having an uninterrupted internet connection. Wars are destructive not only to towns and cities, but also to souls."
Also in The New York Times, a harrowing story by Pulitzer Prize-winning reporter James Risen about a Tanzanian named Suleiman Abdullah Salim, who was tortured by the CIA in a secret prison in Afghanistan, held for years, then released without any charges made or an explanation for his captivity. "Many times now I feel like I have something heavy inside my body," he said. "Sometimes I walk, and I walk, and I forget, I forget everything, I forget prison, The Darkness, everything. But it is always there. The Darkness comes."
More on the latest WikiLeak –> After sifting through 80 pages of Clinton advisor John Podesta's hacked emails, David Dayen writes for The Intercept: "The excerpts reveal that Clinton, when speaking to the financial industry, adopted their mindset and privileged their arguments. The question that arises is whether members of a possible Clinton administration will reflect this worldview, or whether the long primary with Sanders has made that untenable. Some aggressive advocates for progressive appointments believe the latter."
Facebook, Twitter, Instagram helped US spy on activists –> Craig Timberg and Elizabeth Dwoskin report for The Washington Post: "A powerful surveillance program that police used for tracking racially charged protests in Baltimore and Ferguson, Missouri, relied on special feeds of user data provided by Twitter, Facebook and Instagram, according to an ACLU report Tuesday. The companies provided the data — often including the locations, photos and other information posted publicly by users — to Geofeedia, a Chicago-based company that says it analyzes social media posts to deliver real-time surveillance information to help 500 law enforcement agencies track and respond to crime. The social media companies cut off Geofeedia's access to the streams of user data in recent weeks after the ACLU discovered them and alerted the companies about looming public exposure."
What's up with Trump's crummy suits? –> A London custom tailor tells all, via Jezebel.
Morning Reads was compiled by John Light and edited by Michael Winship. See a story that you think should be included in Morning Reads? Tell us in the comments!
---
We produce this news digest every weekday. You can sign up to receive these updates as an email newsletter each morning.