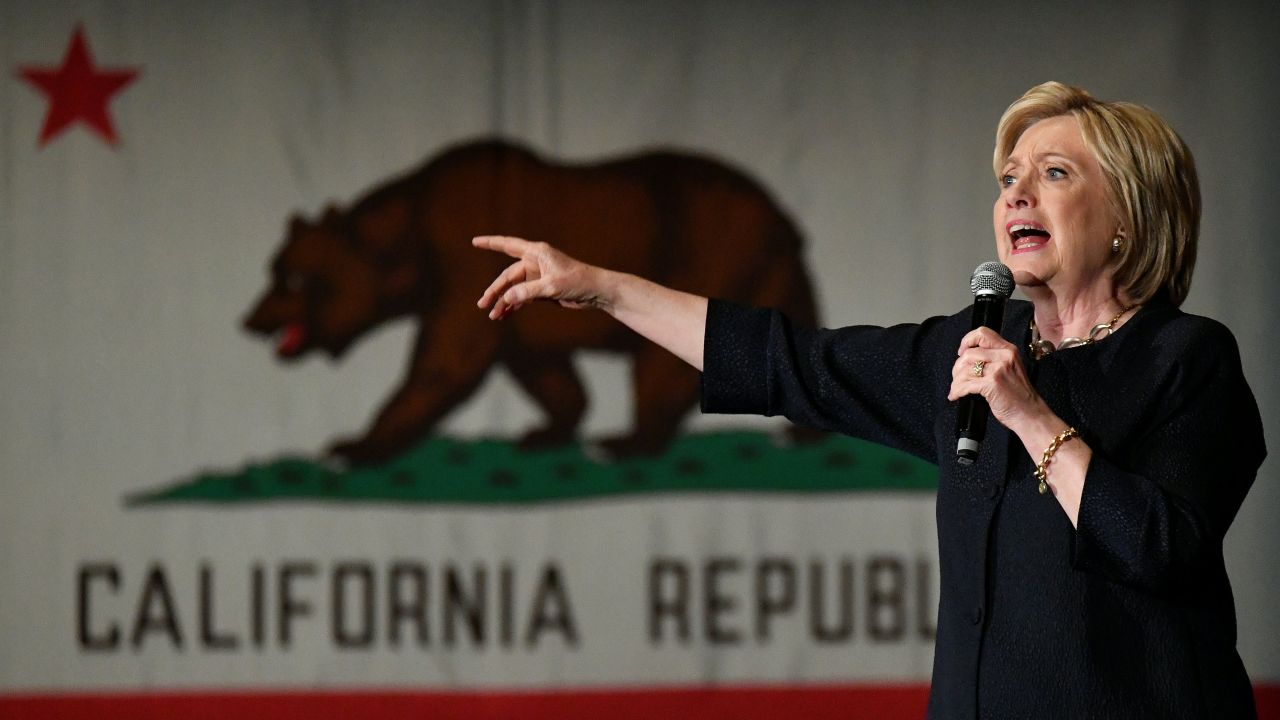 NJ no, California yes –> Faced with what appears to be growing support for Bernie Sanders in California, Hillary Clinton is canceling plans to campaign in New Jersey and is instead redoubling her efforts on the West Coast. Both states hold their primaries on June 7. Adam Nagourney reports at The New York Times.
For his part, Sanders says he'll be at the Democratic convention even if he gets beaten in New Jersey and California. Maryalice Parks at ABC News says that with polls showing him running a stronger race against Donald Trump than Clinton, Sanders hopes to convince the party's superdelegates to side with him.
Democratic split? –> At Salon, Paul Blest makes the case that Sanders' strong showing and Clinton's tack to the center demostrates that America is ready for a third party that's to the left of the Democratic Party. He writes: "For a party that's really built to last, the work would have to be done from the bottom: in school boards, city councils, state legislatures, and congressional seats around the country, challenging safe Democrats in cities along with entrenched Republicans in rural areas, and working in a coalition if it means building power."
Meanwhile: The Libertarian Party is hoping to seize that same opportunity. Alan Rappaport writes at The New York Times, "For an antiwar party that promotes legalizing marijuana and tearing up the tax code, 2016 has brought hope that acceptance in the political mainstream is imminent amid broad discontent with the probable nominees from the major parties." At their convention over the weekend, Libertarians chose former New Mexico Gov. Gary Johnson as their presidential candidate and former Massachusetts Gov. William Weld as his running mate.
Let the planet burn –> Trump outlined his energy plan on Thursday evening — a plan that, without help from any other nation, would be enough to send the planet past climate tipping points into complete catastrophe. It's also nothing new: Vox's Brad Plumer writes that it "sounds nearly identical to Mitt Romney's energy policy in 2012, only with more exclamation points. (At one point Trump actually used the phrase 'very, very pure, sweet, beautiful oil.')"
And Emily Schwartz-Greco writes for our site: "In short, Trump wants to short circuit the green energy boom. The rest of us may favor action to slow global warming before it turns Miami into Atlantis. But his energy policy rests on the premise that there's no reason to cut carbon pollution to rein in a phenomenon he has dismissed as a Chinese hoax."
Changing viewpoint –> Former Attorney General Eric Holder conceded to former Obama senior advisor David Axelrod that Edward Snowden's leaks to journalists were "a public service," prompting discussion about NSA surveillance methods. (But, Holder said on Axelrod's podcast the "The Axe Files," he still did not approve of how Snowden went about it, and that the whistleblower must be punished.) Glenn Greenwald, who published many of Snowden's leaked documents, at The Guardian and The Intercept, tweeted: "People so often become honest and candid only once they leave government."
Verizon strikes ends –> Chuck Mikolajczak for Reuters: "A tentative deal between Verizon Communications Inc and leaders of striking unions includes 1,400 new jobs and pay raises topping 10 percent, the company and unions representing about 40,000 workers said on Monday, hoping to end a walkout that has lasted nearly seven weeks. One analyst called the deal 'very rich' for workers at Verizon, the No. 1 US wireless provider, which reached the tentative pact with the Communications Workers of America (CWA) on Friday."
Chris Shelton, president of the CWA: "The agreement in principle at Verizon is a victory for working families across the country and an affirmation of the power of working people. This proves that when we stand together we can raise up working families, improve our communities and protect the American middle class."
Citizens United on the ballot –> California Gov. Jerry Brown will decide whether or not Californians will be able to vote this fall on a ballot initiative related to Citizens United. The state legislature approved it last week. John Myers reports for the Los Angeles Times: "The measure specifically asks California voters if state lawmakers should use 'all of their constitutional authority' to overturn the Citizens United ruling. In general, that would likely mean an amendment to the US Constitution proposed by Congress and ratified by the legislatures of three-fourths of the states."
Uncomfortable position –> Pema Levy for Mother Jones: "It's the job of the Department of Justice to defend the laws of the United States to the best of its ability. But earlier this month, that job led the Obama administration's top lawyers to take an awkward, even embarrassing position: embracing a racist, century-old precedent in order to deny birthright citizenship to people from the territory of American Samoa. American Samoans are the only people born on US soil who are denied birthright citizenship."
Action, reaction –> On Friday, Donald Trump denounced a judge hearing a fraud lawsuit against Trump University as "a hater of Donald Trump," "very hostile," and someone who "happens to be, we believe, Mexican." So, later that day, US District Court Judge Gonzalo Curiel unsealed documents related to the case. Josh Gerstein reports for Politico: "Curiel said in his order Friday that Trump's presidential campaign and his criticism of the court were reasons to overrule his objections to the release of so-called 'Playbooks' describing Trump University's operations." Curiel notes that one of the playbooks already was published by Politico in March — you can read highlights here.
Morning Reads was written by John Light and edited by Michael Winship. See a story that you think should be included in Morning Reads? Tell us in the comments!
---
We produce this news digest every weekday. You can Sign up to receive these updates as an email newsletter each morning.