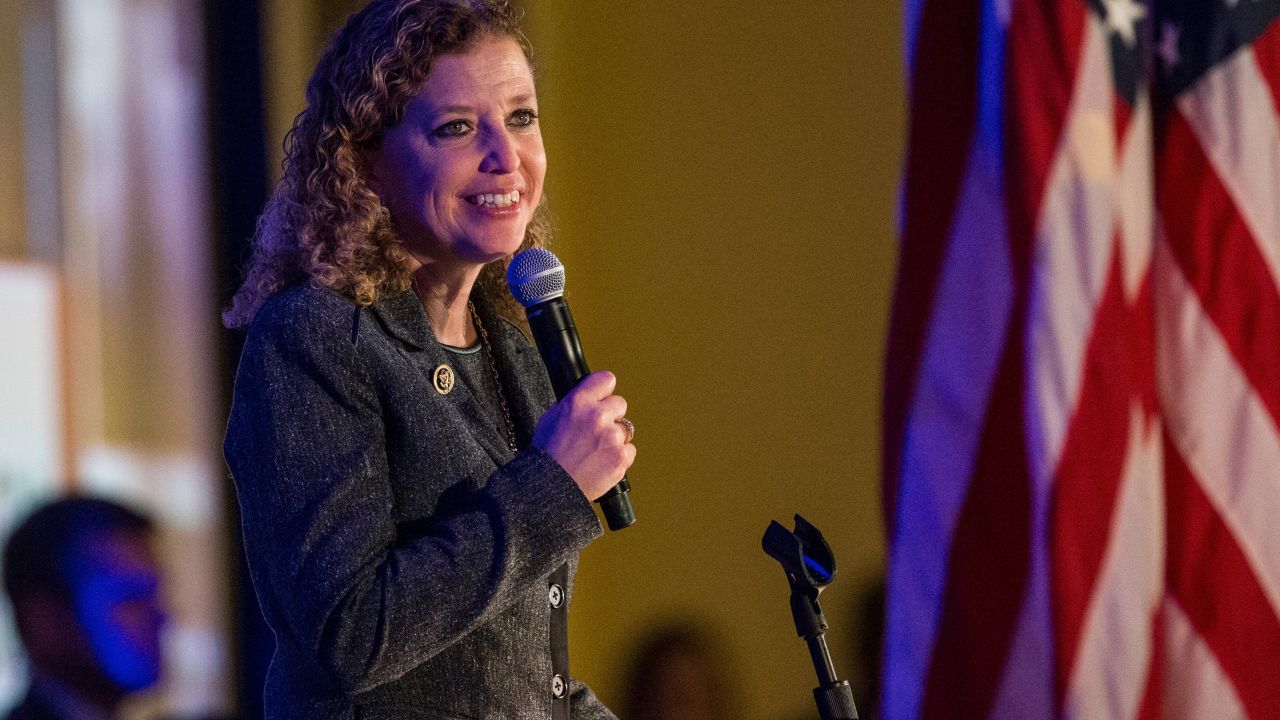 Debbie Wasserman Schultz is on her way out –> Jeff Zeleny at CNN: "Hillary Clinton's campaign is taking the reins of the Democratic National Committee, installing a new top official on Thursday to oversee the party's day-to-day operations through the general election. Brandon Davis, national political director for the Service Employees International Union, will become the general election chief of staff for the Democratic Party. His selection formalizes the coordination of the Clinton campaign and the committee, a stark contrast to Donald Trump who is currently at odds with his party… The leadership of the Democratic National Committee, particularly Chairwoman Debbie Wasserman Schultz, has come under fire throughout the presidential primary fight. Bernie Sanders has called for new leaders at the party, a point he raised during his private meeting earlier this week with Clinton."
Sanders confirms: he's staying in it until the convention –> In a speech last night, Sanders told his supporters that he will be continuing his candidacy right into next month's party convention in Philadelphia. But he also called for his followers to organize in a way that is bigger than his presidential campaign. From his speech, via Time magazine: "Here is a cold, hard fact that must be addressed. Since 2009, some 900 legislative seats have been lost to Republicans in state after state throughout this country. In fact, the Republican Party now controls 31 state legislatures and controls both the governors' mansions and statehouses in 23 states. That is unacceptable. We need to start engaging at the local and state level in an unprecedented way. Hundreds of thousands of volunteers helped us make political history during the last year. These are people deeply concerned about the future of our country and their own communities."
Banks, others say no to Trump –> Companies who were previously reliable donors to Republican causes and candidates are opting not to fund the party's convention in Cleveland next month, not wanting anything to do with Donald Trump. Zachary Mider and Elizabeth Dexheimer for Bloomberg Politics: "Among those to signal in recent days that they won't sponsor the convention this year are Wells Fargo & Co., United Parcel Service Inc., Motorola Solutions Inc., JPMorgan Chase & Co., Ford Motor Co., and Walgreens Boots Alliance Inc. All of those companies sponsored the previous Republican conclave, in Tampa, Florida, in 2012."
But: Individual Wall Street elites are climbing on board with Trump. A fundraiser with $50,000 tickets — and hosts paying $250,000 per couple — will be attended by investors John Paulson, Stephen Feinberg and real estate magnate Peter Kalikow, all three of whom had not publicly supported Trump before now.
Trump and the Dark Age of Unreason –> Here at BillMoyers.com, Bill Moyers and Michael Winship write that the Republican Party's "acquiescence, their years of kowtowing to extremism in the appeasement of their base, have allowed Trump and his nightmarish sideshow to steal into the tent and take over the circus."
State Department dissent –> Mark Lander for The New York Times: "More than 50 State Department diplomats have signed an internal memo sharply critical of the Obama administration's policy in Syria, urging the United States to carry out military strikes against the government of President Bashar al-Assad to stop its persistent violations of a cease-fire in the country's 5-year-old civil war."
No looking back –> 350 parts per million (ppm) of carbon dioxide per every million molecules of air is considered the safe amount for a stable climate. But a new study shows the world has passed 400 ppm for good — the world will remain past that threshold far beyond our lifetimes. Ed King at Climate Home: "The study… shows scientists are getting better at understanding the role of the carbon cycle, and the importance of vegetation growth in regulating emission levels. But for many following the debate over climate change slowly, the sight of 400 ppm in their rearview mirror will just be another sign of the global failure to move away from fossil fuels."
RIP –> Jo Cox, a member of the British Parliament and rising star in the Labour Party, died yesterday, shot and stabbed while visiting constituents. "One eyewitness told the BBC they heard her attacker shout 'put Britain first' at least twice beforehand," the broadcaster reports, a likely reference to Cox's position that Britain should vote to stay in the EU during the upcoming "Brexit" referendum. In the wake of the tragedy, both sides of the debate have suspended their campaigns, although the vote itself, scheduled for this coming Thursday, has not been postponed.
Morning Reads was written by John Light and edited by Michael Winship. See a story that you think should be included in Morning Reads? Tell us in the comments!
---
We produce this news digest every weekday. You can Sign up to receive these updates as an email newsletter each morning.