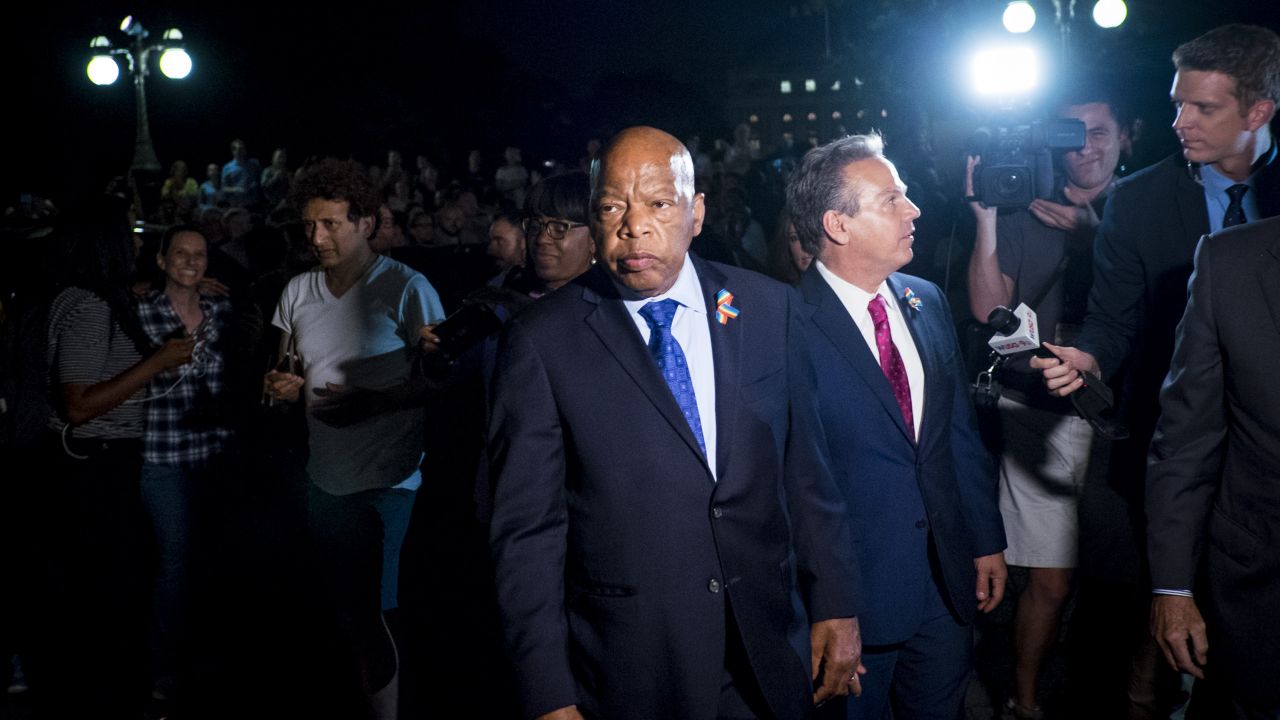 They brought their sleeping bags –> Democrats began a sit-in yesterday on the House floor to protest Congress' lack of action on gun control. As we go to press this morning they're still at it — California Rep. Mark Takano is streaming it on Facebook from his smartphone. In the middle of the night, Republicans officially adjourned until July 5, but Democrats have pledged to continue.
And: This unprecedented demonstration is being led by civil-rights icon and longtime congressman John Lewis of Georgia. A veteran of "Bloody Sunday," when he was viciously beaten by Alabama state troopers in 1965 on the Edmund Pettus Bridge in Selma, Alabama, Lewis is no stranger to leading the fight for human rights. At our site, Bill Moyers and Michael Winship reflect on his story and how it led him to the current protest.
Meanwhile: Over on the Senate side of Capitol Hill, the current gun-control compromise being cobbled together by Maine Sen. Susan Collins has its shortcomings. The ACLU claims it is inconsistent with "civil liberties principles such as due process, equal protection, freedom from unlawful searches and privacy."
Will Britain move toward the Brexit door today? –> Jane Onyanga-Omara and Kim Hjelmgaard at USA Today: "The United Kingdom voted in a historic referendum Thursday on whether to remain in the European Union, a decision sure to have global repercussions. Ahead of the vote, a new Ipsos Mori poll completed Wednesday night showed the 'remain' supporters with a narrow lead — 52 percent to 48 percent. But the polling firm's chief executive, Ben Page, said 13 percent of those polled said they still might change their minds."
And, at our site, Padraig Reidy argues that this unfolding fight has more to do with the United States than we might think: "Like its former colony, Britain is in the midst of a divisive and at times ugly debate over national identity and the nation's role in the world, with accusations of bad faith the order of the day. And, as in the US, the fissures are not so much along traditional party lines as they are between internationally oriented elites and those who feel misled, undermined or usurped by them and their interests."
Trump impersonates a presidential candidate –> With the internal struggle between his former campaign manager Corey Lewandowski and his campaign chair, Republican insider Paul Manafort, at an end, and the campaign running low on funds, Trump gave a comparatively subdued speech yesterday — even using a teleprompter. "He painted a reasonably coherent (if factually challenged) picture of Clinton as a corrupt liar who is beholden to the big-money interests rigging the American economy against its workers, and presented himself as a champion for all Americans," Vox's Dara Lind writes. The question is how long he can keep maintain this air of normality.
Meanwhile, Hillary Clinton continued to outline her economic vision for America, drawing connections among race, class and economic opportunity. Rana Foroohar at Time: "I think that making that connection — and also underscoring the fact that structural shifts in the economy make it almost certain that more people will face the same challenges that immigrants and minorities have faced for years (stagnant wages, no safety net, less secure employment) unless something changes, she starts to move the Democratic Party away from divisive, 1990s-style identity politics and toward more economic unity."
Gig economy falls short –> Uber claimed in 2013 that a typical Uber driver brought in $100,000 in annual gross fares — which sounds pretty good. But according to internal calculations obtained by BuzzFeed, "… [I]t's possible to estimate that Uber drivers in late 2015 earned approximately $13.17 per hour after expenses in the Denver market (which includes all of Colorado), $10.75 per hour after expenses in the Houston area, and $8.77 per hour after expenses in the Detroit market, less than any earnings figure previously released by the company."
The latest from Sanders –> In an interview with C-SPAN, Vermont Sen. Bernie Sanders admitted that he will likely not be the Democratic nominee and said he is negotiating with the Clinton campaign. He also said he likely will give a speech at next month's convention — whether party leaders want him to or not.
Scots troll Trump –> DailyKos: "Tomorrow, Trump is scheduled to appear in Scotland to unveil a new hotel and golf course at Turnberry in Ayrshire. Two of the golf course's neighbors, David Milne and Michael Forbes, are putting up Mexican flags, just so that The Donald will see them on his big day." Care for some more salsa with your haggis, Mr. Trump?
Morning Reads was written by John Light and edited by Michael Winship. See a story that you think should be included in Morning Reads? Tell us in the comments!
---
We produce this news digest every weekday. You can Sign up to receive these updates as an email newsletter each morning.