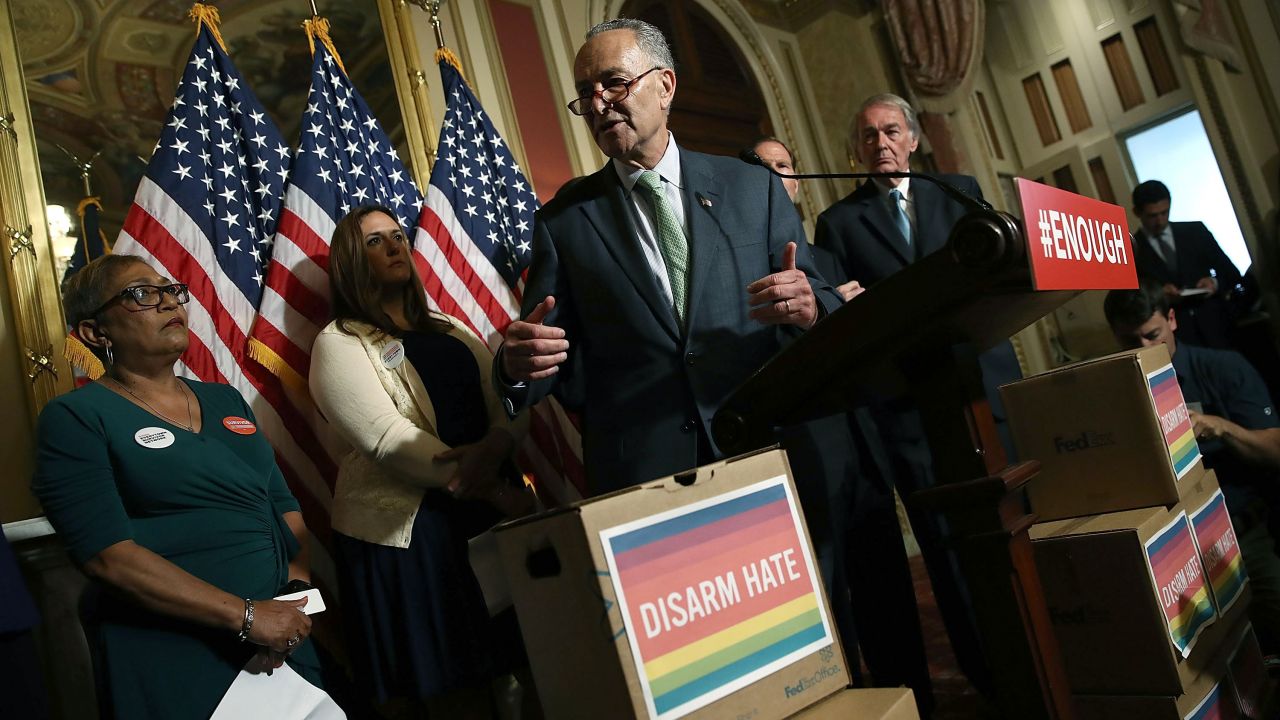 Congress will vote on gun control measures –> Having a vote at all comes as a concession from the Republican Senate majority, following last week's filibuster by gun control advocates. (Republicans could have blocked the vote altogether.)
Of the four measures, Gregory Korte reports for USA Today, two Democratic bills expand background checks and "allow the attorney general to deny a gun sale to anyone if she has a 'reasonable belief' — a lesser standard than 'probable cause' — that the buyer was likely to engage in terrorism. The proposal is popularly known as the 'no-fly, no-buy' amendment, but wouldn't just apply to people on the 'no fly' terrorist watch list." A Republican alternative "would require that law enforcement be alerted when anyone on the terror watch list attempts to buy a weapon from a licensed dealer. If the buyer has been investigated for terrorism within the past five years, the attorney general could block a sale for up to three days while a court reviews the sale."
Korte asks, "What if all the proposals fail? The White House says there are no more executive orders under consideration, and that all eyes were on the Senate action. 'I truly hope that senators rise to the moment and do the right thing,' Obama said in Orlando last week. 'I hope that senators who voted no on background checks after Newtown have a change of heart.'"
Voter suppression is expensive –> Jim Malewitz and Lindsay Carbonell at The Texas Tribune: "More than five years after Republicans fast-tracked legislation limiting the forms of ID accepted to vote in Texas elections, state taxpayers are still picking up the tab for defending the nation's strictest voter-identification law in court. The state has spent more than $3.5 million defending the law in the five separate lawsuits it has spawned, records obtained from Texas Attorney General Ken Paxton's office show."
It looks like we're in for some interesting conventions –> Ed O'Keefe reports for The Washington Post that "a growing anti-Donald Trump movement announced plans Sunday to raise money for staff and a possible legal defense fund as they asked new recruits to help spread the word with less than a month until the Republican National Convention. Having started with just a few dozen delegates, organizers also said Sunday that they now count several hundred delegates and alternates as part of their campaign."
And: From the AP via The Washington Times: "At least two of the several Arizona GOP delegates who have stepped down say it's because they refuse to vote for Donald Trump at next month's Republican National Convention in Cleveland. Nine of the state's 58 delegates have resigned. Former Arizona gubernatorial candidate Frank Riggs and Zuhdi Jasser, a Muslim reform advocate, both said they were willing to go when there was a chance the convention could be contested."
Meanwhile, at The Peoples Summit conference, organized by National Nurses United, Evan McMorris-Santoro of BuzzFeed News writes that Sanders supporters contemplated how best to put their candidate's agenda front-and-center at the convention in Philadelphia — and practiced getting arrested for civil disobedience.
Big week at the Supreme Court –> Reuters reports that before the end of June, the Court is expected to rule on Obama's immigration plan, affirmative action, Texas' famously restrictive abortion law and whether former Virginia Gov. Bob McDonnell is guilty of corruption in a post-Citizens United world where the word "corruption" seems to have a very, very narrow legal definition. With the court still split evenly along ideological lines, many of these cases may not end up setting precedents, instead deferring to lower courts' rulings.
A tragic record –> Somini Sengupta, UN correspondent for The New York Times, covers a new report from the world body finding that "More people are on the run than ever before in recorded history… All told, the number of people displaced by conflict is estimated to exceed 65 million, more than the population of Britain.
"The new figures, part of the United Nations refugee agency's Global Trends Report, come as hostility is surging toward migrants and refugees in the Western countries where they are seeking sanctuary and relief."
Largest protest against US military bases in decades –> The BBC: "Tens of thousands of demonstrators have gathered on the Japanese island of Okinawa to protest against the heavy US military presence there. The protestors are angry after a former US Marine employed as a civilian worker was arrested over the rape and murder of a local 20-year-old woman. The case has intensified longstanding opposition to the military bases, spurring calls for US military personnel to be moved off the island. There are 26,000 US troops on Okinawa."
Even Putin sees Trump as a PR liability –> In December, American press reported that Vladimir Putin had called Trump brilliant, but the Russian president now says that was an incorrect translation. He told CNN anchor Fareed Zakaria yesterday: "Why do you always change the meaning of what I said? …I only said that he was a bright person. Isn't he bright? He is. I did not say anything else about him." Sad.
Morning Reads was written by John Light and edited by Michael Winship. See a story that you think should be included in Morning Reads? Tell us in the comments!
---
We produce this news digest every weekday. You can Sign up to receive these updates as an email newsletter each morning.