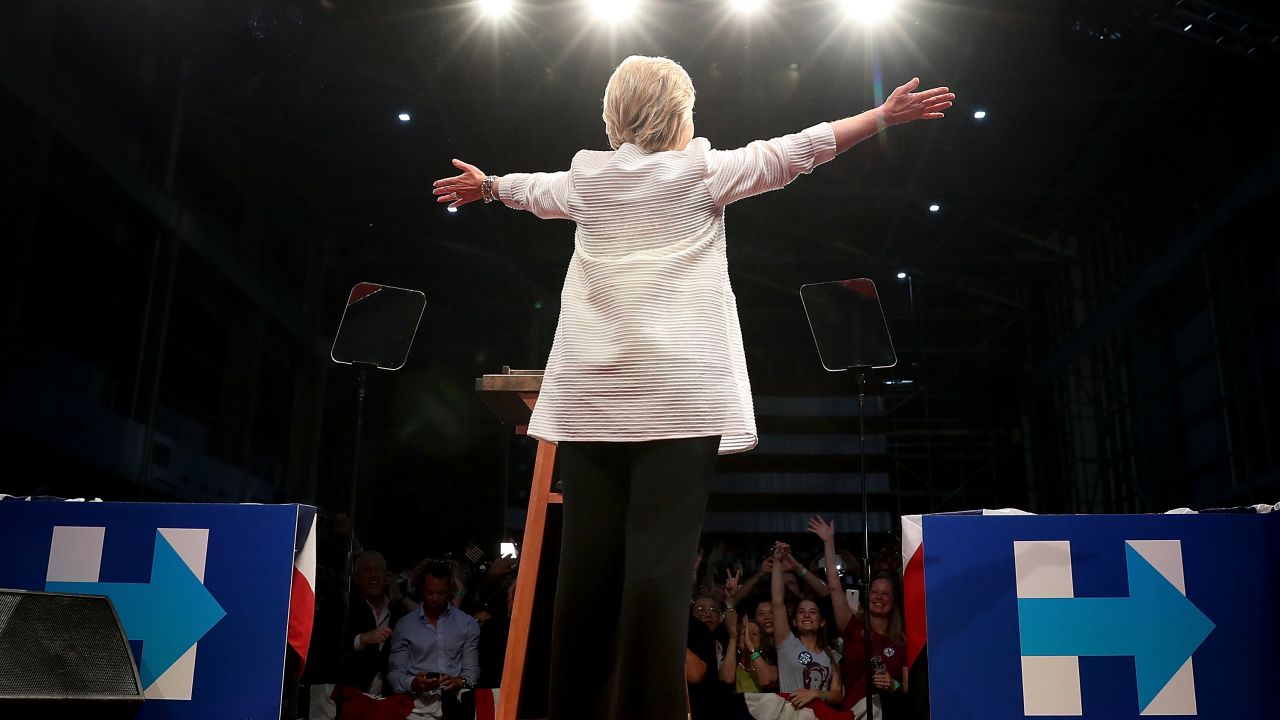 Long primary season wrapping up –> For months, those watching the Democratic presidential race looked ahead to California, wondering who would win the enormous state's delegates. Today we have an answer: Hillary Clinton, 257 delegates to Sanders' 188. Clinton also won New Jersey, New Mexico and South Dakota; Bernie Sanders won in Montana and North Dakota.
Last night, Secretary Clinton told a crowd of supporters in Brooklyn, "Thanks to you, we've reached a milestone, the first time in our nation's history that a woman will be a major party's nominee." But in California, Bernie Sanders vowed, "Next Tuesday we continue the fight. We are going to fight hard to win the primary in Washington, DC, and then we take our fight for social, economic, racial and environmental justice to Philadelphia… The struggle continues." The Democratic National Convention will be held from July 25 to 28 in Philadelphia.
And: At Vox, Ezra Klein writes that Hillary Clinton's success shows a unique talent for performing a role that for much of history has been played by men: "Whether you like Clinton or hate her — and plenty of Americans hate her — it's time to admit that the reason Clinton was the one to break it [the glass ceiling] is because Clinton is actually really good at politics. She's just good at politics in a way we haven't learned to appreciate."
And: Some expressed frustration that the AP called the race for Clinton on Monday evening, worrying that it would depress turnout in the six states voting on Tuesday. Sanders, of course, was "deeply disappointed" and "upset" about the implications for his campaign, but at the Los Angeles Times, Melissa Batchelor Warnke points to another issue: "Here's why it matters: if voters don't turn out in California because they believe the presidential race has already been decided, then all the down-ballot stuff doesn't get voted on. And those races and ballot measures matter a lot."
Also: The LA Times' Matt Pearce reports that for some, voting in California yesterday was chaotic. He writes, "It's difficult to get a sense for how widespread the problems are or how they compare to recent elections. But experts said the culprit for Tuesday's voting problems seems to be a confluence of factors — old voting machines, a competitive election that has drawn new voters, plus complex state voting laws that can be hard for poll volunteers and voters to follow."
California's next US senator will be a woman of color –> California sends the top two winners of the primary on to the general election regardless of party, and last night Democrats Kamala Harris and Loretta Sanchez came in first and second, with Republican Duf Sundheim third. Harris, who is California's attorney general, and House member Sanchez will face off in November to fill the seat being vacated by Democratic Sen. Barbara Boxer. Christopher Cadelago reports for The Sacramento Bee.
Climate news out of India –> Barack Obama and Indian Prime Minister Narendra Modi met at the White House and agreed both to bring the Paris agreement into force as soon as possible and, perhaps more important, cut down on the use of HFCs, an extremely potent greenhouse gas. Brad Plumer explains at Vox that HFCs, found in air conditioners, are responsible for 8 percent of global warming's impact, and can be replaced with other coolants. Doing so could prevent a full .5 degree Celsius of warming.
Excuses, excuses –> Faced with an onslaught of criticism, including House Speaker Paul Ryan saying that Donald Trump's tirades against Judge Gonzalo Curiel's Mexican heritage were "the textbook definition of a racist comment," Donald Trump yesterday agreed to stop talking about the jurist. He did claim, however, that his remarks had been "misconstrued."
But: At Slate, William Saletan catalogues 14 ways Republican politicians have wheedled their way out of addressing Trump's racism head-on. Example: Sen. Orrin Hatch's questionable and medically-tinged assertion that Trump "doesn't have a prejudiced bone in his body."
First into the lifeboat –> Republican Mark Kirk of Illinois has become the first senator to unendorse Trump. He said, "As the Presidential campaign progressed, I was hoping the rhetoric would tone down and reflect a campaign that was inclusive, thoughtful and principled. While I oppose the Democratic nominee, Donald Trump's latest statement, in context with past attacks on Hispanics, women and the disabled like me, make it certain that I cannot and will not support my party's nominee for the president regardless of the political impact on my candidacy or the Republican Party."
Morning Reads was written by John Light and edited by Michael Winship. See a story that you think should be included in Morning Reads? Tell us in the comments!
---
We produce this news digest every weekday. You can Sign up to receive these updates as an email newsletter each morning.