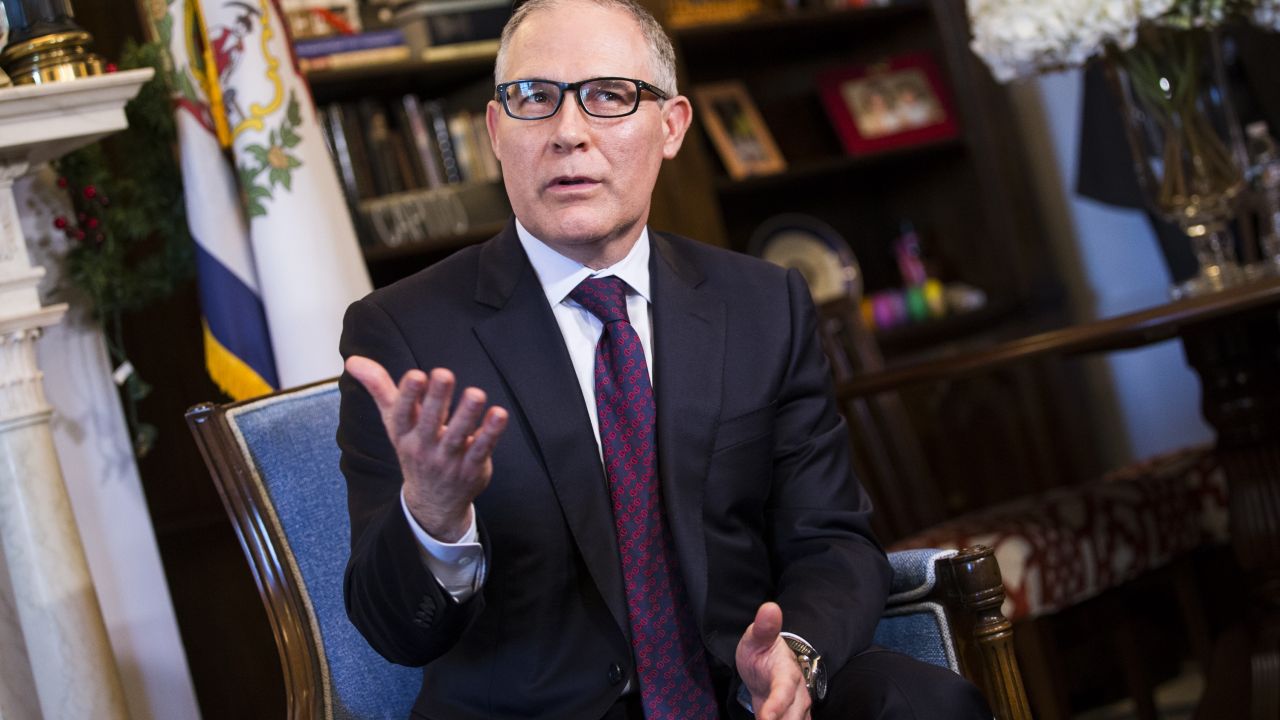 We produce this news digest every weekday. You can sign up to receive these updates as an email newsletter each morning.
---
Pruitt's up today –> Oklahoma Attorney General Scott Pruitt is having his confirmation hearing to lead the Environmental Protection Agency. He fought ardently against the Obama administration's efforts to tackle climate change, even using language provided him by the fossil fuel industry to fight against federal regulations. He claims not to believe that climate change is caused by humans. (This puts him in line with Trump, but at odds with Secretary of State nominee Rex Tillerson, and Interior Secretary-designate Ryan Zinke, who both acknowledge that man-made climate change is a problem.) Politico has a round up of Pruitt's positions on the issues. You can watch a live-stream here, via NPR.
Commuted –> President Obama commuted Chelsea Manning's 35-year prison sentence; she is now set to be released in May. Manning was behind the first major release of US documents to Wikileaks, many of which shed light on the Bush administration wars in Iraq and Afghanistan. President-elect Trump mocked the move, "raising the possibility that he will rescind it," Charlie Savage writes for The New York Times. "But even if he does, Ms. Manning will soon no longer be subject to the military's control."
Edward Snowden, meanwhile, has not been pardoned, and in the Manning announcement yesterday, a spokesperson for the White House argued that Snowden had released far more sensitive documents than Manning and angered the administration by fleeing to Russia. Hours later, the AP reported that "Russian authorities have extended a residence permit for US intelligence contractor Edward Snowden, who leaked thousands of secret documents from the National Security Agency. Foreign Ministry spokeswoman Maria Zakharova said in a post on Facebook late Tuesday that Snowden's residence permit has been extended for 'a couple of years.'"
Cash to fight change –> Obama is sending a last-minute $500 million to the UN's Green Climate Fund to help poor countries adapt to climate change. "In 2014, the US pledged to contribute $3 billion to the Green Climate Fund," Katie Herzog writes for Grist. "The Obama administration made a $500 million payment in March of last year, and now this new payment brings the US' total contribution to $1 billion. Trump and his fellow Republicans are not likely to follow through on the other two-thirds of the commitment, but they can't take this money back."
DeVos –> Democrats grilled Donald Trump's nominee to lead the Department of Education yesterday, billionaire Betsy DeVos, who has poured huge sums into backing school privatization and anti-LGBT causes, not to mention millions to Republican candidates, including senators who will vote on her confirmation. "Do you think that if you were not a multibillionaire, if your family had not made hundreds of millions of dollars in contributions, that you would be sitting here today?" Sen. Bernie Sanders asked. DeVos also punted on a question about whether guns should be allowed in schools from Connecticut Sen. Chris Murphy suggesting that some schools might need them to deal with such issues as… grizzly bear attacks. As a congressman, Murphy's House district included Newtown, Connecticut, site of the Sandy Hook school massacre.
Edwin Rios rounds up some key moments from the hearing at Mother Jones.
Davos –> The Davos World Economic summit — that giant conference and party for the global elite — kicked off yesterday. To mark the occasion, Oxfam released its annual report on income inequality, calculating that eight men own sums equal to the wealth held by the entire poorer half the world. In other words, those eight possess as much money as 3.6 billion other people.
Chinese Premier Xi Jinping opened the summit with a speech championing globalization. Without naming Trump, he argued that if the US and Europe bowed to rising conservative nationalist movements that want to turn their focus inward, China would happily become the world's economic leader. Xi also reaffirmed his country's commitment to fighting climate change, backed up by announcements earlier this month that China would halt construction on 85 coal power plants and invest $361 billion in green energy.
Selling access –> Donors who pay big sums to fund Donald Trump's inauguration can get the chance to dine with agency heads, Politico reports. "The cost of admission for the Cabinet dinner is included in a package for either $100,000 or $250,000 to the presidential inaugural committee, while dinner with Vice President-elect Mike Pence is open to donors and corporate underwriters at the $500,000 and $1 million-level as part of multiday itineraries, with the level of access determined by the amount of cash given, according to inauguration brochures obtained by POLITICO."
What Obamacare repeal would mean –> "18 million more people would become uninsured in the first full year after the bill's enactment — rising to 32 million more people by 2026," Vox's Andrew Prokop reports, based on a new Congressional Budget Office report analyzing the current "partial repeal" bill that Congress is considering.
Morning Reads was compiled by John Light and edited by Michael Winship. See a story that you think should be included in Morning Reads? Tell us in the comments!
---
We produce this news digest every weekday. You can sign up to receive these updates as an email newsletter each morning.