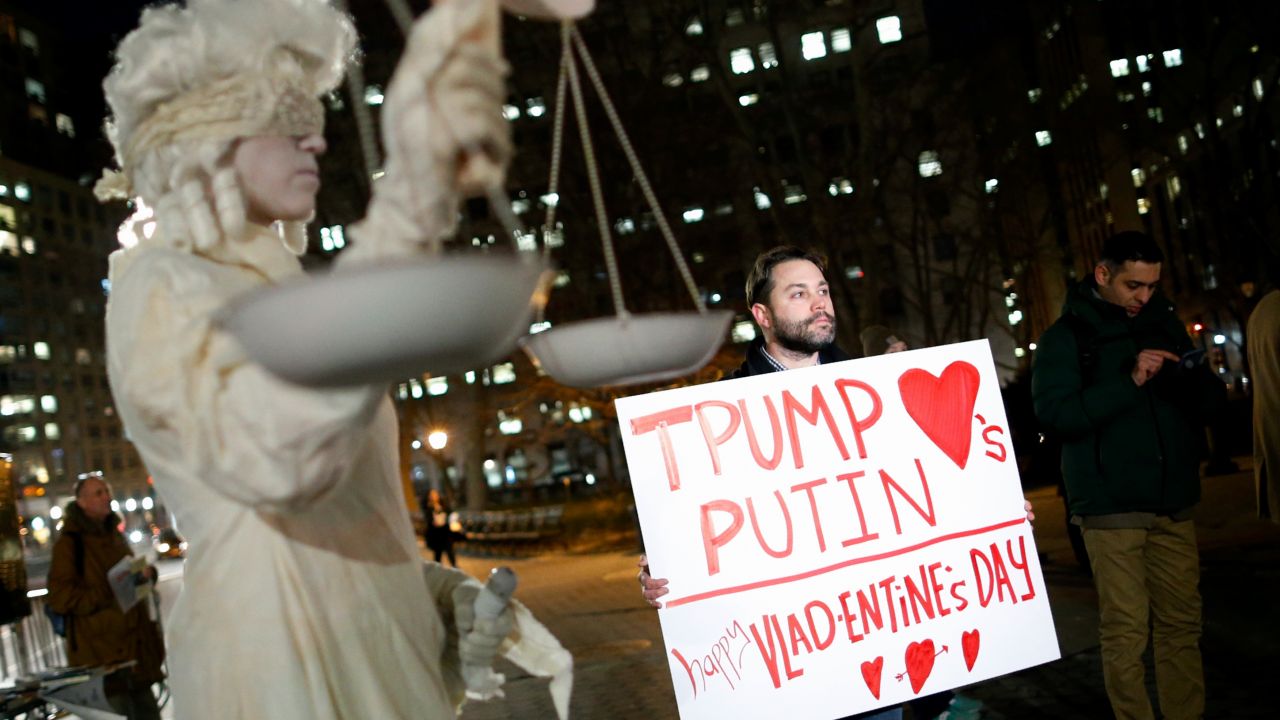 We produce this news digest every weekday. You can sign up to receive these updates as an email newsletter each morning.
---
It wasn't just Flynn –> Trump aides and associates "had repeated contacts with senior Russian intelligence officials in the year before the election," sources tell The New York Times. One of those staffers was Paul Manafort, Trump's former campaign manager, whose ties to the pro-Russia Ukrainian government before joining the Trump team are well documented. Manafort said, "I have no idea what this is referring to. I have never knowingly spoken to Russian intelligence officers… It's not like these people wear badges that say, 'I'm a Russian intelligence officer.'"
Meanwhile, questions continue to swirl around Flynn's departure. At first it was described as a voluntary resignation, but yesterday, White House press secretary Sean Spicer said it had been requested by the president because of an "evolving and eroding level of trust." What's more, Spicer said Trump had known for weeks that Flynn had lied. So why did Vice President Pence have to learn it from the newspapers two weeks after Trump was informed?
Ryan Lizza writes at The New Yorker that the whole episode raises more questions than it answers, and more information is likely to come out in the days ahead.
Some Republicans, including Arizona Sen. John McCain and Missouri Sen. Roy Blunt, are calling for a deeper and broader investigation into the Trump-Russia connection. Others aren't so sure. In a radio interview, Kentucky Sen. Rand Paul opined that it "makes no sense" for Republicans to investigate fellow Republicans.
What now? –> Is it a coincidence that during a time when US military leaders are fretting about a government "in unbelievable turmoil," reports surface that Russia has chosen to violate a treaty that President Obama warned that country not to violate? Russia has been developing a cruise missile for years that's in violation of a 1987 treaty that helped end the Cold War. Obama told Putin not to continue developing the missile, went unheeded, and the cruise missile has been deployed at two strategic locations, Michael Gordon reports for The New York Times. Defense Secretary Mattis will meet with Russian officials today.
What Congress is choosing to investigate –> Rep. Lamar Smith (R-TX), the climate science-hating chair of the House Science Committee, is enraged by reports that EPA employees are encrypting messages to chat with each other. Andrew Restuccia reports for Politico, "Republicans in Congress and their conservative allies are demanding details about federal workers' use of encrypted messaging apps, part of a broader counterattack on employees suspected of opposing President Donald Trump's agenda. Congressional Republicans are also pondering changes to longstanding laws that protect government workers, further stoking fears among some federal employees that the new administration's supporters are out to squash dissent."
Not ok –> "The government's top ethics watchdog sent a letter to the White House on Tuesday stating that Kellyanne Conway, counselor to President Donald Trump, almost certainly broke ethics rules by promoting Ivanka Trump's clothing line and that the administration should investigate her and consider disciplinary action," Russ Choma reports for Mother Jones. That opinion was a rare point of bipartisan agreement, with both Jason Chaffetz (R-UT), chair of the House Oversight Committee, and ranking member Elijah Cummings (D-MD) concurring.
The destruction of Dodd-Frank has begun –> The first bill the president signed does not deal specifically with financial regulation — instead, it quashes a regulation requiring oil and mining companies to disclose payments to foreign governments. "That regulation, part of the Dodd-Frank Wall Street reforms, was strongly opposed by the oil and gas industry — including Trump's Secretary of State, Rex Tillerson, who as head of ExxonMobil personally lobbied to kill the Securities and Exchange Commission's rule that he said would make it difficult to do business in Russia," Alex Guillen writes for Politico.
Bibi in DC –> Israel's prime minister Benjamin Netanyahu meets at the White House with President Trump today. "…The main purpose of the encounter appeared to be a public demonstration of unity with the US," The Guardian's Peter Beaumont notes. "…Beyond the optics of unity, larger questions also remain over a number of key issues including Israel's demands for stronger US action on Iran, the Israel-Palestine peace process and wider US policies in the Middle East."
At the Israeli newspaper Haaretz, Jack Khoury writes, "CIA director Mike Pompeo met with Palestinian President Mahmoud Abbas on Tuesday in Ramallah, a day before Prime Minister Benjamin Netanyahu's White House meeting with US President Donald Trump." Despite Trump administration statements to the contrary, sources told Khoury that "the Palestinians heard reassuring messages about the two-state solution…"
Nearly 700 arrested –> "A series of operations last week in Los Angeles, Atlanta, Chicago, New York and San Antonio… led to more than 680 arrests, according to figures released by US Immigration and Customs Enforcement," Ryan Devereaux reports for The Intercept. Immigration advocates and the communities they represent are bracing for this to become the new normal, Devereaux writes. "For some, the operations recalled the darkest days and worst practices of immigration enforcement under past administrations. For others, it felt like a chilling preview of the years to come. For many, it was both."
Meanwhile, at Newsweek, Josh Saul tells the story of an executive order, signed by Trump, designed to beef up a program that "will give many more local law enforcement agencies the power to act as immigration officers." The program comes from the 287(g) section of the Immigration and Nationality Act. Immigration advocates worry that this will lead to civil rights violations and make immigrants afraid to report crimes. "I think we're going to go through another period where we'll see Joe Arpaios popping up around the country like mushrooms," Chris Newman, legal director of the National Day Laborer Organizing Network, said, referring to the infamous — and now former — sheriff of Maricopa County, Arizona.
Oops –> The White House sent executive orders to the federal registry that are different from the executive orders it made public, Gregory Korte at USA Today reports: "The differences include minor grammatical changes, missing words and paragraph renumbering — but also two cases where the original text referred to inaccurate or non-existent provisions of law. By law, the Federal Register version is the legally controlling language. But it can often take several days for the order to be published, meaning that the public must often rely on what the White House puts out — and that's sometimes inaccurate."
Morning Reads was compiled by John Light and edited by Michael Winship.
---
We produce this news digest every weekday. You can sign up to receive these updates as an email newsletter each morning.