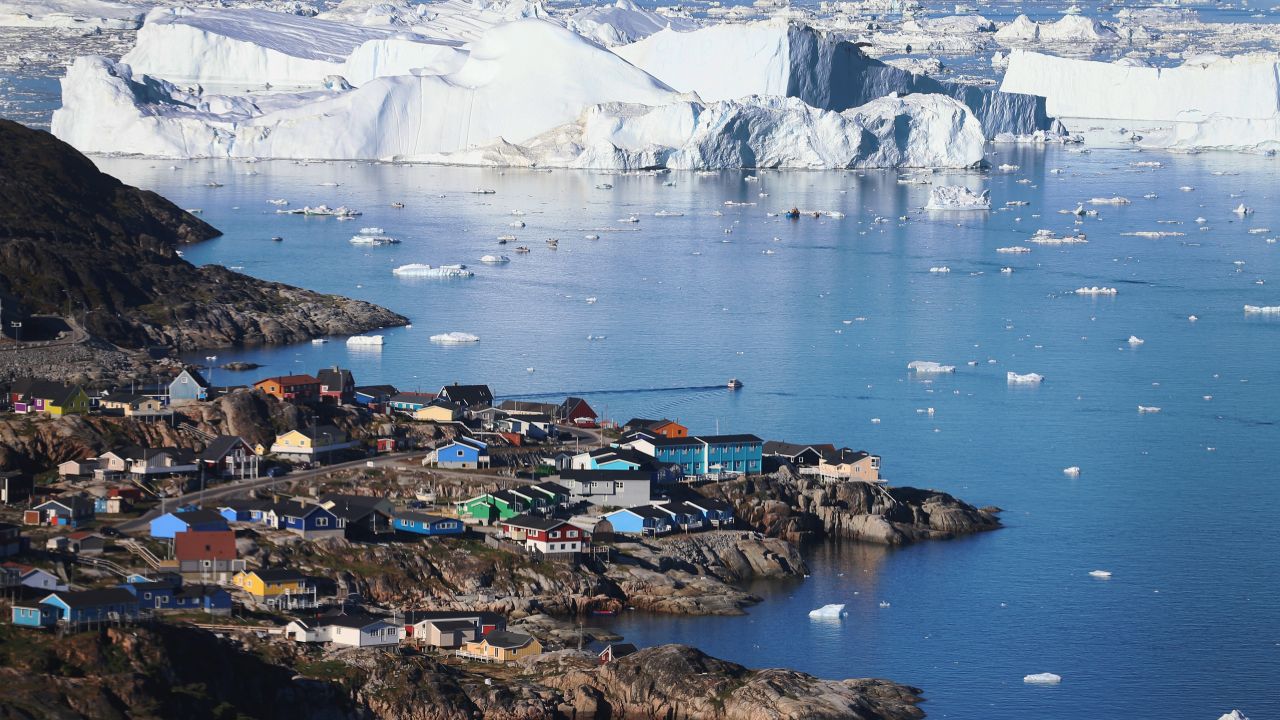 Another record-breaker –> Andrew Freedman for Mashable: "April was the warmest such month on record for the globe, and yet again, we saw a near-record large margin compared to average, according to NASA data released Saturday. The record all but assures that 2016 will set another milestone for the warmest calendar year in NASA's database, regardless of whether the rest of this year sees comparatively cooler global temperatures."
Climate activists mobilize –> A wave of "Break Free" protests this weekend sought to draw attention to fossil fuel extraction and transportation around the world. Deirdre Fulton writes for Common Dreams that more than 100 were arrested at a coal mine in Germany, part of a larger protest. Here in the US, more than 50 were arrested near Anacortes, Washington, while blockading tracks to an oil refinery. In Albany, New York, protestors held up oil train traffic for 12 hours, leading to five arrests.
Dissing what's his name –> In a speech yesterday at Rutgers University's commencement ceremony, President Obama took on the presumptive Republican nominee — without mentioning him. "In politics and in life, ignorance is not a virtue. It's not cool to not know what you're talking about," Obama said. "That's not keeping it real or telling it like it is. That's not challenging political correctness. That's just not knowing what you're talking about. And yet we've become confused about this." Via: Slate.
And: Shortly after, President Obama was followed on stage by Bill Moyers, who received an honorary Doctor of Laws degree and spoke at the Rutgers-New Brunswick College of Arts and Sciences convocation. You can watch videos of both speeches here.
Overheated in Nevada –> The state's Democrats ended their convention Saturday, "after security became an issue and objects, including chairs, were thrown," according to the Associated Press. A dispute between Sanders and Clinton supporters got out of control when some Sanders backers "accused state party leaders of rigging the process against them, and they objected to procedural votes to approve the rules of the event. They also questioned a credentials committee's disqualification of 58 would-be Sanders delegates, who state party officials said didn't provide evidence about their identities or weren't registered to vote as Democrats by a May 1 deadline."
And, at the Las Vegas Sun, Megan Messerly gives some more background on how the tensions between the two factions of the party arose. Final result: "… Out of the 35 pledged delegates Nevada will send to the Democratic National Convention in Philadelphia this summer, 20 will support Clinton and 15 will support Sanders."
"Presumptive nominee" still a safe assumption –> As Philip Rucker and Robert Costa report for The Washington Post, anti-Trump Republicans, including Mitt Romney, continue trying to find a conservative who would consider a third-party run against Trump. But so far no one, including erstwhile candidate John Kasich, wants the job.
But: Eliza Newlin Carney writes at The American Prospect that Trump's choice for vice president still could prompt a convention floor fight: "The Republican Party's rules for nominating a vice presidential contender differ sharply from those that govern the top of the ticket, and give convention delegates considerable control over who ends up as Trump's running mate."
That aforementioned presumptive nominee continues to claim that in the 1990s he didn't use fake names and pretend to be his own spokesman, even though it seems clear that he did.
So much for self-funding –> Sheldon Adelson says he has committed $100 million to back Trump, more than he has ever spent on an election. Julie Bykowicz reports for AP that Trump's campaign now is actively seeking donations with help from the GOP fundraising machine, and Rebecca Ballhaus writes for The Wall Street Journal that Trump now has a super PAC. Again. (Remember, there was one last summer but he disavowed it after The Washington Post raised questions about potential illegal coordination with his campaign.)
Anti-trust –> Christopher Williams for the British newspaper The Telegraph: "Google faces a record-breaking fine for monopoly abuse within weeks, as officials in Brussels put the finishing touches to a seven-year investigation of company's dominant search engine. It is understood that the European Commission is aiming to hit Google with a fine in the region of €3bn, a figure that would easily surpass its toughest anti-trust punishment to date…"
Next in line to disenfranchise –> Missouri could be the next state to get a restrictive voter ID law. Ari Berman at The Nation reports that last week, "the GOP-controlled legislature passed a new voter-ID bill and a companion ballot initiative changing the state Constitution that must be approved by voters, most likely in November. (Governor Jay Nixon can still veto the bill, but the legislature has a super-majority to override him.)"
Zuckerberg's punishment –> James Vincent at The Verge: "Facebook's chief executive Mark Zuckerberg is meeting with Glenn Beck and other leading conservatives this week to discuss allegations of political bias in the social network's Trending Topics section. In a Facebook post on Sunday, Beck said Zuckerberg's office had called him about the meeting, and that he wanted to "look [Zuckerberg] in the eye as he explains."
Morning Reads was written by John Light and edited by Michael Winship. See a story that you think should be included in Morning Reads? Tell us in the comments!
---
We produce this news digest every weekday. You can Sign up to receive these updates as an email newsletter each morning.