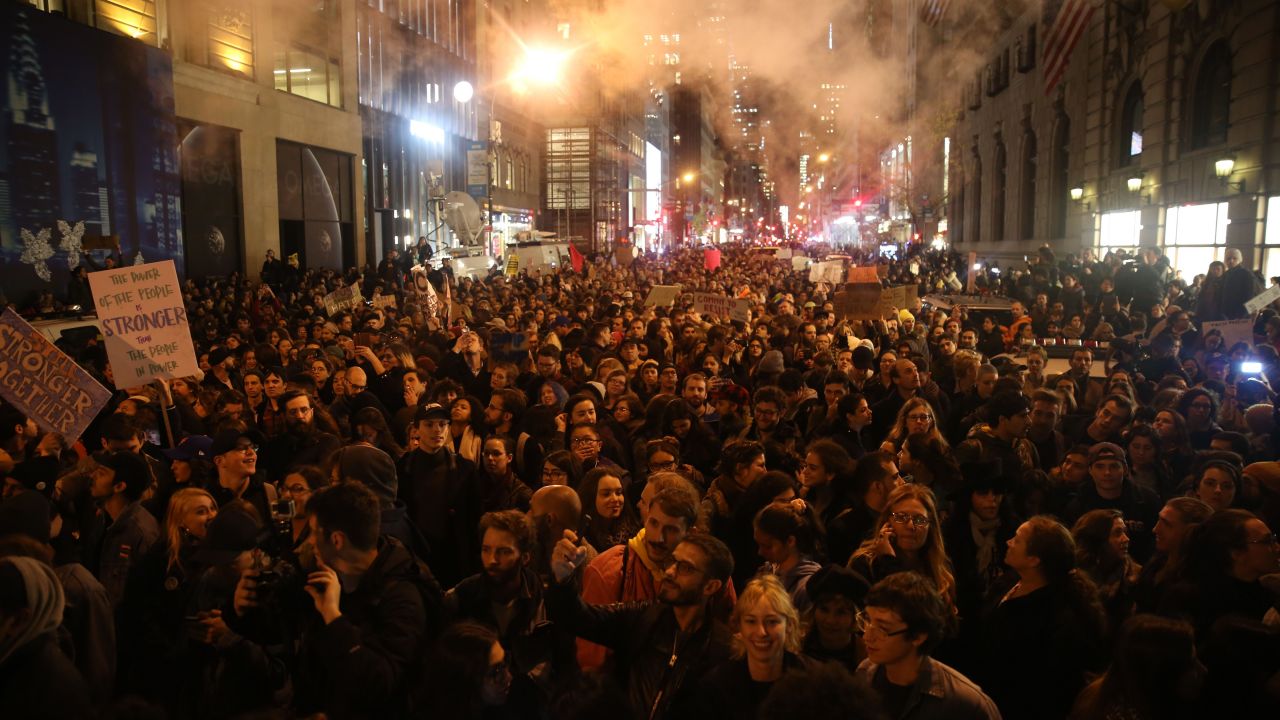 We produce this news digest every weekday. You can sign up to receive these updates as an email newsletter each morning.
---
Rallies nationwide –> Last night, thousands gathered at New York's Union Square and Columbus Circle and marched to Trump Tower on Fifth Avenue, where they protested Donald Trump's election until the early hours of the morning. They weren't alone; Christopher Mele and Annie Correal report for The New York Times: "Thousands of people across the country marched, shut down highways, burned effigies and shouted angry slogans on Wednesday night… Protests were reported in cities as diverse as Dallas and Oakland and included marches in Boston; Chicago; Portland, Oregon; Seattle and Washington and at college campuses in California, Massachusetts and Pennsylvania." Slate's Elliot Hannon has pictures.
What now? –> Although the Democratic Party won some scattered victories on Tuesday night, it is clear that the party's message is no longer resonating with the working people of America who once made up its core constituency. And not just on the White House and congressional levels: In nearly half of our states, Republicans control both houses of the state legislature and the governor's mansion. The party has a long fight ahead to regain relevancy.
The editorial board of Jacobin writes: "We have no illusions about the impact of Donald Trump's victory. It is a disaster. The prospect of a unified right-wing government, led by an authoritarian populist, represents a catastrophe for working people.
"There are two ways to respond to this situation. One is to blame the people of the United States. The other is to blame the elite of the country. In the coming days and weeks, many pundits will be doing the former. Frightened liberals have already written explainers on how to move to Canada; last night, the Canadian immigration website went down after a surge of traffic. The people who brought us to this precipice are now planning their escape.
"…This is a new era that requires a new type of politics — one that speaks to people's pressing needs and hopes, rather than to their fears. Elite liberalism, it turns out, cannot defeat right-wing populism. We can't move to Canada or hide under the bed. This is a moment to embrace democratic politics, not repudiate them."
Progressive senators lay out some terms –> Sen. Elizabeth Warren: "President-elect Trump promised to rebuild our economy for working people, and I offer to put aside our differences and work with him on that task. When he takes the oath of office as the leader of our democracy and the leader of all Americans, it is my sincere hope that he will fulfill that role with respect and concern for every single person in the country, no matter who they are, where they come from, what they believe, or whom they love."
Bernie Sanders: "To the degree that Mr. Trump is serious about pursuing policies that improve the lives of working families in this country, I and other progressives are prepared to work with him. To the degree that he pursues racist, sexist, xenophobic and anti-environment policies, we will vigorously oppose him."
First 100 days –> Last month, Donald Trump offered a plan for what he wants to get done in his first 100 days in office. It is largely in line with the promises he made on the campaign trail: Undocumented immigrants will be rounded up, he said, construction on the wall between the United States and Mexico will begin. Obamacare will be repealed, federal restrictions on coal mining and fracking for oil and gas will be lifted, military spending will increase, a conservative Supreme Court justice will be confirmed. But it also contains proposals that break with Republican orthodoxy: An increase in spending to rebuild infrastructure, new restrictions on lobbying and a constitutional amendment imposing term limits for members of Congress. Senate Majority Leader Mitch McConnell is not keen on those, and says he will not bring them up for discussion. Who prevails?
Morning Reads was compiled by John Light and edited by Michael Winship. See a story that you think should be included in Morning Reads? Tell us in the comments!
---
We produce this news digest every weekday. You can sign up to receive these updates as an email newsletter each morning.