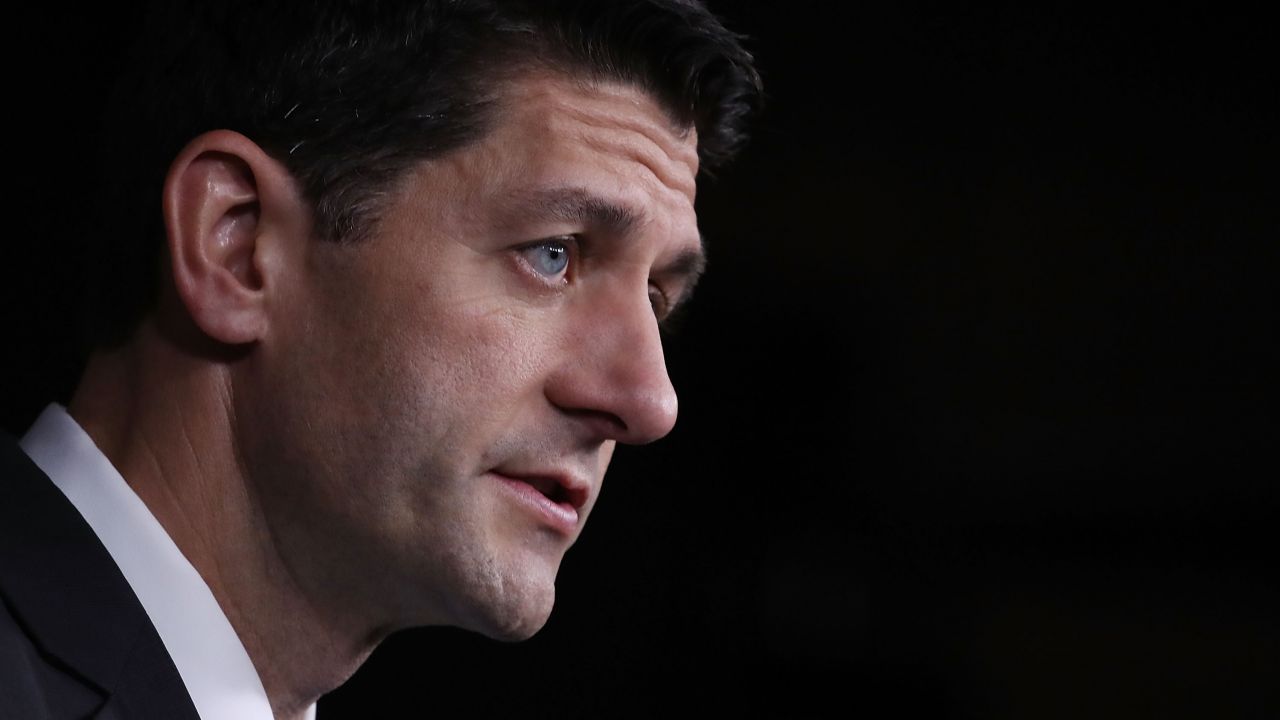 We produce this news digest every weekday. You can sign up to receive these updates as an email newsletter each morning.
---
Donald Trump's campaign was dealt a huge blow over the weekend… –> …With the release of video from a 2005 taping of Access Hollywood in which he brags about groping and harassing women. But this may be just a drop in the bucket. Many say that "far worse" recordings of Trump exist, including remarks made during his time on NBC's The Apprentice. However, Mark Burnett, that show's creator, and MGM, which now owns the majority share in Burnett's production company, claim that because of "various contractual and legal requirements" they cannot release those recordings, even if they exist.
That Access Hollywood videotape has opened up a rift in the Republican Party, and left GOP politicians and officials scrambling to leap to one side or the other. House Speaker Paul Ryan did not "disendorse" Trump, but declared yesterday that he would not defend or campaign with the candidate, and would instead help his party's candidates for Congress win their elections. Meanwhile, Republican National Committee head Reince Priebus says he and his organization remain in "full coordination" with the Trump campaign. The RNC is key to the candidate's fundraising and get-out-the-vote efforts.
Debate –> We had one Sunday. Michael Winship writes for our site: "If there was the tiniest doubt left in your mind that Donald Trump holds no regard for the principles and ideals of a representative democracy — or that he views this country as anything more than a podium for his grandstanding ego, base dictatorial instincts and gutter mentality – Sunday night's debate should have shot that shred of doubt straight to hell." Also at BillMoyers.com: Todd Gitlin interprets Trump's body language.
Haiti and North Carolina reel from Matthew –> The storm left more than 1,000 dead in Haiti and dumped 18 inches of rain on North Carolina, where many homes were destroyed, according to Reuters: "Some 2,000 residents were stuck in their homes and on rooftops in Lumberton, off the Lumber River, after the city flooded suddenly on Monday morning, [Gov. Pat] McCrory said. Air and water rescues would continue throughout the day, he said." Mother Jones has some stunning Matthew video and photos.
More on Haiti. The Guardian reports, "The United Nations secretary-general, Ban Ki-moon, has called for a 'massive response'… as local aid officials struggled to get food, medicine and water to increasingly desperate communities still isolated almost a week after the blow from the deadly storm. 'Some towns and villages have been almost wiped off the map,' Ban told reporters. 'Tensions are already mounting as people await help. A massive response is required. UN teams are working with local officials to assess needs.'"
Because of Matthew, Florida was ordered to extend voter registration. The state is key to both the presidential race and the fight for control of the US Senate. CNN: "A federal court has extended Florida's voter registration deadline from Tuesday to 5 p.m. ET Wednesday due to Hurricane Matthew's interruption of last-minute sign-ups. The US District Court ruling comes after the Florida Democratic Party sued, seeking an additional week due to the 'strong likelihood' many of the state's voters would be 'severely burdened' by the hurricane's fallout in the upcoming election. Florida Republican Gov. Rick Scott had opposed the extension, saying last week that 'people have had time to register.'"
Latest WikiLeaks dump –> A series of emails released by WikiLeaks contains, among other things, alleged excerpts from Hillary Clinton's speeches to Wall Street banks that she has so far refused to release. One specific email in question, from advisor John Podesta's hacked gmail account, contains excerpts that the campaign internally worried would be problematic for the candidate should they be made public. In the speeches, however, Clinton doesn't stray far from the talking points she has used during the campaign, NPR's Meg Anderson reports.
Perhaps more interesting from the Podesta email dump is a chain in which the campaign considers its position on the Glass-Steagall Act, a law that kept banks' investing and commercial banking arms separate. The repeal of Glass-Steagall, during Bill Clinton's administration, likely contributed to the 2008 financial crisis. The Hillary Clinton campaign weighed whether or not to endorse reinstituting Glass-Steagall, and worried that failing to do so would cause influential progressive Sen. Elizabeth Warren (D-MA) to endorse Bernie Sanders. Warren ultimately refrained from endorsing either candidate until after the California primary had made clear that Sanders had no electoral path to winning the nomination.
Tax break for the poor –> Politico reports: "Democratic presidential nominee Hillary Clinton will propose doubling the Child Tax Credit to $2,000 per child, up to and including 4-year-olds, the campaign announced this morning. Clinton would also expand the credit by lowering the threshold for claiming a refund from $3,000 in earnings to 'the first dollar of earnings for families with children of all ages,' according to a statement from the campaign. The campaign said as many as 15 million children would qualify for the credit of up to $2,000."
The Central Park Five –> Columnist Eugene Robinson writes for The Washington Post: "If anyone needed further proof of Donald Trump's racism, consider this: He still believes the Central Park Five are guilty, despite definitive DNA evidence to the contrary… The Central Park Five were exonerated and released, and the city paid them settlements totaling $41 million. Trump opposed the payment at the time. Now he tells CNN that he still believes the five men are guilty, regardless of the DNA evidence proving them innocent."
Morning Reads was compiled by John Light and edited by Michael Winship. See a story that you think should be included in Morning Reads? Tell us in the comments!
---
We produce this news digest every weekday. You can sign up to receive these updates as an email newsletter each morning.